WEEK OF SEPTEMBER 28 THROUGH OCTOBER 4
Khamenei Calls for Muslim Unity for Israel's 'Annihilation'
(Iranian supreme leader uses annual Hajj pilgrimage message to insult Israel and call for support for Hamas)
Oct. 4….(Arutz) Iranian Supreme Leader Ayatollah Ali Khamenei on Friday used his annual message to Hajj pilgrims heading to Mecca to insult Israel and call for its "annihilation." The speech comes ahead of Eid al-Adha on Friday, the Muslim holiday celebrating Abraham's "sacrifice of Ishmael" in an appropriation of the original Torah story, and like his speech for Eid al-Fitr in July was replete with unfounded barbs hurled against the Jewish state. "The conspiring enemy is aiming to stoke the fire of a civil strife among Muslims, to misdirect the motivation for resistance and jihad and to secure the Zionist regime and the servants of Arrogance (America) who are the real enemies," said Khamenei referencing the bloody conflicts rocking the Muslim world.
Calling for Muslim unity against Israel, the same Friday that Arab MK Ibrahim Sarsour (Ra'am-Ta'al) called for the establishment of the "United Islamic States" and bashed Israel as being "crueler than ISIS (Islamic State)." Khamenei likewise accused Israel of having "no limit or boundaries regarding viciousness, cruelty, and trampling underfoot all human standards and ethnics. Crimes, genocide, mass destruction, the killing of children, women and the homeless...they take pride in." The statement is ironic given Iran's horrific human rights history; just this Monday it was reported that an Iranian psychologist was executed for "heresy" after eight years in prison, and on Wednesday Iran was to execute a woman who defended herself from rape. Khamenei continued "contrary to the idiotic dreams of power and stability for this regime that the filthy officials of the Zionist regime dream, day-by-day this regime has moved closer to implosion and annihilation."
In response, Khamenei called for the Islamic Jihad and Hamas terrorist groups in Gaza to "reinvigorate their endeavor, determination and resolve...Muslim nations should require their governments to lend real and serious support to Palestine." Iran supplied Hamas with rockets used in its recent terror war on Israel, and is continuing to develop its nuclear program even while engaged in nuclear talks with world powers. Khamenei back in January publicly revealed that the negotiations with the US about Iran's nuclear program are merely a tactic to stall international pressure and gain time to continue nuclear development.
Netanyahu: War on Terror Unwinnable Unless Iran is Contained Along with IS
Oct. 4….(Fox News) In an interview with Fox News's Greta Van Susteren during his trip to the US, the prime minister warned that a radical Islamist ideology would be even more dangerous in the hands of a country possessing nuclear weapons.
On the heels of his address to the United Nations General Assembly Monday (full text here), in which he cautioned against the rise of militant Islam in all its forms, including the "fanatical creed" shared by both the Islamic State in Iraq and Syria and Iran proxy Hamas in Gaza, Netanyahu said the "real war" must be waged not only against IS, but also against Iran's attempts to acquire nuclear enrichment capabilities.
Though the prime minister said Israel "completely supports" the coalition led by US President Barack Obama to combat Islamic State and stop its murderous expansion, "defeating ISIS (the previous acronym of Islamic State) and letting Iran manufacture enough nuclear material for a bomb" would effectively mean that the war against radical and militant Islam would not be over. "They're trying to get a deal which will leave them with the ability to enrich enough uranium for a bombM and have the tough sanctions lifted," Netanyahu said of Iran's stakes in the ongoing nuclear talks, the deadline for which was postponed to November amid incremental progress over the summer.
Of the deal Iran is hoping to ink with the P5+1 in Vienna, the prime minister said, "They shouldn't get it." He explained that Iran's nuclear ambitions were even more dangerous in view of the radical Islamist ideology espoused by its government, dangerous not just for Israel and the Middle East, but for the West as well. The root of the problem, he said was the goal of militant Islam "is to dominate the Middle East and then take over the world." The top target? Not Israel, but the United States, which Netanyahu said "all factions" possessing radical Islamist ideologies, both Sunni and Shi'ite, call the "Great Satan." He stressed that while Islamic State fighters were radical Sunnis, the Iranian leadership must be viewed in a similar vein, as "radical Shi'ites." Iran, IS, and Hamas, he said, all "have a fanatic ideology, want their domains expanded and ultimately want to change history" by reverting to an age in which women and minorities are subjugated.
To illustrate his point, Netanyahu then pulled out a photo depicting the imminent execution of a blindfolded man in a bright orange shirt, saying it did not show an IS beheading, but rather a Hamas execution of a suspected collaborator. "There's a difference, ISIS beheads people and Hamas puts a bullet in their heads. But if you are a victim or their family, the horror is the same. And they also have the same goal of dominating the world with their terrible Islamist perception," Netanyahu said. He warned that just as the radical Nazi ideology and ambitions of global domination had brought devastation, so would the growth of radical Islam do the same. He went on to warn that the world should not allow Iran, "the ultimate extremist power," to gain more power.
Netanyahu warned that the West must not be pressured into allowing Iran to use cooperation with the US-led antiterror campaign as leverage for increased nuclear concessions. "You don't have to give Iran what they want in the nuclear deal," he said, explaining that Iran had already begun to fight the Syrian rebel forces from which IS emerged through its proxy, Hezbollah, before Obama announced the campaign. In recent weeks, Tehran warned that it may launch attacks against Islamic State near its borders. "They're going to fight ISIS anyway," Netanyahu said. "If Syrian President Bashar Assad were to demand his chemical weapons back in return for fighting ISIS, he would be laughed out of court." He stressed that if the deal allows Iran to retain centrifuges and continue its uranium enrichment, Israel will consider it a "bad deal" proving Iran's nuclear intentions were military. "Why do they need centrifuges? They say they need it for civilian nuclear energy. That's not true. Other big countries have civilian nuclear programs but not one centrifuge," he said. "This way, you are giving them the ability to build a nuclear bomb."
Islamic State Beheads UK's Henning, Says US Hostage Is Next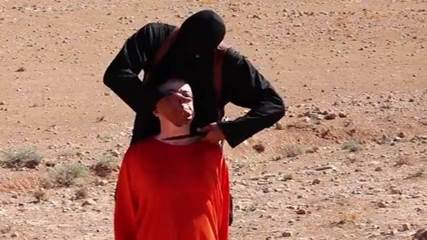 Oct. 4….(Newsmax) Islamic State militants posted a video showing the beheading of British hostage Alan Henning, according to SITE Intel, which monitors jihadist groups. Henning was working for a charity delivering aid to Syria when he was seized in the country in December last year. He's the latest foreign captive to be executed by Islamic State, the jihadist group that has declared a caliphate on territory it seized in Iraq and Syria.
Prime Minister David Cameron described Henning's killing as a "brutal murder" and said it "shows just how barbaric and repulsive these terrorists are," in an e-mailed statement late yesterday. "We will do all we can to hunt down these murderers and bring them to justice," he said.
Islamic State says in the video that the next hostage to be executed will be Peter Kassig, an American aid worker, Bethesda, Maryland-based SITE Intel said on its Website. The group had warned that it would kill Henning, in a Sept. 13 video that showed the execution of another UK citizen, David Haines.
Britain last week joined the US-led coalition of European and Arab allies who are carrying out military strikes against Islamic State positions in Iraq and Syria. The group and its sympathizers have killed citizens of the UK, France and the US, calling the executions a reprisal for the armed campaign against it. The UK conducted its first airstrikes against the group in Iraq last week after lawmakers voted in favor of military action. It hasn't participated in any attacks in Syria, and Cameron told parliament on Sept. 26 that he wasn't immediately proposing to do so, because there's no domestic political consensus. While the strikes have halted Islamic State gains in some areas, the group has still advanced on the mostly Kurdish town of Kobani in northern Syria in recent days, and seized more territory in western Iraq, according to local officials. Henning's wife had urged his captors to release him, saying the former taxi driver had left his family and job to join a convoy that was carrying aid to "those most in need" in Syria, according to a letter released by the Foreign Office last month.
The UK's charity regulator has been investigating possible links between the organization Henning worked for and militant groups. There was no indication Henning was involved. The Daily Telegraph reported on Sept. 15 that he was kidnapped within half an hour of entering Syria. Another British hostage, journalist John Cantlie, has appeared in a series of videos posted by Islamic State, criticizing the policy of the US and its allies in the Middle East.
Children Perform Mock Beheading at Islamic Jaffari Center in Ontario
Oct. 4….(WND) An Ontario mosque is coming under fire for using young Muslim children to conduct mock beheadings in a school play. Video footage of the Islamic Jaffari Center in Thornhill, Ontario, shows children as young as 4 years old watching and learning to conduct beheadings in a play that reportedly took place two years ago. The video was featured on the Canada's Sun News Network television program, "Byline with Brian Lilley." A young boy can be seen sitting on the floor as another boy approaches him from behind with a machete. At the end of the play, the boy playing the part of the executioner announces, "Here are the heads."
(Children perform in mock beheading at Islamic Jaffari Center in Thornhill, Ontario)
Friends Remember Colleen Hubbard (Victim Beheaded in Oklahoma)
Oct. 2….(WND) While legions of reporters working for traditional print and broadcast outlets have focused on Alton Nolen, the 30-year-old African-American convert to Islam who allegedly beheaded a female co-worker, it's been left up to family and friends to memorialize Colleen Hufford, age 54 at the time of her death. So they have created a page on Facebook with the heartfelt message, "Someday I'll see you again." The photographs and testimonials tell a story of a loving grandmother whose life was cut short just last week at her job at Vaughn Foods, a processing plant in Vaughn, Oklahoma.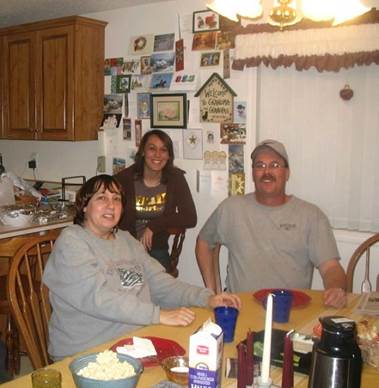 (Colleen Hubbard, seated at left at home kitchen table)
Authorities allege Nolen savagely beheaded her in ISIS-fashion before being shot by company COO Mark Vaughn, whose actions prevented Nolen from repeating the attack on another worker, Traci Johnson.
The Facebook page is being filled with personal memories of Colleen posted by those who knew or met her in happier times. "I can't imagine what Colleen's family is going through right now having lost a dear mother and grandmother because of a vile ideology," Lisa Tottenham posted. "You are in the prayers of many Australians. I hope Colleen's family is in some way comforted knowing they are in the thoughts and prayers of people worldwide." "I met Colleen, her daughter, granddaughter, and husband during the OKC Blazer days and the Barons. She was always with a smile on her face, and I had many, many visits at the games with them," Jack Riley posted. "Such a wonderful family. I will definitely miss her at the games. It still seems so unreal that this has happened to such an undeserving person. R.I.P. Colleen, you will be missed by more people than you would imagine!"
Kathy Weppner wrote, "I would like to know why the media is not talking about Colleen. We should all be hearing about her and her family, who will no longer see her smile. Where is their coverage of Colleen, and what happened to her?"
Islamic State and Nusra Front Move Toward Alliance
(Al-Qaida affiliate faces mounting pressure from its members to reconcile with its rival and form a united front against US-led air strikes.)
Oct. 2….(Ha Aretz) Islamic State is moving toward an alliance with the Nusra Front, the largest Al-Qaida affiliate in Syria, as a US-led coalition continues strikes against IS positions in the northeastern part of the country. Nusra Front, or Jabhat al-Nusra, has been facing mounting pressure from its own members to reconcile with its rival and form a united front against the air strikes, which began in Syria last week, after the American fight against Islamic State began in Iraq in August.
Joining forces with IS would require Nusra Front members to pledge loyalty to the group, which has declared a caliphate in territory it controls in those countries. This would effectively put an end to the Nusra Front, fighters in the group say. Long one of the most effective forces fighting Syrian President Bashar Assad, Nusra Front was weakened this year by battles with Islamic State, an Al-Qaida splinter group that routinely employs ruthless methods such as beheadings and mass executions. The two share the same ideology and rigid Islamic beliefs, but fell out during a power struggle that pitted IS head Abu Bakr al-Baghdadi against Al-Qaida chief Ayman al-Zawahri and Nusra Front leader Abu Mohammed al-Golani.
But the US-led air and missile strikes, which have hit Nusra Front as well as Islamic State bases in Syria, have angered many Nusra members who say the West and its allies have joined forces in a "crusader" campaign against Islam. According to a report in The Guardian, Nusra Front units in north Syria have made peace with the Islamic State, and a senior source told the newspaper that leaders of both groups are holding war planning meetings, although they have yet to formally join forces. Sources close to Islamic State told Reuters that some Nusra fighters were joining them after the strikes and there was a growing sense among many that it was time to put their differences aside.
ISIS Now Closing in on Baghdad
Oct. 2…. (Mail On Line) Fierce fighting has been reported on the outskirts of Baghdad where ISIS militants are attempting to seize control of the Iraqi capital, despite ongoing Western airstrikes against the terror group. The fighting is taking place just one mile to the west of the city, with government forces desperately trying to hold off the militants, who allegedly killed up to 1,000 soldiers during clashes yesterday.
ISIS have held a number of towns and villages close to the Iraqi capital since earlier in the year, when government troops melted away following a lightning advance in the west of the country, enabling the terrorist group to seize further swaths of territory for their so-called caliphate. Reports that ISIS militants are now just one mile from Baghdad came from the Foundation for Relief and Reconciliation in the Middle East, an organization supporting the work of Canon Andrew White, vicar of the city's St George's Church, the only Anglican church in Iraq. In a message posted on Facebook, the group said: 'The Islamic State are now less than 2km away from entering Baghdad. They said it could never happen and now it almost has.
Barack Obama says he overestimated what the Iraqi Army could do. Well you only need to be here a very short while to know they can do very, very little,' they added. The claims were backed up by Canon White himself, who shared the message just hours after he had earlier suggested the group were approximately six miles from the center of Baghdad. In a message he also posted on Facebook, Canon White had said: 'The Islamic State are now within 10km of entering Baghdad. Over a 1000 Iraqi troops were killed by them yesterday, things are so bad. As I said all the military air strikes are doing nothing. If ever we needed your prayer it is now.'
The militants are understood to have had their advance halted by airstrikes yesterday at Ameriyat Al-Falluja yesterday, a small city about 18 miles south of Fallujah and 40 miles west of Baghdad. But the clashes did not force the bulk of the fighters, with many of them now having made their way to the Baghdad suburbs for this morning's fighting.
Netanyahu at UN: Israel's Fight is the World's Fight
(In far-reaching speech to General Assembly, Netanyahu slams Abbas, indicating way to peace is no longer through direct talks, but via wider rapprochement with Arab world.)
Sept. 30….(Jerusalem Post) In a wide-ranging speech that touched on the scourge of radical Islam, the dangers of a nuclear Iran and a new paradigm for peace with the Palestinians, Prime Minister Binyamin Netanyahu set out at the UN on Monday to convince the world that what Israel faces today, it will face in the near future. "The fight against militant Islam is indivisible," Netanyahu said on the last day of speeches at the UN General Assembly's general debate to a hall about three-fourths full. "When militant Islam succeeds anywhere, it is emboldened everywhere. When it suffers a blow in one place, it is set back in every place. That is why Israel's fight against Hamas is not just our fight, it is your fight. Israel is fighting a fanaticism today that your countries might be facing tomorrow."
Netanyahu also cautioned against focusing world efforts on battling Islamic State at the expense of ignoring Iran's nuclear aspirations, saying that "to defeat ISIS [Islamic State] and leave Iran as a threshold nuclear power is to win the battle and lose the war." Netanyahu broke up his address into five main parts: The first dealt with the challenge of Islamic radicalism, as embodied by Islamic State. The second part dealt with the danger of an already existing Islamic state, Iran getting nuclear capabilities. The third dealt with the summer's Gaza operation; the fourth with rising anti-Semitism; and the fifth with a comprehensive regional peace.
It was in the last section that Netanyahu signaled a new approach to the Palestinian issue, saying that while in the past the assumption was that an Israeli-Palestinian agreement would lead to a rapprochement between Israel and the Arab world, now, perhaps, a partnership with the Arab world could led to an eventual peace agreement with the Palestinians. "To achieve that peace, we must not look only at Jerusalem and Ramallah, but also to Cairo, Amman, Abu Dhabi, Riyadh and elsewhere," he said. "I believe peace can be realized with the active involvement of Arab countries, those who are willing to provide political, material and other indispensable support." Though he never mentioned Palestinian Authority President Mahmoud Abbas by name, Netanyahu leveled a blistering attack on charges the PA leader made last week at the UN, charging that Israel was a racist state committing genocide.
Netanyahu said that while in the past the Jews were demonized with blood libel charges and accused of deicide, "today the Jewish state is demonized with the apartheid libel, and charges of genocide." Then, referring to Israel's actions in carrying out the Gaza operation in the summer, he asked, "In what moral universe does genocide include warnings to the enemy civilian population to get out of harm's way, or ensuring that they receive tons of humanitarian aid each day, even as thousands of rockets are being fired at us, or setting up a field hospital to aid their wounded?" Referring to Abbas and the Holocaust denial paper he wrote for his doctorate at a Russian university, Netanyahu said, "I suppose it is the same moral universe where a man who wrote a dissertation of lies about the Holocaust, and who insists on a Palestine free of Jews, judenrein, can stand on this podium and shamelessly accuse Israel of genocide and ethnic cleansing."
Netanyahu began his address by saying that while the people of Israel pray for peace, "our hopes and the world's hopes for peace are in danger because everywhere we look militant Islam is on the march." He defined the goal of militant Islam as world domination, and likened it to a cancer that if not checked immediately, will grow and attack "wider and wider areas." He hit out at countries who applauded US President Barack Obama for leading action against Islamic State, but condemned Israel for confronting Hamas. He quoted from both Hamas and Islamic State leaders to prove his point: That they share a fanatical creed that seeks world Islamic domination. "Militant Islam's vision to dominate the world seems mad, but so too did the goals of another fanatical ideology that swept into power eight decades ago," the prime minister said. "The Nazis believed in a master race, the militant Islamists believe in a master faith." The only difference among the different Islamic radical groups, Sunni and Shi'ite, was over who would be "the master of the master faith," he said. "Therefore the question before us is whether militant Islam will have the power to realize its unbridled ambitions," Netanyahu said.
Then, in a subtle parallel between Islamic State, which the world fears, and Iran, he said, "there is one place where that could soon happen, the Islamic State of Iran." Netanyahu said that for the past 35 years Iran has been propelled by a philosophy of Islamic world domination, and pointed out the irony of President Hassan Rouhani standing at the UN podium last week and bewailing global terrorism. He urged the world not to be taken in by Tehran's charm offensive and lift sanctions, which was an effective obstacle to Iran's path toward a bomb. "The Islamic Republic is now trying to bamboozle its way to an agreement that will remove the sanction it still faces, and leave it with capacity for thousands of centrifuges to enrich uranium. This would effectively cement Iran's place as a threshold military nuclear power, and in a future time of its choosing, Iran, the world's most dangerous regime in the world's most dangerous region, will obtain the world's most dangerous weapons," Netanyahu said.
It was one thing to confront Islamic radicals armed, like Islamic State, with Kalashnikov rifles on pick-up trucks, and another thing altogether to face Islamic radicals armed with nuclear weapons, he said. Netanyahu slammed the UN Human Rights Council for setting up a team to investigate Israeli "war crimes," not those of Hamas, and said this sent a message to all terrorists everywhere that they could use civilians as human shields.
The prime minister passionately rebuffed accusations that Israel intentionally targeted civilians, saying that while Israel was doing everything it could to minimize Palestinian civilian casualties, Hamas was doing its utmost to maximize both Israeli and Palestinian civilian casualties.
As he does often in major speeches, Netanyahu used a prop this time as well, holding up a photo of three children in Gaza playing next to two rocket launchers. This, he said, was the war crime that Abbas should have bewailed last week in his UN address. "The profound moral difference between Israel and Hamas couldn't have been clearer," he said. "Israel was using its missiles to protect its children, Hamas was using its children to protect its missiles."
Russia Ships Anti-Aircraft Missiles to Syria
(Russia could target US coalition warplanes)
Sept. 30….(WND) Russia last week sent a shipment of anti-aircraft missiles to the regime of Syrian President Bashar al-Assad, according to informed Middle Eastern security officials speaking to WND. Another shipment of Russian weaponry is currently on the way to Syria, the officials said. The officials said last week's shipment arrived at the port city of Tartus on the Mediterranean coast of Syria, where Russia maintains a naval base.
The Russian shipments come as the Obama administration steps up support for the rebels battling the Assad regime. The US aid to the Syrian rebels is purportedly aimed at fighting ISIS terrorists. Two weeks ago, Russian Foreign Minister Sergey Lavrov told reporters his government would provide military support to Syria, claiming the anti-aircraft munitions were meant to aid the Assad regime in the fight against terrorism. However, neither ISIS nor any other jihadist group operating in the area possess any aircraft. The US and allies have been carrying out airstrikes in Syria targeting ISIS. "We have spoken of our contribution to supporting the Iraqi government in their fight against terrorists, ensuring security of their state. In a similar way, we provide military and other kind of assistance to Syria that is also facing a serious terrorist threat, maybe to a lesser degree," Lavrov said on the sidelines of an international conference on Iraq in Paris on Sept. 15.
Russia threatens to retaliate against US military
The report of weapons shipments to Syria come as WND reported yesterday Russia has delivered a behind-the-scenes threat to retaliate if airstrikes carried out by the US or its allies target the Assad regime, according to Middle Eastern security officials. The security officials said Russia complained Sunday in quiet talks with United Nations representatives that the Obama administration's current aerial campaign against ISIS fighters in Syria is a violation of international agreements regarding control of Syrian airspace.
The officials said Russia warned it could potentially retaliate if US or Arab airstrikes go beyond ISIS and instead bomb any Syrian regime targets. The officials told WND they do not have any information about the seriousness of the Russian threat or whether Moscow meant it would retaliate directly or aid Assad's air force in a military response. The officials said Russian diplomats asserted terms regarding Syrian airspace were agreed upon last September as part of a sweeping deal to disarm Syria's arsenal of chemical weapons by the middle of 2014. At the time, the international community feared Assad could target chemical weapons inspectors acting in Syria. That fear, in part, lead to a deal in which Moscow says it was provided with significant responsibility over the skies of Syria, purportedly to insure against Assad's air force acting against the international disarmament effort. The officials further said that both the Russia and Iranian militaries are on heightened alert amid the ongoing situation in Syria.
On Saturday, US-led coalition warplanes for the first time reportedly struck ISIS targets in Syria near the Turkish border as well as positions in the country's east, according to activists and a Kurdish officials speaking to the Associated Press.
Food For Thought on — Islam and Jihad
•Ishmael was the son of Abraham through Hagar, the maid of Abraham's wife Sarah. Ishmael is the Biblical father of the Arab nations.
•From these nations came Mohammad, who in approximately 632 a.d. founded the Religion of Islam
•The Religion is divided into two main branches, The Sunni's and The Shiite's.
•The Shiite branch claims its right to control the religion because Ali, its founder, was the nephew of Mohammad.
•While the Sunni branch claims its right to control because its founders were the generals in-charge when Mohammad died.
•It is reported that the Muslim Brotherhood is of the Sunni branch.
•ISIS is also from the Sunni based branch and is making war with the Shiite's in Syria, Lebanon and Gaza.
•The nation of Iran and its offshoots, Hezbollah, Syria, and Hamas, are Shiite based.
•Both branches of Islam are at war with each other but are unified in their goal to destroy Israel and The United States Of America.
•The father of the current President of the United States was a devote Sunni and the President himself was raised under the tutelage of the Sunni branch of Islam.
•This makes their Jihad worldwide, which continues to this very day.
•The verse below is speaking directly concerning Ishmael and the nations that would come from this direct descendent of Abraham.
"And he will be a wild man; his hand will be against every man, and every man's hand against him;
and he shall dwell in the presence of all his brethren." —Genesis 16:12
Islamic State-Style Beheading, in Oklahoma (America's heartland)
Sept. 29….(Israel Alert) The FBI is investigating whether Nolen's faith could be linked to the murder. Several sources indicate that radical Islam was a driving force in Nolen's life. Nolen's Facebook page, under the name Jah'Keem Yisrael, features virulently anti-Christian, anti-American and anti-Israeli posts as well as photos of ISIS and Al-Qaeda terrorists. In a post to "fellow Muslims," for example, he writes: "America and Israel are wicked. Wake up Muslims!!!" Nonetheless, US law enforcement officials say there is no indication that the decapitation is linked to terrorism. Nolen's colleagues told investigators that he had made numerous attempts to inspire fellow employees to convert to Islam.
The Islamic Council of Oklahoma rushed to state that Nolen was "not known to any of the leadership in Oklahoma mosques," but several Facebook posts show him praying at a mosque in Oklahoma City.
The Oklahoma Conference of Churches issued a statement on Saturday urging "all Oklahomans and people everywhere not to equate Mr. Nolen's actions with the beliefs and practices of the Islamic community in Oklahoma."
Suhaib Webb, an Imam with ties to former Al Qaeda mastermind Anwar al-Awlaki, had also previously been the leader of the Islamic Society of Greater Oklahoma City, which had been attended by Alton Nolen, the man who last Thursday beheaded a former coworker after recently converting to Islam, Breitbart News has learned. Webb now serves as Imam of the sister organization of the mosque attended by Boston Marathon bombers Dzhokhar and Tamerlan Tsarnaev. Imam Suhaib Webb has a history of ties to radicalism. FBI surveillance documents found that he was a known confidant of Al Qaeda mastermind Anwar al-Awlaki. Just two days before the September 11, 2001 attacks on America, Webb spoke at a fundraiser with Awlaki with hopes to raise funds for Atlanta-based H. Rap Brown, a man that shot and killed two police officers. The FBI documents also found that "Webb and Awlaki may be associated with the Muslim American Society," which is a group described by the Investigative Project on Terrorism as being "founded as the United States Chapter of the Muslim Brotherhood."
Nolen took a picture of himself (above) September 5th, just three weeks before he brutally murdered an innocent woman, standing in front of the gates of the Islamic Society of Greater Oklahoma City. The caption read: "At The Masjid (Mosque) Today For Jumar 9/5/2014 & Peforming Wudu!!!"
Imam Webb's bio from his new place of employment, the Islamic Society of Boston, states: While pursuing his bachelors degree Imam Webb studied privately with a renowned Muslim Scholar of Senegalese descent. After intense private training in various Islamic sciences, Imam Webb was hired as the Imam at the Islamic Society of Greater Oklahoma City, where he not only provided Khutbas (Sermons) and religious classes but also counseled families and young people.
The Islamic Society of Boston, which was attended by the Tsarnaev brothers during his tenure as Imam, has several within their ranks who have been charged with committing acts of Islamic Radicalism. The founder of the Mosque, Abdulrahman Alamoudi, was sentenced to 23 years in prison for his role for financing terror.
After the Boston Marathon bombings, Webb had initially been invited to an interfaith memorial at the Holy Cross Cathedral, where president Obama was scheduled to speak. Imam Webb's invitation was then rescinded under mysterious circumstances at the last minute, according to reports.
Writing in the Jewish Advocate last year, columnist Charles Jacobs described Imam Webb as someone who "teaches vicious hatred and calls for young Muslims to engage in Jihad against non-Muslims in order to establish a global Islamic state." Additionally, a video from October showed Webb at a Council for American Islamic Relations (CAIR) fundraiser calling for an Islamic State. The Islamic organization, a group that originally had secretly called itself the "Palestine Committee of the Muslim Brotherhood," was charged as an unindicted co-conspirator in the largest terrorism financing case in American history, known as the Holy Land Foundation Trial.
Netanyahu Heading to US to Dispel Abbas, Rouhani's 'Slander and Lies'
Sept. 29….(YNET) Prime Minister Benjamin Netanyahu left for New York on Sunday morning to "refute the slander and lies" in Iranian President Hassan Rouhani's "deceptive speech" and Palestinian President Mahmoud Abbas' "inciteful speech" at the UN General Assembly. Netanyahu was due to address the General Assembly on Monday, three days after Abbas told the delegates that Israel had committed genocide in Gaza. Before leaving, the prime minister vowed to "tell the truth of Israel's citizens to the entire world." "In my UN General Assembly speech and in all of my meetings I will represent the citizens of Israel and will, on their behalf, refute the slander and lies directed at our country," Netanyahu said.
The prime minister was to begin his visit on Sunday in a meeting with Indian Prime Minister Narendra Modi. This meeting marks the first between prime ministers of Israel and India time in over a decade. On Tuesday, Netanyahu was to meet with UN Secretary-General Ban Ki-moon, followed Wednesday by a meeting with US President Barack Obama. While Rouhani only mentioned Israel once in his speech, saying that "Had we had greater cooperation and coordination in the Middle East, thousands of innocent Palestinians in Gaza would not have been fallen victim to Zionist regime's aggression," Abbas dedicated the lion's share of his speech to Israel.
In the speech, Abbas called the previous round of fighting against Gaza "a series of absolute war crimes carried out before the eyes and ears of the entire world, moment by moment." The devastation unleashed, he asserted, "is unmatched in modern times." He further stated that "the Israeli government undermined chances for peace throughout the months of negotiations," referring to the failed 9-month-long peace process undertaken before the latest violence in Gaza. "Israel has consistently sought to fragment our land and our unity." Senior officials in Prime Minister Benjamin Netanyahu's office denounced the allegations as "a speech of incitement filled with lies."
Foreign Minister Avigdor Lieberman also commented on Abbas' speech Friday saying that, "Abu Mazen's (Abbas') words at the UN General Assembly sharply clarify again that Abu Mazen doesn't want and can't be a logical partner for a political settlement. Abbas isn't a member of joint government with Hamas for no reason." The foreign minister said that, "Abbas complements Hamas in his political terrorism and storytelling against Israel. So long as he's chairman of the Palestinian Authority, Abbas will lead to the continuation of the conflict. He has proved time and again that he is not a man of peace, but rather (Yasser) Arafat's heir."
WEEK OF SEPTEMBER 21 THROUGH SEPTEMBER 27
Muslim Man Beheads Woman in Oklahoma
Sept. 27….(ABC News) A man fired from an Oklahoma food processing plant beheaded a woman with a knife and was attacking another worker when he was shot and wounded by a company official, police said Friday. Moore Police Sgt. Jeremy Lewis said police are waiting until Alton Nolen, 30, is conscious to arrest him in Thursday's attack and have asked the FBI to help investigate after co-workers at Vaughan Foods in the south Oklahoma City suburb told authorities that he recently started trying to convert several employees to Islam.
Nolen severed the head of Colleen Hufford, 54, Lewis said. "Yes, she was beheaded," Lewis told The Associated Press before a Friday news conference. Lewis said Nolen then stabbed Traci Johnson, 43, a number of times before Mark Vaughan, a reserve sheriff's deputy and the company's chief operating officer, shot him. "This was not going to stop if he didn't stop it. It could have gotten a lot worse," Lewis said. "The threat had already stopped once we arrived." Lewis said Moore police have asked the FBI to look into the man's background because of the nature of the attack, which follows a series of videotaped beheadings by Islamic State militants.
In a statement, FBI Special Agent in Charge James E. Finch said the motive for the attack has not been determined but that there is no reason to believe there is a threat to anyone else. Johnson and the suspect were hospitalized and in stable condition Friday, Lewis said. Nolen had not yet been charged and Lewsi said he didn't know what charges the suspect would face.
Oklahoma Department of Corrections records say Nolen has served time in prison and is on probation for assault and battery on a police officer. He also was convicted of cocaine possession with intent to distribute in 2011. Corrections records show Nolen has what appear to be religious tattoos, including one referencing Jesus and one in Arabic that means "peace be with you."
FOJ Note: This devilish killing was not workplace violence, nor the reaction to anything to do with employment. Our government will cover this incident up and cast it off as whatsoever to do with Islamic extremist or Jihadists. But the truth lies elsewhere, and most likely in a fanatical Muslim linkage. America has never seen beheadings in its workplace, and it cannot be dismissed that ISIS called for lone-wolf attacks on Americans in the heartland just this week.
More notes on Oklahoma Beheading: The FBI is now looking into Nolen's background after his former co-workers said he tried to convert them to Islam after converting to the religion himself. Lewis says the FBI is working in conjunction with the Moore Police Department, especially when it comes to the religious aspect of the case. At this time, it is not known if the suspect's beliefs played a role in the attack. Oklahoma Muslims Shout "Praise Allah!" and read passages from the Koran as they surround OK Police Following Press Conference on the Beheading!
Oklahoma beheading suspect Alton Alexander Nolen called himself "Jah'Keem Yisrael" on his Facebook page, where he uploaded photos of himself reading the Koran and wearing Muslim religious clothing. Nolen's Facebook page also revealed that he admired the Taliban.
Abbas Calls Israel A 'Genocide State,' Makes New UN Statehood Bid
(Palestinian leader tells UN he's is prepping draft Security Council resolution to ensure Palestinian statehood, 'international protection')
Sept. 27….(Times of Israel) Palestinian Authority President Mahmoud Abbas on Friday railed about Israel's "absolute war crimes" and "genocide" against Palestinians in the Gaza Strip and said he'd seek a UN resolution to end Israel's presence in the Palestinian territories. Speaking before the UN General Assembly, Abbas said 2014 was meant to be a year of international solidarity with the Palestinians, but blamed Israel for choosing to make it "a year of a new war of genocide perpetrated against the Palestinian people." He didn't go so far as to say he'd pursue prosecuting Israeli leaders at the International Criminal Court, however. Abbas condemned the "unprecedented" destruction in the Gaza Strip following the 50-day conflict fought between Israel and terrorist groups in the Palestinian enclave and charged that Israel committed "absolute war crimes carried out before the eyes and ears of the entire world."
The Hamas Health Ministry reports that over 2,100 Gazans were killed by Israel during Operation Protective Edge, but Israel contends that roughly half that figure were combatants. Israel lost 66 soldiers and six civilians. During the 50-day conflict, Gaza-based terrorist groups fired at least 3,360 rockets into Israel, according to IDF figures. "This war came after long, difficult negotiations for more than eight months under the auspices of the United States and the efforts of President Barack Obama and tenacious efforts of his Secretary of State John Kerry," Abbas said, referring to the nearly nine-month negotiations which collapsed at the end of April without result. "We engaged in this endeavor with open minds, in good faith and with a positive spirit and engaged with the efforts of the American administration in the most constructive manner, and we put forth our firm positions based on the resolutions of international legitimacy, which receive the overwhelming support of the nations of the world," said Abbas.
Whereas the Palestinians "genuinely respected all of our commitments and understandings" (FOJ Note: this statement is a blatant LIE) and gave the negotiations a chance, however, Abbas charged that Israel "did not miss the opportunity to undermine the chance for peace" and "once again failed the test of peace." While calling for an immediate resumption of peace talks to resolve core final status issues, Abbas was deeply pessimistic about prospects for progress in peace talks with Israel in the kind of framework pursued thus far, saying that "it is impossible, to return to the cycle of negotiations that failed to deal with the substance of the matter and the fundamental question," namely, the establishment of a Palestinian state inside the pre-1967 lines with East Jerusalem as its capital. "There is neither credibility nor seriousness in negotiations in which Israel predetermines the results via its settlement activities and the occupation's brutality," he said, adding that it was impossible to "repeat methods that have proven futile or to continue with approaches that have repeatedly failed and require comprehensive review and radical correction." "Israel refuses to end its occupation of the State of Palestine since 1967, but rather seeks its continuation and entrenchment, and rejects the Palestinian State and refuses to find a just solution to the plight of the Palestine refugees," Abbas said. He added that Israel envisions "isolated ghettos for Palestinians" and repeatedly accused Israel of racist and apartheid policies and aspirations. "Israel has confirmed during the negotiations that it rejects making peace with its victims, the Palestinian people," he said. "The time has come to end this settlement occupation." He said the Palestinians "are actually the ones who need immediate international protection, which we are seeking through international organizations."
The PA president said that his government and the Arab Group are preparing a draft Security Council resolution which would "push forward the efforts to achieve peace" and "correct the deficiency of the previous efforts to achieve peace by affirming the goal of ending the Israeli occupation and achieving the two-state solution" within a timeframe which he didn't specify. Earlier reports said he would delineate a three-year timeline for the Israeli withdrawal.
At the same time, Abbas said this unilateral move at the United Nations would "be linked to the immediate resumption of negotiations between Palestine and Israel to demarcate the borders, reach a detailed and comprehensive agreement and draft a peace treaty between them." Tying in one of the hot button issues at the General Assembly, the threat posed by the Islamic State to international security, Abbas said that confronting terrorist groups "such as 'ISIL' and others that have no basis whatsoever in the tolerant Islamic religion" requires both military confrontation, condemnation, and a strategy to eliminate their economic and ideological support. He went so far as to connect the fight against the Islamic State to the Israeli-Palestinian conflict, saying "it requires bringing an end to the Israeli occupation of our country."
Immediately following Abbas's speech, Israeli Foreign Minister Avigdor Liberman said in a statement that the PA president demonstrated that "he doesn't want and cannot be a partner for a logical diplomatic resolution." "It's no coincidence that he joined a national consensus government with Hamas," the foreign minister said, referring to the Fatah-Hamas unity government. "Abbas complements Hamas when he deals with diplomatic terrorism and slanders Israel with false accusations." "So long as he's chairman of the Palestinian Authority he will continue the conflict. He is the continuation of late Palestinian leader Yasser Arafat through different means," Liberman said.
FOJ Note: Mr. Liberman is exactly correct. Mr. Abbas is just another Arafat, with a different stripe. Abbas is not a partner for peace that Israel could trust. Albeit, American politicians continually blame Mr. Netanyahu for the failed peace processes. But, then, American politicians (Bill Clinton, Obama, Kerry and many others) are either blind, ignorant, and deluded, or else self promoting ego-maniacs seeking world applause.
Obama Meets With el-Sissi, says Egypt key to Mideast Security
Sept. 27….(Times of Israel) US President Barack Obama on Thursday touted the longstanding relationship between the United States and Egypt as a cornerstone of American security policy in the Middle East. Obama met with Egyptian President Abdel-Fattah el-Sissi in New York on the sidelines of the UN General Assembly meetings. It was the first face-to-face meeting between Obama and el-Sissi, who was elected earlier this year.
Prior to the meeting, Obama said the two leaders planned to discuss a range of security issues, including the Israeli-Palestinian conflict, Libya, and the Islamic State terrorist group wreaking havoc in Iraq and Syria.
A former army general, el-Sissi has faced international criticism for his ouster last year of Egypt's first freely elected president. US-Egypt ties have been strained since the ouster but the US has sought to urge Egypt to pursue a more democratic system.
In June, Secretary of State John Kerry's met with el-Sissi for the first time, and US officials revealed that $572 million in aid, which had been frozen since October following an Egyptian crackdown on protesters, was released to Egypt after a green light from Congress. It will mainly go to pay existing defense contracts. US officials said in April they planned to resume some of the annual $1.5 billion in mostly military aid to Cairo, including 10 Apache helicopter gunships for counter-terrorism efforts in the Sinai Peninsula.
FOJ Note: Mr. Obama is disingenuous. He single-handedly attempted to remake Egypt into an Islamic theocracy via his associations with the Muslim Brotherhood, whom his half brother leads in Egypt. The so-called election of Mohammad Morsi in the Arab Spring revolts was not a true democratic initiative. The Muslim Brotherhood stole that election, yet Obama maintained that Morsi was the legitimate leader. El Sisi, and true democratic proponents thwarted Obama's covert efforts!
Obama Praises Muslim Cleric Who Backed Fatwa on Killing of US Soldiers
Sept. 27….(Washington Free Beacon) President Barack Obama favorably quoted and praised on Wednesday in his speech before the United Nations a controversial Muslim cleric whose organization has reportedly endorsed the terror group Hamas and supported a fatwa condoning the murder of US soldiers in Iraq. Obama in his remarks offered praise to controversial cleric Sheikh Abdallah Bin Bayyah and referred to him as a moderate Muslim leader who can help combat the Islamic State of Iraq and the Levant's (ISIL or ISIS) radical ideology.
However, Bin Bayyah himself has long been engulfed in controversy for many of his views, including the reported backing of a 2004 fatwa that advocated violent resistance against Americans fighting in Iraq.
This is not the first time that the Obama administration has extoled Bin Bayyah, who also has served as the vice president of a Muslim scholars group founded by a radical Muslim Brotherhood leader who has called "for the death of Jews and Americans," according to Fox News and other reports.
The State Department's Counterterrorism Bureau (CT) was forced to issue multiple apologies earlier this year after the Washington Free Beacon reported on its promotion of Bin Bayyah on Twitter. "This should not have been tweeted and has since been deleted," the CT Bureau tweeted at the time after many expressed anger over the original endorsement of Bin Bayyah.
However, it appears that Obama and the White House are still supportive of Bin Bayyah, who, despite his past statements, is still hailed by some as a moderate alternative to ISIL and al Qaeda. "The ideology of ISIL or al Qaeda or Boko Haram will wilt and die if it is consistently exposed, confronted, and refuted in the light of day," Obama said before the UN, according to a White House transcript of his remarks. "Look at the new Forum for Promoting Peace in Muslim Societies, Sheikh bin Bayyah described its purpose: 'We must declare war on war, so the outcome will be peace upon peace,'" Obama said, quoting the controversial cleric.
Concern over the administration's relationship with Bin Bayyah started as early as 2013, when outrage ensued after he was reported to have met with Obama's National Security Council staff at the White House. While Bin Bayyah has condemned the actions of groups such as Boko Haram and ISIL, he also has taken controversial positions against Israel. He issued in 2009 a fatwa "barring 'all forms of normalization' with Israel," according to a Fox report on the White House meeting. Additionally, his notorious 2004 fatwa permitting armed resistance against US military personnel in Iraq reportedly stated that "resisting occupation troops" is a "duty" for all Muslims, according to reports about the edict.
Patrick Poole, a reporter and terrorism analyst who has long tracked Bin Bayyah, expressed shock that the Obama administration would endorse the cleric on the world stage. "It is simply amazing that just a few months ago the State Department had to publicly apologize for tweeting out it's support for Bin Bayyah, only to have Barack Obama go before the leaders of the entire world and publicly endorse Bin Bayyah's efforts," Poole said. "It seems that nothing can stop this administration's determination to rehabilitate Bin Bayyah's image, transforming him from the Islamic cleric who issued the fatwa to kill Americans in Iraq and calling for the death of Jews to the de facto White House Islamic mufti," he said.
This type of mentality has contributed to the administration's foreign policy failures in the region," Poole said. "This is a snapshot of why this administration's foreign policy in the Middle East is a complete catastrophe," he said. "The keystone of their policy has been that so-called 'moderate Islamists' were going to be the great counter to al Qaeda. But if you take less than 30 seconds to do a Google search on any of these 'moderate Islamists,' you immediately find they are just a degree or two from the most hardcore jihadis and have little to no difference when it comes to condoning violence."
FOJ Note: Mr. Obama seems to find plenty of ways and times to be complimentary of Islam, and sinister proponents of Jihad, and their evil fatwa's. Yet he can't seem to find any time to support an American Marine held prisoner in Mexico, nor to seek the release of a Christian pastor held in prison in Iran. Nor can he find any means comment on the extreme persecution and murder of Christians in Muslim lands. I wonder why!
Hamas, Fatah Agree Palestinian Authority to Take Control of Gaza
(Hamas has agreed to the establishment of a Palestinian state within the '67 borders, Fatah negotiator says.)
Sept. 26….(Ha Aretz) Palestinian factions Hamas and Fatah reached an agreement on Thursday by which the Palestinian Authority will take control over the Gaza Strip. The deal also includes Hamas' consent for a Palestinian state within the 1967 borders, according to a Fatah official. Hassin Alsheikh, a negotiator on the Fatah team, told Haaretz that the Palestinian Authority will take responsibility for the reconstruction of the Strip as well as for manning the Gaza crossings "effective immediately." He added that Hamas also agreed to support Palestinian President Abbas' plan for establishing a state within the '67 borders.
Hamas' negotiator Musa Abu Marzouk and Fatah's Azzam Ahmed told reporters at a joint press conference in Cairo that the factions agreed to promote any decision that will aid the Palestinian unity government, and that a joint committee will supervise the agreement's implementation and will rule on any disagreement. Officials from the rival groups were meeting in Cairo to try to overcome their differences and strengthen their hand for talks with Israel slated for late next month.
For Abbas, the announcement of reconciliation between the factions and the resumption of Palestinian Authority control of Gaza will promote his cause vis-à-vis the international community, especially those nations which donate funds to the Palestinian Authority. These convened in New York earlier this week, and are expected to reconvene in Cairo on October 12, ahead of the renewal of cease-fire talks with Israel. The Gaza ceasefire struck in August between Israel and the Palestinians included stipulations that the Palestinian Authority, led by Abbas, should take over civil administration in Gaza from Hamas. But a dispute over the Palestinian Authority's non-payment of salaries to Gaza's public sector workers brought tensions between the two main Palestinian factions to near-breaking point. "All civil servants will be paid by the unity government because they are all Palestinians and it is the government of all Palestinians," said Azzam Ahmed of Abbas' Fatah movement.
Abu Marzouk, chairman of Hamas' political bureau, said control of Gaza's border crossings, another contentious issue, would lie with the United Nations in addition to the unity government. "The United Nations will come to an agreement with Israel and the unity government on how to run the crossings," Marzouk said. He added that Rafah border crossing with Egypt was not part of the talks. The timing of the agreement's announcement is not accidental, and serves the interests of Palestinian President Mahmoud Abbas, who is slated to address the UN General Assembly on Friday. Abbas is expected to present the Assembly with his diplomatic plan, based on ending the Israeli occupation within three years and establishing a Palestinian state within the 67' borders.
IAF Shoots Down Syrian Plane Over Golan
Sept. 25….(Jerusalem Post) The IDF shot down a Syrian warplane that invaded Israeli airspace over the Golan Heights on Tuesday. At 8:57 am, the Israel Air Force detected a Sukhoi-24 Syrian fighter jet crossing into Israel's air space. The jet was 800 meters into Israeli air space when the IAF took the decision to shoot it down, a senior IAF official said. "This decision is in line with our policy of intercepting all intrusions into our air space," he said. A minute and 20 seconds after the decision was taken, the dual seat Sukhoi-24 was struck by a Patriot surface-to-air missile, and the pilot and navigator managed to parachute out of the aircraft. When the missile was fired, the plane was still flying into Israel, but when it struck, the jet had turned around and was flying back into Syria. The air crew members parachuted into Syrian territory. The aircraft was flying at between 10,000 to 14,000 feet, the source said. "This jet could have reached the center of the country within a short time. In under a minute, it would have been over Lake Kinneret, and within five minutes, it could have gotten to any place," the air force officer said.
The jet took off from a Sukhoi air base in Saikal, eastern Syria, and likely sought to bomb Syrian rebel targets in Quneitra. "We don't have any interest in supporting the rebels. This is a border; any aircraft that crosses it will be shot down," the official said. "Just as an intruder on the surface will be intercepted."
Defense Minister Moshe Ya'alon said that the Syrian warplane had "approached Israeli territory in the Golan Heights in a threatening manner, and even crossed the border." He said that Israel "has made it clear in the past, and is reiterating now: "We will not allow anyone, neither state nor terror organization to threaten our security and to violate our sovereignty." Ya'alon vowed to "respond aggressively to any attempt of this kind, whether its intentional or an accident." Syria confirmed that Israel had shot down one of its warplanes, describing the incident as an "act of aggression." Syrian state TV quoted a military source saying the downing of the plane, which coincided with US-led air strikes against Islamic State in Syria, came "in the framework of (Israel's) support for the terrorist (Islamic State) and the Nusra Front." Quneitra, on the Syrian Golan, has been a hotbed of the Syrian conflict in recent weeks as fierce battles have raged just over the Israeli border between Assad's Syrian Army forces and al-Qaida linked al-Nusra Front rebels.
Second Round of air strikes in Syria Targets Oil Facilities
Sept. 25….(CNN) US and coalition warplanes pounded ISIS positions in eastern Syria, targeting oil installations being used by the so-called Islamic State terror group, a US official with knowledge of the operation told CNN on Wednesday. The latest round of air strikes appeared to be an effort to cut off money flowing to ISIS, which has been selling oil to help finance the group's operations. The strikes hit about a dozen targets, the official said. Among those flying alongside US planes were forces from the United Arab Emirates, a second official said. Both officials spoke on condition of anonymity because they were not authorized to release details to the media.
The Pentagon confirmed the United States and "Arab partner forces" were carrying out a new round of air strikes on Wednesday. "These operations are ongoing, so we will not provide additional details at this time. We will do so later as operationally appropriate," Navy Rear Adm. John Kirby, the Pentagon spokesman, said. The air strikes came just hours after US President Barack Obama called for united action to confront ISIS, also referred to as ISIL. "It is no exaggeration to say that humanity's future depends on us uniting against those who would divide us along fault lines of tribe or sect; race or religion," Obama said in an address before the UN General Assembly. "This is not simply a matter of words. Collectively, we must take concrete steps to address the danger posed by religiously motivated fanatics, and the trends that fuel their recruitment." At the same time, Obama stressed that the United States "is not and never will be at war with Islam." The latest air strikes follow another round were carried out overnight Tuesday into Wednesday against five more targets: four in Iraq and one in Syria, US Central Command said.
In Syria, a US aircraft and coalition plane struck an ISIS staging area near the Iraqi border, northwest of Al Qa'im, damaging eight ISIS vehicles. In Iraq, two air strikes west of Baghdad destroyed two ISIS armed vehicles and a weapons cache. Two air strikes southeast of the city of Irbil destroyed ISIS fighting positions. The latest raids come on the heels of major air strikes in Syria early Tuesday. Obama's call for action comes as he faces questions about his decision to bomb terror groups in Syria without approval from the UN Security Council or US Congress.
An activist from Raqqa, who uses the pseudonym Maher al-Ahmad, told CNN he'd gone back to the town after the air strikes. "It's the first time I didn't see ISIS in the streets, that I was able to walk around, because I am wanted by them," said al-Ahmad, who moves between Raqqa and Turkey's Gaziantep province. He said people who were there during the strikes described them as feeling like earthquakes. Some 20 to 25 vehicles filled with ISIS fighters, including people he believes were senior leadership because of the level of security around them, left the city within hours of the attacks, the activist said. After keeping a low profile during the day, the ISIS fighters were out in the streets again by Tuesday evening but in lower numbers than usual, he said.
ISIS fighters began moving into the homes of civilians in the past two to three weeks, al-Ahmad said, raising fears that the civilians may be used as human shields or fall victim to future air strikes. Hassan al-Halabi, an activist from Aleppo, voiced similar fears, saying residents there have two main concerns about upcoming strikes in Syria. "The first is that they are afraid of having civilian casualties because ISIS' members and fighters are among civilians," al-Halabi said. "And the second concern is that what will happen after that? Who will replace ISIS, especially that the regime is ready to take control of ISIS' areas?"
ISIS Threateing Kurdish City of Kobani
Sept. 25….(Fox News) Even as US air-strikes continued to pound Islamic State positions in Syria, Kurdish fighters told FoxNews.com the terror organization was advancing on the Syrian town of Kobani, where as many as 400,000 residents and refugees are holed up. "Tell the world what is happening" said Rooz Bahjat, a senior Kurdish military officer said Wednesday by phone. "This could be a massacre if no help arrives." Desperate field commanders in Kobani, also known as Ayn al-Arab, fear the worst unless help arrives soon, and note 70,000 refugees have already fled across the border into Turkey. Hundred of thousands more, including women, remain, ready to fight. "What happened on Mount Sinjar will seem like nothing compared to this if ISIS gets through," Bahjat said, referring to the Iraqi mountain village where thousands of religious minorities were under siege from Islamic State fighters until US air strikes broke their hold. "They have now surrounded the city and are fighting on all sides."
Kobani is ringed by Islamic State tanks, artillery and mortars, and they are now just miles from the city, Bahjat said. The town's population of 60,000 has swelled to 400,000 in recent months as refugees, mainly Turkmen and Kurds, poured in to escape fighting elsewhere. Refugees who have fled to Kobani have recounted seeing their villages burned and their neighbors beheaded. Polat Tan, a senior commander with the Kurdish militia in Syria, which is defending Kobani, said time is running out. "We will do everything to resist these advances," he told FoxNews.com. "We will fight till every last drop of blood, but if help does not arrive soon, disaster is at hand."
Islamic State forces have been attacking Kobani for months, but Wednesday's assault marked a huge escalation. Sources said militants have cut off electricity and water supplies and refused to let humanitarian aid into the city. While Kurdish fighters issued their plea, President Obama, who this week initiated air strikes in northern Syria by a US-led coalition speaking at the United Nations, asked the world to join together to fight the militants and vowed to keep up military pressure against them. "The only language understood by killers like this is the language of force, so the United States of America will work with a broad coalition to dismantle this network of death," Obama said in 40-minute speech to the UN General Assembly.
Coalition strikes killed scores of Islamic State fighters in the first 24 hours, the first direct US foray into Syria. But Kurds said Islamic State had responded to the bombing campaign by intensifying its assault near the Turkish border in northern Syria. The advance on Kobani underscored the difficulty Washington faces in defeating Islamist fighters in Syria, where it lacks strong military allies on the ground. "Those air strikes are not important. We need soldiers on the ground," said Hamed, a refugee who fled into Turkey from the Islamic State advance, told Reuters.
Obama Reprises 'Terrorists Aren't Muslim' Theme at UN
(Tells UN that US 'never will be at war with Islam')(Islam is a religion of Peace)
Sept. 25….(WND) Barack Obama told an audience of United Nations delegates on Wednesday, in what has become a recurring theme for him, that Islamic terrorism really isn't Islamic, and Muslims actually aspire to live with others in peace. In an address only days after he ordered missile strikes on key points of the Islamic State, or ISIS, Muslim terrorists in Iraq, in which he also slammed Israel and blasted America's race issues, he said, "We have reaffirmed that the United States is not and never will be at war with Islam." He continued, "Islam teaches peace. Muslims the world over aspire to live with dignity and a sense of justice. And when it comes to America and Islam, there is no us and them, there is only us, because millions of Muslim Americans are part of the fabric of our country."
The comments came only days after he, on the eve of the 13th anniversary of the Muslim terror attacks on the Twin Towers in New York City and the Pentagon in Washington, insisted that the Islamic State terrorists "are not Islamic." "Now let's make two things clear: ISIL is not Islamic," he said at the time, speaking from the state floor of the White House residence. "No religion condones the killing of innocents, and the vast majority of ISIL's victims have been Muslim." He added, "And ISIL is certainly not a state. It was formerly al-Qaida's affiliate in Iraq, and has taken advantage of sectarian strife and Syria's civil war to gain territory on both sides of the Iraq-Syrian border. It is recognized by no government, nor the people it subjugates. ISIL is a terrorist organization, pure and simple. And it has no vision other than the slaughter of all who stand in its way." Meanwhile, a pluralistic, nonpartisan site that monitors and documents the violence perpetrated under the banner of Islam, The Religion of Peace, reported there have been 23,902 deadly terror attacks carried out by Islamic terrorists since the 9/11 attacks on the US, and just for the week of Sept. 13-19, there were 58 jihad attacks around the world with 419 victims.
And the Answering Islam website explains that those are representative of the instructions given Muslims. The resource explains, "Muhammad used to send letters to the kings and leaders of the surrounding countries and tribes, inviting them to surrender to his authority and to believe in him as the messenger of Allah. He always ended his letters with the following two words: 'Aslim, Taslam!' Although these two words are derived from the same infinitive Salama which is the root of Salam, i.e. 'Peace,' neither one of them implies the meaning of 'peace.' The sentence means 'surrender and you will be safe,' or in other words, 'surrender or face death.'" "The Quran and other Islamic books are full of evidence which proves that had it not been for violence, Islam wouldn't have existed or wouldn't have survived until today. A good example to mention would be 'The Wars Of Al-Riddah,' i.e. 'the wars against the apostates,' that began immediately after the death of Muhammad. Feeling relieved by the disappearance of the strong fearful leader Muhammad, the tribes which have been forced to embrace Islam, revolted and began, one after another, to renegade and to refuse paying the taxes imposed on them by the prophet's government. "In response to the revolution, the first caliph, Abu-Bakr, ordered his army to fight the apostates. It took him almost two years of fighting to force the tribes back into the fold of Islam," the report said. "The Quran not only ordered the killing of those who embraced Islam and afterwards decided to renegade, but also commanded the followers to fight all nations until they either believe in it, pay the jizya or face death: 'Fight those who believe not in Allah nor the last day, nor hold that forbidden which hath been forbidden by Allah and his apostle nor acknowledge the religion of truth of the people of the Book (the Jews and the Christians) until they pay the jizya with willing submission and feel themselves subdued. Surat At-Tauba 9:29,'" it explains.
Further, the Quran states, "Fight and slay the pagans wherever ye find them and seize them, beleaguer them, and lie in wait for them in every stratagem …" Comments the site, "Now doesn't the image of Islam as a religion of peace sound, after all, a little bit hard to believe?" Obama, at Wednesday's United Nations General Assembly, described a world where extremist Islamic groups were systematically taking over and killing and raping at will. He said it's a symptom of a broader problem, "The failure of our international system to keep pace with an interconnected world." His comments came shortly after he ordered air strikes launched against ISIS, mostly aimed at the northern Iraqi city of Raqqa, where Muslim terrorists have reigned for months.
On Wednesday, Obama described the "nightmarish" vision of the Islamists, who would "divide the world into adherents and infidels, killing as many innocent civilians as possible. "I have made it clear that America will not base our entire foreign policy on reacting to terrorism. Rather, we have waged a focused campaign against al Qaida and its associated forces, taking out their leaders and denying them the safe-havens they rely upon," he said.He said, "As we look to the future, one issue risks a cycle of conflict that could derail so much progress. And that is the cancer of violent extremism that has ravaged so many parts of the Muslim world." He called on all member nations to fight extremism, and said a lethal group of terrorists "have perverted one of the world's great religions." He cited the race violence that occurred just weeks ago in Ferguson, Missouri, after a police officer shot and killed a black teen as an indication of America's failings. And he told the UN too many in Israel are ready "to abandon the hard work of peace. "And that's something worthy of reflection within Israel," he said.
The reaction to Obama's comments was predictable. Former UN Ambassador John Bolton told Fox News, "I thought it was a stunningly abstract and ethereal speech, really touching on reality only occasionally, and nowhere was that better demonstrated than in his explanation of Islamic extremism." He continued, "What was stunning was that, having laid out the problem, his recommendation was that the solution to Islamic was negotiation and understanding and generational change."
ISIS Calls on Jihadists to Kill (behead) Millions of Americans
Sept. 25….(WND) An ISIS call to Muslims worldwide to kill as many as 10 million Americans "in any manner or way however it may be" is supported by an Islamic decree by a Saudi theologian, which was discovered among documents seized from an ISIS base in Syria, reports Islam researcher Walid Shoebat.
The fatwa, which calls for the complete annihilation of the US, comes from Saudi theologian Nasr Al-Fahd. Shoebat, a former Muslim terror operative who renounced his ways, reviewed the 26-page fatwa, which, he said, has never been translated by the US government for public scrutiny. The fatwa, said Shoebat, a native Arabic speaker, gave ISIS spokesman Abu Muhammad al-Adnani ash-Shami the justification to call on Muslims to kill Westerners.
In a video that was posted on YouTube and later removed, the ISIS leader is seen declaring: "If you can kill a disbelieving American or European, especially the spiteful and filthy French, or an Australian, or a Canadian, or any other disbeliever, including the citizens of the countries that entered into a coalition against the Islamic State, then rely upon Allah, and kill him in any manner or way however it may be."
The fatwa from Al-Fahd states that Allah demands Muslims "punish in similar fashion as you were afflicted" and "pay evil with evil." He said Muslims can kill and destroy in response to what they believe is destruction inflicted on Muslims. "So the observer sees American aggression on Muslims and their lands during the past decades and concludes the number of dead from amongst the Muslims is close to 10 million." He continued: "And as for the lands that America burned with their bombs and their explosives and rockets not one can enumerate except Allah, and whatever else happened in Afghanistan and Iraq, and this is what caused the wars on many of the Muslims causing homelessness. So if a bomb is launched at them that will kill 10 million of them, and it will burn their land as much as they burned the Muslim lands this is therefore permissible without the need to mention any other evidence." Al-Fahd was responding to a question about weapons of mass destruction, Shoebat explained. Al-Fahd's instructions were: "If the infidels cannot be repulsed from the Muslims except by resorting to using such weapons, then it may be used even if it killed and wiped them out completely including decimating their crops and their descendants."
The document states: "It was shown in Sahih … the prophet said 'Allah wrote everything we need to know about Ihsan (kindness) so if you kill perfect your killing and if you slaughter, perfect your slaughter and sharpen your blade and comfort your sacrifice.'" Shoebat pointed out ISIS sees killing Americans as an act of mercy. He cited the fatwa: "Ibn Rajab said regarding Allah's mercy in his collection on science and governance, p 112: 'in charity it is permissible to kill people and animals in the easiest way and do not increase in the torture and the easiest method to kill a human being is to strike off the neck with the sword of violence in accordance to the Quran' when 'you meet the unbelievers then strike off their necks' (Quran) 'فإذالقيتمالذينكفروافضربالرقاب' and it also said: 'I will spread horror/terror in the hearts of the unbelievers, smite above their necks and smite [their] fingertips thereof.'"
Shoebat warned there is much more to translate from the fatwa, which is "littered with horrific declarations and is strictly pointing to the United States from mass killing to spreading disease to utter destruction of human life in masse." He explained the laptop in which the manifesto was found "was seized from an ISIS base in Syria [and] contains plans to launch devastating terror attacks [and] also contains instructions on how to build explosives, use disguises to travel undetected, and plans to build chemical weapons." He said the document states the advantage of biological weapons is "that they do not cost a lot of money, while the human casualties can be huge."
While the US and several "Arab allies" joined Monday in air strikes against ISIS in Syria, former Rep. Allen West said unless the US deploys Special Forces on the ground and acknowledges its enemy is Islamic jihadists, the Obama military strategy against ISIS is doomed to failure. Joining West in that opinion was retired Army Lt. Gen. William G. Boykin. Both have experience in Middle Eastern combat. In separate interviews with WND, Boykin and West asserted President Obama cannot employ politically correct warfare to defeat brutally savage Islamic jihadists who have already demonstrated their ability to achieve victory in the ideologically charged 21st century battlefield of the Middle East.
US Launches 1st Wave of Bombing Strikes Over Syria
Sept. 23….(Fox News) The United States launched its first wave of bombing attacks over Syria early Tuesday against an expected 20 to 25 Islamic State targets, US officials said. The operation, expected to last several hours, involved planes launched from US destroyers in the Persian Gulf and Red Sea. Planes from five Arab countries also participated in the strikes. The first explosions from Tomahawk missiles were heard in northern Syria. Targets were expected to include command and control centers, training camps and weapons depots.
President Obama on Sept. 10 authorized US air strikes inside Syria as part of a broad campaign to root out the Islamic State militant group also known as ISIS and ISIL. In a nod to his plans to go into Syria, Obama said then, "I have made it clear that we will hunt down terrorists who threaten our country, wherever they are. That means I will not hesitate to take action against ISIL in Syria, as well as Iraq." Until now, US air strikes have been limited to specific missions in northern Iraq.
US Says Other Countries Willing to Launch Air Strikes in Syria
Sept. 23….(In The Days) The United States says other countries are willing to launch air strikes in Syria against Islamic State militants and its UN ambassador predicted on Sunday: "We will not do the air strikes alone." Washington is trying to build an international military, political and financial coalition to defeat the radical Sunni Muslim group that has seized swathes of Iraq and Syria and proclaimed a caliphate in the heart of the Middle East.
US Ambassador to the United Nations Samantha Power was asked on CBS' "Face the Nation" if the United States had any indication other countries were willing to launch air strikes in Syria. "We do," Power said. "But we're going to leave it to other nations to announce for themselves what their specific commitments to the coalition are going to be." Power highlighted US efforts to build a coalition against Islamic State on television news shows as world leaders gathered in New York for this week's UN General Assembly.
The United States has launched air strikes against Islamic State within Iraq and President Barack Obamahas authorized strikes in Syria aimed at denying Islamic State fighters safe havens in either country. Washington has also committed $500 million to arm and train Syrian rebels and 1,600 US troops into Iraq to fight the group. Power refused to identify any of the countries that might join air attacks in Syria, but told CBS, "we do indeed have the support along the lines that I've described." Power told the ABC program "This Week" there was universal support for "degrading and destroying" Islamic state. "I will make you a prediction," Power said on ABC. "We will not do the air strikes alone if the president decides to do the air strikes." France last week launched air strikes inside Iraq, but its President Francois Hollande ruled out action in Syria. Obama will give a speech at the General Assembly on Wednesday to make the case again for world action against Islamic State.
Islamic State has vowed to pursue a "direct confrontation" with the United States and made public its beheadings of American journalists James Foley and Steven Sotloff as retaliation for US air attacks inIraq. While Americans support air strikes, there is little appetite for a long campaign against the group, a Reuters/Ipsos poll showed.
Congress last week approved Obama's request for $500 million to arm and train Syrian rebels to fight Islamic State, but some lawmakers expressed reservations. "The risk is that the United States begins getting involved in what may be a very long term commitment to a messy civil war in Syria," Senator Chris Murphy, a Foreign Relations Committee Democrat who voted against the aid, told NBC's "Meet the Press."
Syria Blasts US Coalition Against Islamic State
(Syrian official says US should work directly with Damascus to battle jihadists,
not with 'terrorist-supporting states')
Sept. 23….(Times of Israel) Syria's parliament speaker said Sunday that the US should work with Damascus to battle the Islamic State extremist group rather than allying with nations which he accused of supporting terrorism. Speaker Jihad Laham was apparently referring to Saudi Arabia and other countries backing rebels trying to overthrow Syrian President Bashar Assad.
Obama is currently working to form a global coalition to confront the Islamic State group, which controls large parts of Syria and Iraq. The US meanwhile has been conducting airstrikes against Islamic State fighters in Iraq since August. Obama last week authorized strikes against the group in Syria. US officials have ruled out direct coordination with Assad's government, a move which has infuriated Syrian officials who say any airstrikes without their consent would be a breach of the country's sovereignty. They also appear to be concerned that an anti-Islamic State group coalition might ultimately shift targets to assist rebels in overthrowing Assad.
During a parliament session, Laham, the speaker, said those "who really want to combat terrorism, must cooperate with Syria in accordance with long-term plans and not by supporting terrorist organizations under false titles." The Assad government has repeatedly pitted the country's conflict as a battle against terrorism. The armed, chaotic rebellion against Assad began after security forces violently cracked down on demonstrators during an uprising that began in March 2011. Syria's rebel groups range from al-Qaeda linked extremists, to ultraconservative Muslims to relatively moderate groups. Laham's comments came as Syria's Foreign Ministry warned in a statement that opposition fighters could use chemical weapons in order to blame government forces to create a pretext to call for international involvement. The statement said that Damascus did not possess chemical weapons after it implemented its obligations regarding the Organization for the Prohibition of Chemical Weapons.
The OPCW said earlier this month that a toxic chemical, almost certainly chlorine, was used "systematically and repeatedly" as a weapon in attacks on villages in northern Syria earlier this year. But the OPCW did not apportion blame for the chlorine attacks on three villages in northern Syria. Rebels and government forces have blamed each other for using chlorine gas.
Last year, President Barack Obama gave a speech in which he was widely expected to announce punishing US airstrikes against Assad's forces after blaming them for a deadly chemical weapons attack near Damascus that killed hundreds. Damascus blamed opposition fighters for the attack. "The Syrian Arab republic has repeatedly confirmed that it will never use chemical weapons under any circumstance and warns simultaneously of the possibility that some regional and international parties might supply armed terrorist groups with chemical weapons," the Foreign Ministry said.
FOJ Note: I too believe that the US is backing the wrong side in its campaign against ISIS. There are no good guys in this theatre, but Mr. Assad is a better choice to keep than to allow another power vacuum for Islamic terrorists to thrive in.
Israel-Palestinian Solution to be Presented to UNSC
(French president Hollande says country 'will have a resolution that will say very clearly what we expect from the (peace) process and what the solution to the conflict must be'.)
Sept. 22….(YNET) A "solution to the conflict" between the Israelis and Palestinians will be put to the UN Security Council, French President Francois Hollande said yesterday after meeting Palestinian leader Mahmoud Abbas in Paris. "We will have a resolution, to be presented to the Security Council, that will say very clearly what we expect from the (peace) process and what the solution to the conflict must be," Hollande told reporters.
The French president said that stop-start negotiations had gone on "too long" and "there is a perception that there will never be a solution to end the Israeli-Palestinian conflict, even though we know the outlines" of a possible deal". The most recent armed confrontation was "the third time that Gaza has been destroyed," Hollande said. "What we must look for is a durable peace accord," he said, adding that stalled peace talks "must now reach their end". Abbas urged "all countries to assume their responsibilities to end a conflict that has lasted more than 66 years". "Making peace will give added legitimacy to the fight against terrorism in the region," he added.
Abbas, who is trying to build support ahead of a new Palestinian diplomatic push within the United Nations, said that France could give impetus to an Arab League-backed plan calling for an end to Israeli occupation of the Palestinian territories and the formation of a Palestinian state based on 1967 borders. After France, he is to go on to New York to participate in the annual UN General Assembly starting September 24.
The Palestinians, who have already won observer state status in the world body, are threatening to join the International Criminal Court, which could open the way to them urging the prosecution of Israeli officials for "war crimes".
Muslim Man Says He Killed New Jersey Teen Brendan Tevlin as Payback for US Action Against Muslims in Middle East
Brendan Tevlin, 19, (L) Ali Muhammad Brown, 29, (R)
Sept. 22….(Christian Post) Ali Muhammad Brown, 29, a Muslim man who's facing multiple murder charges including the murder of New Jersey teenager Brendan Tevlin, 19, revealed last month that Tevlin's death was payback for the innocent lives of Muslims lost in Iraq, Afghanistan, Syria and Iran as a result of US military action in the Middle East. "All these lives are taken every single day by America, by this government. So a life for a life," Brown reportedly told detectives, according court documents cited by nj.com.
The court documents, which were filed in Washington State last month where Brown is also accused of murdering three other men, reveal that he felt it was his mission to kill Tevlin. Tevlin and the other men were all shot several times in isolated areas at night. Brown, who prosecutors say is a devout Muslim, further explained in court papers that Tevlin's death was a "just kill" and said US military intervention in the Muslim world is evil. "During the interview Brown also stated that, as part of his beliefs, if a 'man sees evil then he must take action against that evil,'" noted court papers. Law enforcement officials in Essex County, New Jersey, had pegged Tevlin's June 25 murder as a robbery that became violent. Brown reportedly fired 10 shots into Tevlin's vehicle while it was stopped at a red light at the corner of Walker Road and Northfield Avenue in West Orange, New Jersey. After the shooting, Brown allegedly moved Tevlin's body into the passenger seat then drove his car to a nearby apartment building where he ditched it. Three other men, including Brown's co-defendants Eric Williams and Jeremy Villagran, reportedly fled the scene, according to NJ.com.
On Tuesday, Fox News anchor Martha MacCallum chided the media for not properly highlighting Tevlin's death and asked where was the collective outrage that stopped the nation when Missouri teenager Michael Brown was shot dead by a local police officer. "I'm sorry if I sound too angry or impartial. But every time I look at this young man, I think, he could have been my son. My heart breaks for his mom and dad, and his sister and brothers," MacCallum wrote. "The country stopped this summer as we watched the hurt and anger in Ferguson after Michael Brown's body lay on the ground for hours after he was shot and killed by law enforcement. The pundits and preachers flocked to Ferguson, outraged at what the police had done. Protestors filled the streets and riots broke out. It was a terrible story," she continued. "So where is our collective outrage and remembrance of Brendan Tevlin? His story has been lost in a sorry media double standard," she said.
Brown is being held at the Essex County Jail in Newark on $5 million bail. If convicted, he could face the death penalty. According to a recent CNN report, Brown pleaded not guilty in his first court appearance in New Jersey and officials have not said if he was motivated by a specific terrorist group.
In 2005, Brown was convicted of bank fraud in federal court and served time in jail, according to CNN. The FBI had tried then to link that case to fundraising for terrorists in Africa, but that effort was unsuccessful. One of Brown's co-defendants in that case reportedly fled to Somalia to fight with the militant group Al-Shabaab. One legal expert told CNN that a terrorism case could be made in the Tevlin murder.
WEEK OF SEPTEMBER 14 THROUGH SEPTEMBER 20
IS Ordered 'Demonstration Killings' in Australia
(Terror group reportedly planned random abductions, beheadings)
Sept. 19….(Times of Israel) A series of anti-terror raids across Sydney and Brisbane were sparked by a senior Islamic State militant ordering "demonstration killings" in Australia, Prime Minister Tony Abbott said Thursday. "The exhortations, quite direct exhortations, were coming from an Australian who is apparently quite senior in ISIL to networks of support back in Australia to conduct demonstration killings here in this country," he said. "So this is not just suspicion, this is intent and that's why the police and security agencies decided to act in the way they have."
Australian police detained 15 people Thursday in a major counter-terrorism operation, saying intelligence indicated a random, violent attack was being planned on Australian soil. The Australian Broadcasting Corporation said court documents were expected to reveal that the plan involved snatching a random member of the public in Sydney, draping them in an Islamic State flag and beheading them on camera. "These people, I regret to say, do not hate us for what we do, they hate us for who we are and how we live. That's what makes us a target," said Abbott. "It's important our police and security organizations be one step ahead of them and this morning they were."
The arrests come just days after the country raised its terror warning to the second-highest level in response to the domestic threat posed by supporters of the Islamic State group. Australia has estimated about 60 of its citizens are fighting for the Islamic State group and the Nusra Front in Iraq and Syria. Another 15 Australian fighters had been killed, including two young suicide bombers.
The government has said it believes about 100 Australians are actively supporting extremist groups from within Australia, recruiting fighters and grooming suicide bomber candidates as well as providing funds and equipment.
FOJ Note: Islamic thugs waving the Islamic state flag in Sydney marched in front of churches and called for the killing of Christians and killing all their children. Yet, our President says Islam is a religion of peace, and that these fundamentalists Muslims are simply extremists. But there has to be a connection to the extremists and their fundamental views on Islam. In fact, the Sura chapter 47 in the Koran encourages its adherents to take exactly the action the Islamic state is enacting out.
The Islamic State's Next Target, Jordan and Israel?
Sept. 18….(Israel Today) The Middle East has a serious problem, and it isn't the Israel-Palestinian conflict. Though one wouldn't know it by the skewed focus of international media and diplomatic attention, the crisis of the Islamic State dwarfs even the most serious bouts of Israeli-Arab violence.
Over the past several months, the Islamic State (formerly known as ISIS), a Sunni Muslim group rejected by Al Qaeda as being too extreme, has not only managed to gain control over much of Iraq and Syria, but has fulfilled the long-held dream of many Sunnis by establishing a "caliphate" that demands the allegiance of all faithful Muslims. But the Islamic State's notorious leader, Abu Baker Al-Baghdadi, is not content with the territory he already rules. Al-Baghdadi is thinking big, and has vowed to forcibly spread Islam to the four corners of the world. Iraq was only the first target among many, and the swift defeat of the US-trained and equipped Iraqi military provided the Islamists a major morale boost.
Abdul Alhasan (name changed for security reasons), a member of the Iraqi parliament, explained the easy conquest of key Iraqi cities by pointing a blaming finger at his nation's unpopular government. "We poured billions of dollars into military equipment and training, but these fanatics managed to deal us a severe blow. This would not have been possible if the government listened to the will of its people," said the politician, insisting that Iraq needs to grant greater autonomy to its diverse group of minorities and abandon the American idea of an overbearing central government.
Instead, Baghdad has strongly suppressed calls for greater regional autonomy, sparking violent clashes and dangerous shifts in allegiances. This has only made the Islamic State's job easier, with some factions preferring the caliphate to their own government. It would appear that a unified Iraq's days are numbered. And while Alhassan and others remain optimistic that Iraq still has a fighting chance, the Islamic State is already moving on to new targets in its assaults on Jordanian border towns. The goal is clear: topple Jordan's monarch and annex the territory of the Hashemite Kingdom in a march that inevitably leads to Israel.
In a face-to-face showdown, Jordan's well-trained military and substantial regional and international backing should be too much for the Islamic State to overcome. The real threat is the Islamic State gaining supporters within Jordan. "Mass demonstrations in support of the Islamic State have already taken place in the Jordanian city of Maan," notes Dr. Mordechai Kedar, an expert on Islam at Israel's Bar-Ilan University. Kedar stresses that many Palestinian and Syrian refugees residing in the Kingdom are angry over the way Jordanian authorities handle their miserable living conditions, "forcing thousands to pledge allegiance to the Islamic State, which they view as a solution to their problems."
Israeli Prime Minister Benjamin Netanyahu, who has been monitoring the developments closely, vowed to help Jordan in curbing the rising threat. "Israel realizes that one day we may all wake up to find the Islamic State on our borders," says Kedar. "The real danger is that Palestinians in the West Bank, the Gaza Strip and even inside Israel proper may support the Islamic State, shattering Israel's security." According to the pundit, it might be in Israel's interests to tackle this threat militarily before it has a chance to gain a foothold West of the Jordan River. While such a decision hasn't been taken yet, rumors are that Israel, Jordan, Saudi Arabia and the US have established an operations center in Amman with the aim of developing plans to defeat the Islamic State. The Islamic State has asserted that its present focus is dealing with apostate Muslim countries, but there is no doubt the jihadist horde is inching ever closer to the Jewish state.
Pope Francis Says Virgin Mary More Important Than Jesus Christ
Sept. 17….(Inquisitor) For most of the world, Pope Francis is the one pope that everyone seems to like. With is open mind and open attitude to other religions, as well as his more humanist approach to being Catholic, many have fallen under his spell of universal peace. The Inquisitr reported numerous times on the pope's actions that appeal to others. This includes stating that atheists are also saved, inviting Muslims to pray Islamic prayers at the Vatican, and even stating that Evangelizing is one thing that doesn't equate to personal happiness.
However, many Evangelical Christians are not happy with the pope. With reports such as Pope Francis saying the only way to God is through the Catholic Church (and not Jesus Christ, who said He was the way) to promoting Chrislam (A religion made by combining Christianity and Islam together), it is no wonder Christ followers are upset. Now they are getting upset again because Pope Francis is about to decree the Virgin Mary to be the fourth entity in the Trinity (which makes it a Quartet).
According to an article by Vatican Radio, it reports that Pope Francis attended the Feast of Our Lady of Sorrows on Monday morning Mass at Casa Santa Marta. He made a reflection on the Virgin Mary, on how she learned, obeyed, and suffered at the foot of the Cross. "And this is our hope. We are not orphans, we have Mothers: Mother Mary. But the Church is Mother and the Mother Church is anointed when it takes the same path of Jesus and Mary: the path of obedience, the path of suffering, and when she has that attitude of continually learning the path of the Lord. These two women, Mary and the Church, carry on the hope that is Christ, they give us Christ, they bring forth Christ in us. Without Mary, there would be no Jesus Christ; without the Church, we cannot go forward."
The argument being presented is that Jesus Christ, the one who says that the only way to the Father is through Me, has been demoted to third place. By stating that without Mary, there would be no Jesus Christ, and with no church, they cannot move forward, Pope Francis has effectively placed the Virgin Mary at the Godhead level.
Saudi Police Arrest Christians for Illegal Meeting
Sept. 17….(Mail Online) Islamist police in Saudi Arabia have stormed a Christian prayer meeting and arrested its entire congregation, including women and children, and confiscated their bibles, it has been reported. The raid was the latest incident of a swingeing crackdown on religious minorities in Saudi Arabia by the country's hard-line Commission for the Promotion of Virtue and Prevention of Vice. The 28 Christians were said to be worshipping at the home of an Indian national in the eastern city of Khafji, when the police entered the building and took them into custody. They have not been seen or heard from since, raising concerns among human rights groups as to their whereabouts.
Nina Shea, director of the Washington-based Hudson Institute's Center for Religious Freedom, told FoxNews.com: 'Saudi Arabia is continuing the religious cleansing that has always been its official policy. 'It is the only nation state in the world with the official policy of banning all churches. 'This is enforced even though there are over two million Christian foreign workers in that country. Those victimized are typically poor, from Asian and African countries with weak governments.' Activists are now calling on the US to use its considerable influence in the region to help secure the release of the incarcerated Christians.
A spokesperson for the Saudi government claimed to have no knowledge of the arrests, according to Fox News. But the English-language newspaper, The Saudi Gazette, as well as several Saudi Arabic-language news outlets, have reported on the arrests. Arabic-language news channel, Akhbar 24, said the arrests came after the Kingdom's religious police got a tip about a home-based church. The report also reported that 'distorted writings of the Bible were found and musical instruments, noting their referral to the jurisdictional institutions.' At least 3.5 million Christians live in the Gulf Arab region, mostly Catholic workers from India and the Philippines.
In Saudi Arabia, the birthplace of Islam, it is against the law for Muslims to abandon their faith, a practice known as apostasy. Proselytising for other religions or practicing them openly is also illegal. Judges have considerable leeway in how to interpret the kingdom's Sharia code of Islamic law and are not bound by sentencing guidelines or a system of precedent. Both capital and corporal punishment are legal.
Last year King Abdullah, who has promoted limited reforms since coming to the throne in 2005, opened a centre for religious dialogue in Vienna that drew criticism because of Saudi Arabia's own lack of religious freedom. In 2008 he sponsored an inter-faith conference in Spain.
Has ISIS Penetrated our Southern Border?
Sept. 16….(Newsmax) Militants for the Islamic State in Iraq and Syria have traveled to Mexico and are just miles from the United States. They plan to cross over the porous border and will "imminently" launch car bomb attacks. And the threat is so real that federal law enforcement officers have been placed at a heightened state of alert, and an American military base near the border has increased its security.
As the Obama administration and the American public have focused their attention on ISIS in recent weeks, conservative groups and leading Republicans have issued stark warnings like those that ISIS and other extremists from Syria are planning to enter the country illegally from Mexico. But the Homeland Security Department, the FBI and lawmakers who represent areas near the border say there is no truth to the warnings. "There is no credible intelligence to suggest that there is an active plot by ISIL to attempt to cross the southern border," Homeland Security officials said in a written statement, using an alternative acronym for the group. At a congressional hearing last week, Representative Jeff Duncan, Republican of South Carolina, pushed back strongly against the testimony of Homeland Security Department officials and Mr. O'Rourke, saying they were ignoring a gathering threat. "Wake up, America," Mr. Duncan said before storming out of the hearing. "With a porous southern border, we have no idea who's in our country."
But counterterrorism officials say they are far more concerned that an ISIS militant will enter the United States the same way millions of people do each year: legally, on a commercial flight. Their efforts have focused on the more than 2,000 Europeans and 100 Americans who have traveled to Syria to fight alongside extremist groups, nearly all of them crossing over its unprotected borders. Without markings in their passports to show that they traveled to Syria, American border authorities have few ways of determining where they were and stopping them from entering the country.
Warnings about the possibility of terrorists entering the United States from Mexico have been sounded in the past. During the 2012 presidential campaign both Rick Perry and Mitt Romney, the Republican nominee, said Islamic extremists working with countries in Latin America, including Mexico, posed a significant threat to the United States. "We know that Hamas and Hezbollah are working in Mexico, as well as Iran, with their ploy to come into the United States," Mr. Perry, the governor of Texas, said at a Republican debate in 2011. "So the idea that we need to have border security with the United States and Mexico is paramount to the entire Western Hemisphere." Mr. Perry repeated his concerns in a speech last month at the Heritage Foundation in Washington in which he said that because the border was not secure, "individuals from ISIS or other terrorist states could be" crossing into the United States. "I think it's a very real possibility that they may have already used that," he said.
In late August, the conservative group Judicial Watch posted an article on its website about how ISIS was operating in the Mexican border city of Ciudad Juárez and planning car bomb attacks. "High-level federal law enforcement, intelligence and other sources have confirmed to Judicial Watch that a warning bulletin for an imminent terrorist attack on the border has been issued," the report said. "Agents across a number of Homeland Security, Justice and Defense agencies have all been placed on alert and instructed to aggressively work all possible leads and sources concerning this imminent terrorist threat."
Judicial Watch said intelligence officials had "picked up radio talk and chatter indicating that the terrorist groups are going to 'carry out an attack on the border.' " It quoted a "high-level source" saying that the attack was "coming very soon." Mr. O'Rourke said that immediately after that report was posted he called the FBI and Homeland Security Department. They told him they had no intelligence about such an attack. Mr. O'Rourke said he spent the rest of his day arguing with members of the news media in Texas about why the Judicial Watch report was not a story. He largely failed to convince them, and the article was widely reported.
Tom Fitton, the president of Judicial Watch, said the Obama administration had a history of looking the other way on national security threats, particularly ones involving the border. "President Obama or his administration should acknowledge this dire threat on the border, whatever its political ramifications are for the debate on immigration," Mr. Fitton said. Mr. Fitton said that the idea of ISIS coming across the border "goes against the narrative that the border is secure" and that Americans "don't need to worry about illegal immigration."
White House Officials Warn Syria Over ISIS Mission
Sept. 16….(Fox News) The United States would retaliate against Syrian President Bashar Assad's air defenses if he were to go after American planes launching airstrikes in his country, a senior Obama administration official said Monday. Officials also told Fox News that the US has a good sense of where the Syrian air defenses, along with their command and control centers, are located. If Assad were to use those capabilities to threaten US forces, it would put his air defenses at risk, a senior official told Fox News.
President Obama has authorized US airstrikes inside Syria as part of a broad campaign to root out the Islamic State militant group, though no strikes have yet been launched in the country. Asked Monday about the prospect of striking Assad's regime if his forces were to target Americans, White House spokesman Josh Earnest said there will be "rules of engagement that are related to any military orders the president directs." "It won't surprise you to know that there are contingencies related to self-defense when it comes to these sorts of rules of engagement," he said.
The mere discussion of launching strikes in Syria has highlighted the complexity of taking US military action inside a country locked in an intractable civil war. The conflict has created odd alliances, with both the US and the Assad regime now fighting the Islamic State militant group. However, US officials have ruled out direct coordination with Assad and insist that a campaign against the Islamic State will not strengthen the Syrian dictator's hold on power. Obama is seeking congressional authorization to train and arm Western-backed rebels in the country in hopes they can both fight the Islamic State and eventually the Assad regime.
Officials told The Associated Press that Obama has been making phone calls in recent days to lawmakers in both parties pressing for them to authorize the train-and-equip mission before lawmakers leave town Friday for an almost two-month recess in preparation for November's midterm elections. The rise of the Islamic State group has put Obama on the brink of being drawn into a Syrian conflict he has long sought to avoid. Administration officials have long insisted that one of their concerns with taking airstrikes against the Assad regime is the government's formidable air defenses, which could put American forces at risk.
UN to Dump Floods of More Muslim Refugees on US
Sept. 16….(WND) Thousands of displaced Syrians will likely make up the next big wave of Muslim refugees coming to America. Since the early 1990s, the United Nations high commissioner for refugees has selected more than 200,000 refugees from Islamic countries to be resettled in the United States. Most of them have come from Somalia and Iraq. Syria could soon be added to the mix in the midst of that country's brutal civil war. The Obama administration has been greasing the skids for the Syrian refugees for months, WND has learned, and the refugees will soon be dumped on American cities throughout the US.
In February, the State Department moved to ease the rules that protect the US from accepting refugees with potential ties to terrorist organizations. The rules were seen as "too strict" by the refugee-resettlement groups that lobby Congress and the administration to continuously let in more Muslims from the war-torn Middle East. Then on Sept. 4, a US State Department spokeswoman hinted at her daily press briefing that a new wave of refugees will soon be coming from another predominantly Muslim nation, Syria. The United Nations high commissioner for refugees just this year started referring Syrian refugees to the United States for processing," said Marie Harf. "Obviously, we have several thousand in the pipeline, and that number will continue to go up."
Obama's State Department is expected to present Congress with a list within the next two weeks that shows the total number of foreign refugees it wants to accept into the country over the next year and the countries from which they will come. The new fiscal year begins Oct. 1. A few local newspaper reports have already surfaced, providing clues as to where some of the Syrian refugees will be delivered. The Winston-Salem Journal carried a report last week that the Triad area of North Carolina could receive some of the refugees. The first Syrian family has already arrived in Greensboro, North Carolina, and is living in a hotel there, according to the Journal. The Cleveland Plain Dealer reported Sept. 10 that the city's social services were preparing for "a flood of refugees" from Syria and Iraq later this year. Cleveland, Akron and Columbus, Ohio, have been hotspots in the past for Muslim refugees coming from the Middle East.
Once the refugees are relocated to an American city, they are quickly connected to an array of taxpayer-funded social services, including Medicaid, food stamps and subsidized housing. Interpreters and tutors are often provided to help bridge the language gap that refugee children will find in local public schools.
Groups like Human Rights First, World Relief Corp., the Hebrew Immigrant Aid Society, the Catholic and Lutheran churches all have strong presences in Washington and often do the bidding of the UN High Commissioner for Refugees. The US Conference of Catholic Bishops, Lutheran Immigration and Refugee Services, World Relief, Episcopal Migration Ministries, Church World Services and the Hebrew Immigrant Aid Society push for more foreign refugees to be resettled in America, which results in more federal grants flowing into their coffers. WND has documented in previous stories that more than 90 percent of the money used by these religious charities for resettling refugees comes from federal grants, much like government contractors operating in a lucrative resettlement business under the guise of providing "charity."
Most of the Syrian refugees will likely be coming from Turkey, where thousands have fled across the border from Syria, but others are huddled in refugee camps in Lebanon, Jordan and Egypt. These groups plan to resettle 15,000 Muslims a year into the US under permanent refugee status. "That's a huge number," said Ann Corcoran, a writer and researcher for Refugee Resettlement Watch, a group that monitors the UN's distribution of foreign refugees throughout the United States. She said 15,000 a year would be on a par with the Iraqi refugee program, which has produced the largest, fastest-growing refugee community in the US since Sept. 11, 2001. "Most of the Syrian refugees in these refugee camps are Sunni Muslims; they're not Christians," said Corcoran. "The camps in places like Turkey and Jordan, you're not going to find a ton of Christians."
The United Nations, working with the US State Department, has already shipped approximately 115,000 Iraqis to American cities since Sept. 11. Another 100,000 Somalis have been resettled in the United States since that country devolved into civil war in 1993. The Somali refugees have been described as 99.9 percent Muslim by Somali-American leaders. The Iraqi refugees have also been majority Muslim and, while the exact percentages are more difficult to track, the Iraqis coming to the States have been estimated at 62 percent Muslim.
Once here, these Muslim families have vastly more children than the typical American family. The average Somali couple in Minnesota, for example, has six children. These refugee families have changed the demographics of their host cities, such as Shelbyville, Tennessee; Lewiston, Maine; and Minneapolis, Minnesota, all of which have reported culture clashes between Muslims expecting everything from foot baths at public colleges to dietary concessions at public schools. A Tyson Foods meat-packing plant in Shelbyville decided in 2009 to acquiesce to a local union's demands to drop the paid holiday of Labor Day in favor of the Muslim holiday Eid al-Fitr, a decision that Tyson later reversed in the wake of a public backlash. And in Minneapolis, Mayor Betsy Hodges sparked controversy in April when she showed up to a meeting with the city's increasingly powerful Muslim community wearing a hijab.
Problems have also arisen with Islamic radicals recruiting young Muslim refugees in America. WND has reported in recent weeks about FBI investigations into 25 to 30 Somali refugees leaving their homes in Minnesota to become fighters for ISIS in Syria and the al-Qaida-linked Al-Shabab in Somalia. Pamela Geller, author of "Stop the Islamization of America: A Practical Guide to the Resistance," said it should come as no surprise that the UN would do everything in its power to flood the United States with as many Muslim refugees as possible. She said the Organization of Islamic Cooperation, or OIC, which is comprised of 56 Muslim countries and the Palestinian Authority, makes up the largest voting bloc at the UN General Assembly. "They're very powerful, they're very dangerous," Geller said. "You can't make this stuff up."
Geller, Corcoran and others such as Islam scholar Bat Ye'or have long warned that there are two methods of creating Islamic supremacy in the world. One is through violent jihad. The other is through al-hijra, or the Islamic doctrine of immigration. "Basically you have those who want to take over countries through immigration saying to the jihadists "you guys need to stop cutting people's heads off and be patient,'" Corcoran said. Al-hijra will accomplish the same goal over the long term in countries open to immigration, which includes the United States and most of Europe.
The US takes in about 70,000 foreign refugees per year, more than any other country in the world. Besides the US, Germany and Sweden have also agreed to take in Syrian refugees through the UN program. Germany has agreed to accept another 10,000 Syrian refugees after already absorbing 6,000, while Sweden has agreed to accept up to 17,000 over the next year.
In 2011, former Secretary of State Hillary Clinton hosted a two-day conference with the OIC in Washington to discuss how to implement UN Resolution 1618 to combat "religious intolerance" and "negative stereotyping" against Muslims in the US, which Geller said amounted to a version of the Muslim anti-blasphemy laws. "It was to implement the Shariah is what it was," she said. "It was really an anti-free speech measure." Then in 2013 a US attorney in Tennessee, William Killian, said it is possible that some inflammatory comments about Muslims posted on social media could violate civil-rights laws. He later backed off his plan to criminalize an entire segment of speech deemed offensive to Muslims, a decision Geller notes came only after an intense public outcry. "You know, we have real problems, they've disarmed the American people, misinforming them or not informing them at all," Geller said. "There are no human rights under the Shariah for non-Muslims, and so the UN is deeply problematic. And we do their bidding."
State Department documents show that Iraq has produced the single largest number of refugees resettled in the United States. In fiscal year 2013 alone, 19,488 Iraqis were resettled in America, followed by Burma with 16,299, Bhutan with 9,134 and Somalia with 7,608. Only 36 Syrians were allowed into the U.S. in 2013, followed by just 63 so far in 2014. "But again, part of this is because the UN High Commissioner on Refugees only began this year in mid-2014 referring refugees in large numbers to the United States," Harf said in the Sept. 4 briefing.
The Syrian civil war now has the potential to surpass even the Iraq War in its ability to create refugees. The war has caused more than 3 million Syrians to be uprooted since 2011. Steve Emerson, a counter-terrorism expert and author of six books on radical Islam, said the screening process for refugees isn't tight enough. "They're doing very little vetting. Several years ago, it was discovered that Iraqi militants were being resettled in California," Emerson said. "So the resettlement program that's going on around the US, the vast majority of refugees are not involved in terrorism, but certainly the vetting process is lacking. It's not that easy to acquire the intelligence needed to deny someone refugee status if in fact the conditions that apply for asylum are met." Then there is the problem of the powerful refugee lobby in Washington. "You have a pro-refugee lobby in the United States that is very strong, and the Obama administration has been particularly receptive to it," Emerson said. The UN has been trying to relocate 30,000 Syrians it considers most vulnerable, and the US would normally accept half of those, according to witnesses who testified at a Senate hearing in January.
FOJ Note: The United States admits more refugees per year than all of the other countries in the world combined. Slowly, but surely, due to abortion, illegal immigration, and UN resettlement programs, America is being changed into a Muslim and Secularist dominated country. Could this be a systematic strategy by powerful forces to disenfranchise native born American Christians from their own heritage and land?
Obama Sending US Foreign Aid to Islamic Schools
(Money goes for Studies identified as 'recitation and memorization' of Quran)
Sept. 15….(WND) A portion of the $120 million the Obama administration is infusing into Nigerian education programs fund Islamic schools that exclusively teach students "the recitation and memorization" of the Quran, government documents reveal. The Northern Education Initiative Plus, or NEI+, project seeks to broaden access to education while strengthening literacy skills of the predominantly Muslim population of northern Nigeria, according to procurement documents WND located through routine database research.
Obama wants to increase the number of schools that offers an expanded "core" of subjects, including Islamic schools that currently offer little or no academic options. Among other primary objectives of the five-year program is the modernization of these educational institutions by increasing the quality of teacher training and promoting the use of proven, internationally recognized teaching methods.
Northern Nigeria, however, is home to the Islamic jihadist group Boko Haram, whose name is loosely translated "Western education is sin" or "Western education is forbidden." The US Agency for International Development, or USAID, mentions the role of religious conflict in disrupting regional education efforts yet fails to identify Boko Haram and its violent jihad, such as the group's kidnapping of hundreds of Nigerian schoolgirls earlier this year.
The Obama administration initially declined to designate Boko Haram as a terrorist organization, despite the group's frequent attacks on government as well as civilian groups. The attacks included multiple incidents of murdering Christian worshipers during church services. Indeed, as WND reported in 2012, the administration once took the position that northern Nigerian violence was mistakenly characterized as a religious conflict, classifying it as a tribal dispute over land. Last year, however, in response to congressional pressure, the State Department relented and slapped the terrorist label on Boko Haram.
USAID acknowledges that persistent conflict, particularly in the northern region, has contributed to Nigeria's poverty and overall national fragility. Religion, politics and ethnicity, intertwined with corruption, poverty and insecurity, "have shaped the education system in Nigeria and altered access to and quality and delivery of education." The USAID contractor, therefore, must integrate a "conflict-sensitive approach" to changing the culture of education-delivery in northern Nigeria, making sure to "avoid reinforcing stereotypes and exclusion" when designing the NEI+ program. "Education can help promote social cohesion, contribute to identity formation, build peace, and bridge the gap between humanitarian assistance and sustainable development," it says. "However, education can also undermine these processes. When it is not provided responsibly, education can be exclusionary, oppressive, exploitative and corrupt, and it can propagate extremism."
The NEI+ endeavor will utilize a prime contractor to partner with a wide variety of Islamic and secular institutions in Bauchi, Sokoto and one other northern state yet to be selected, the agency said last week in response to contractor questions. A combination of government-controlled public schools, non-formal learning centers, or NFLCs, and religious institutions of various designations, including schools labeled as Quranic, Islamiyya and Tsangaya, respectively, could receive assistance. Islamiyya schools, like their Quranic counterparts, teach students to memorize and recite Islamic religious texts but differ by also offering advanced religious studies in "scriptural" and legal subjects. Some Islamiyya facilities also offer a government-sanctioned academic curriculum that includes English, mathematics, social studies and science, "whereas others are informally supported extensions of Quranic schools
WEEK OF SEPTEMBER 7 THROUGH SEPTEMBER 13
Attacking IS in Syria May Entangle US in Islamic Rebel Rivalries
Sept. 12….(Times of Israel) In expanding its air strikes into Syria against Islamic State extremists, the US could find itself entangled in a morass of jihadis, rebel rivalries and religious hatred. Unlike Iraq, the US has no firm allies inside Syria to take over areas if fighters from the Islamic State group are pushed back. Unless the West decisively backs the outgunned moderate rebels, it risks the unintended consequence of prolonging the widely discredited rule of President Bashar Assad.
President Barack Obama said Wednesday that in the fight against the Islamic State group, the US "cannot rely on an Assad regime that terrorizes its own people, a regime that will never regain the legitimacy it has lost." "Instead, we must strengthen the opposition as the best counterweight to extremists like ISIL, while pursuing the political solution necessary to solve Syria's crisis once and for all," Obama said, referring to the Islamic State group by one of its acronyms. But it's a lot more complicated.
Northern and eastern Syria, where the Islamic State group controls territory and where the US is likely to strike, is a landscape shattered by three years of war and rife with conflicting loyalties and rivalries. Assad is supported by members of his Alawite sect, an offshoot of Shiite Islam, as well as some Christians and other minorities. The Islamic State group and other rebel factions are overwhelmingly Sunni Muslims, Syria's majorly sect. The Islamic State group controls territory stretching from the outskirts of the northern city of Aleppo to the eastern border with Iraq, roughly one-third of Syria. Initial US air strikes are likely to focus on Raqqa, the self-declared capital of the group's proto-state along the Euphrates River, but the group has strongholds in northern Syria, including the towns of Manbej and al-Bab. Only few kilometers (miles) separate these towns from front lines occupied by rival rebels.
Assad's forces, beaten back from all their bases in Raqqa province, are still holed up in a major air base in the eastern Deir el-Zour province. The group might also be hiding its assets and fighters among the civilian population, making it harder for the US to carry out the attacks. Activists reported Thursday that the group was evacuating and pulling out some of its hardware from al-Bab and Raqqa, away from urban centers. The claims could not be independently confirmed. "A tricky situation is going to be how the US will ensure that it is only ISIS targets that are hit, rather than civilians and others," said Haras Rafiq of the Quilliam Foundation, a London-based think tank.
The US would most likely target supply lines and heavy weapons to erode the group's power, rather than wiping it out, said Eliot Higgins, who analyzes weapons used in Syria. "It's really about targeting the stuff they can't hide easily." Higgins said the US was unlikely to attack militants in cities and towns, where air strikes could cause civilian deaths and give the group a propaganda victory. It also would also be difficult to target them if they were attacking government assets, such as military bases, because the US would "end up being air support for the Syrian government," he said. That leaves supply lines and heavy weapons, such as machine-gun mounted armored vehicles, which the militants have used to devastating effect in Iraq and Syria.
Another question is whether Assad would retaliate against US air strikes. Syria's air defenses have taken a major hit in the country's north and east, but the air force is still active, firing rockets and dropping crude bombs on rebel-held areas on daily basis. Assad could try to drag in his backers, Iran and Russia, getting them more involved diplomatically or otherwise.
Russia warns US against strikes on Islamic State in Syria
Sept. 12….(BBC)
Russia has warned that US air strikes against militants in Syria would be a "gross violation" of international law. A Russian foreign ministry spokesman said any such action, without the backing of the UN, would be "an act of aggression". It comes as US Secretary of State John Kerry meets Arab leaders in Saudi Arabia to try to build a coalition against Islamic State (IS) militants. President Obama has threatened action against IS in Syria as well as Iraq. IS controls large parts of Syria and Iraq after a rapid military advance.
In a speech outlining his strategy, Mr Obama said any group that threatened America would "find no safe haven". He also announced that 475 US military personnel would be sent to Iraq but said they would not have a combat role. But the statement brought a strong reaction from Russia, which has been an ally of embattled Syrian President Bashar al-Assad. "The US president has spoken directly about the possibility of strikes by the US armed forces against Isil (IS) positions in Syria without the consent of the legitimate government," ministry spokesman Alexander Lukashevich was quoted as saying. "This step, in the absence of a UN Security Council decision, would be an act of aggression, a gross violation of international law."
Syria also repeated its warning that the US had to co-ordinate with the Syrian government before launching air strikes on its territory. "Any action of any kind without the consent of the Syrian government would be an attack on Syria," National Reconciliation Minister Ali Haidar said on Thursday. Last month Syria offered to help the US fight Islamic State, however the US ruled that out.
The US has launched more than 150 air strikes against the group in Iraq and has provided arms to Iraqi and Kurdish forces fighting against IS. The jihadist group has become notorious for its brutality, recording their beheadings of enemy soldiers and Western journalists.
Obama's Isis-Iraq Strategy Already Unraveling
Sept. 12….(Red State) Wednesday night, Obama announced his strategy for dealing with ISIS. One of the key points is stepping up air strikes against ISIS targets in Iraq and Syria. He also announced that he would lead a coalition of 7-9 nations in that fight. However, that coalition is already unraveling. The Turkish government says it will not allow a US-led military coalition to use its air bases in order to launch attacks on IS terrorists' hideouts in neighboring Iraq and Syria. A government official said Ankara can open the Incirlik Air Base in the south only for logistical and humanitarian operations, and not for any air strikes. "Turkey will not be involved in any armed operation but will entirely concentrate on humanitarian operations," media outlets quoted the unnamed official as saying. Turkey was to be a part of the "broad based" coalition Obama is touting, but now they are changing their tune. Turkey also has been joined by two additional coalition members in refusing to take part in air strikes. Britain and Germany too are abandoning the coalition before it even begins. This is damning. It shows an abysmal lack of coordination between the administration and the alleged coalition members. It is asinine to announce increased air strikes that your coalition will not only not support, but opposes to the extent that they disavow your strategy shortly after it is announced. If it wasn't clear last night, it is becoming more clear today that Obama's strategy is nothing more than a rhetorical exercise that is designed to accomplish nothing.
Arab Allies Commit to US Fight Against Islamic State
(Kerry meets with regional counterparts in Saudi Arabia, receives assurance Arab states will act to stop spread of ISIS.)
Sept. 12….(AFP) Key Arab allies of the US agreed Thursday to "do their share" to fight against the Islamic State group, promising to take action to stop the flow of fighters and funding to the militants and possibly to join military action. The announcement came after US Secretary of State John Kerry met with regional counterparts in the Saudi Red Sea coastal city of Jeddah in an effort to pin down Middle Eastern allies on what support they are willing to give to the US plan to beat back the Islamic State group, which has seized large swaths of Iraq and Syria. After their talks, Saudi Arabia, other Gulf states and Egypt, Iraq, Jordan and Lebanon issued a joint statement saying they were committed to stand against terrorism. They promised steps including stopping fighters and funding and "as appropriate, joining in the many aspects of a coordinated military campaign" against the militants. They also agreed to boost support for the new Iraqi government as it tries to unite its citizens in the fight against the militants, and discussed strategies to "destroy" the group "wherever it is, including in both Iraq and Syria." NATO ally Turkey also attended the meeting but did not sign the final communiqué. Greater regional support is seen as key to combating the spread of the militant group, which has proved so ruthless that even al-Qaeda severed ties with it earlier this year. Nearly 40 nations have agreed to contribute to what Kerry predicted will be a worldwide fight to defeat the group.
President Barack Obama on Wednesday laid out a long-term US strategy against the group that would include expanding air strikes against its fighters in Iraq, launching strikes against them in Syria for the first time and bolstering the Iraqi military and moderate Syrian rebels to allow them to reclaim territory from the militants.
Some Gulf states could in theory take an active role in helping with air strikes, as the United Arab Emirates and Qatar did in the US-led aerial campaign over Libya in 2011 that helped lead to the ouster of Moammar Gadhafi. Gulf nations could also assist with arms, training, intelligence and logistics. Saudi Arabia's willingness to host the meeting is significant given the OPEC kingpin's role as a political and economic heavyweight and the site of Islam's holiest sites.
A senior US State Department official, who was not authorized to be named while briefing reporters and spoke on condition of anonymity, told reporters ahead of the Saudi meeting that Kerry would ask Mideast countries to encourage government-controlled media and members of the religious establishment to speak out against extremism.
The coalition-building efforts could be hampered, however, by squabbling among Washington's allies in the region. For example, Saudi Arabia, the Emirates and Egypt are at odds with Qatar and Turkey because of the latter two countries' support for the Muslim Brotherhood and other Islamist groups in the region. American officials have voiced concerns too about Kuwait's and Qatar's willingness to crack down on private fundraising for extremist groups. While they have made some progress, the State Department official said much more needs to be done.
The US already has launched more than 150 air strikes against militants in Iraq over the past month, and has sent military advisers and millions of dollars in humanitarian aid, including an additional $48 million announced Wednesday. The Mideast diplomatic push comes ahead of a conference set for Monday in Paris on how to stabilize Iraq. That meeting will include officials from the US, Britain, France, Russia and China, and could also include other nations, possibly even Iran.
Obama to Launch Airstrikes in Syria for First Time
Sept. 11….(Newsmax) In a major reversal, President Barack Obama ordered the United States into a broad military campaign Wednesday night to "degrade and ultimately destroy" Islamic State militants in two volatile Middle East nations authorizing airstrikes inside Syria for the first time as well as an expansion of strikes in Iraq.
In an address to the nation, Obama also announced he was dispatching nearly 500 more US troops to Iraq to assist that country's besieged security forces. And he called on Congress to authorize a program to train and arm rebels in Syria who are fighting both the Islamic State group and Syrian President Bashar Assad.
Saudi Arabia, a crucial US ally in the Middle East, offered to host the training missions, part of Obama's effort to persuade other nations to join with the US in confronting the militants. "This is not our fight alone," Obama declared. "American power can make a decisive difference, but we cannot do for Iraqis what they must do for themselves, nor can we take the place of Arab partners in securing their region." "Our objective is clear: We will degrade and ultimately destroy ISIL through a comprehensive and sustained counterterrorism strategy."
The president adamantly ruled out the prospect of putting American troops in combat roles on the ground in Iraq or Syria. Even so, Obama's plans amount to a striking shift for a president who rose to political prominence in part because of his early opposition to the Iraq war. While in office, he's steadfastly sought to wind down American military campaigns in the Middle East and avoid new wars, particularly in Syria, a country where the chaos of a lengthy civil war has given the Islamic State space to thrive and move freely across the border with Iraq.
Speaking on the eve of the anniversary of the Sept. 11, 2001, attacks, Obama's plans also amounted to an admission that years of American-led war in the Middle East have not quelled the terror threat emanating from the region. While administration officials have said they are not aware of a credible threat of a potential attack by the militants in the US, they say the Islamic State group poses risks to Americans and interests in the region. Officials are also concerned about the prospect that Westerners, including Americans, who have joined the militant group could return to their home countries to launch attacks.
In recent weeks, the militants have released videos depicting the beheading of two American journalists in Syria. The violent images appear to have had an impact on a formerly war-weary public, with multiple polls in recent days showing that the majority of Americans support airstrikes in both Iraq and Syria. The US began launching limited airstrikes against Islamic State targets in Iraq earlier this summer. But officials said Obama was waiting for Iraq to form a new government, a step it took Tuesday, before broadening the effort. Officials said strikes in Iraq would now be wide-ranging and extend into Syria. Obama plans to proceed with those actions without seeking new authorization from Congress. Instead, officials said Obama will act under a use of force authorization Congress passed in the days after 9/11 to give President George W. Bush the ability to go after those who perpetrated the terror attacks. Obama has previously called for that authorization to be repealed, he has also used the measure as a rationale to take strikes against terror targets in Yemen and Somalia.
Officials compared the new US mission in Iraq and Syria to the actions in Yemen and Somalia, campaigns that have gone on for years. Obama is seeking authorization from Congress for a Pentagon-led effort to train and arm more moderate elements of the Syrian opposition. Ahead of Obama's remarks, congressional leaders grappled with whether to support that request and if so, how to get such a measure through the fractured legislature before the November elections.
The White House wants Congress to include the authorization in a temporary funding measure they're expected to vote on before adjourning later this month. Republicans made no commitment to support the request and the House GOP has so far not included the measure in the funding legislation. A spokesman for Senate Majority Leader Harry Reid said the Nevada Democrat might opt to seek separate legislation to authorize the president's request. While the CIA currently runs a small program to arm the rebels, the new program would be more robust. Obama asked Congress earlier this year to approve a $500 million program to expand the effort and put it under Pentagon control, but the request stalled on Capitol Hill.
Some of Obama's own advisers, including former Secretary of State Hillary Rodham Clinton, pressed him to arm the rebels early in their fight against Syrian President Bashar Assad. But Obama resisted, arguing that there was too much uncertainty about the composition of the rebel forces. He also expressed concern about adding more firepower to an already bloody civil war. Separately, the White House announced Wednesday that it was providing $25 million in immediate military assistance to the Iraqi government as part of efforts to combat the Islamic State.
In the hours before the president's remarks, the Treasury Department said that Obama's strategy would include stepped-up efforts to undermine the Islamic State group's finances. David Cohen, Treasury's undersecretary for terrorism and financial intelligence, wrote in a blog post that the US would be working with other countries, especially Gulf states, to cut off the group's external funding networks and its access to the global financial system.
The US has also been pressing allies in Europe, the Middle East and elsewhere to help with efforts to degrade the terror group. France's foreign minister said Wednesday that his country was ready to take part in airstrikes against extremist fighters in Iraq if needed. And the German government announced that it was sending assault rifles, ammunition, anti-tank weapons and armored vehicles to Kurdish forces in Iraq fighting, breaking with Berlin's previous reluctance to send weapons into conflicts. Secretary of State John Kerry is traveling to Saudi Arabia and Jordan this week. He first made a stop in Baghdad to meet with Iraq's new leaders and pledge US support for eliminating the extremist group.
Secret US-Syrian Dialogue for Coordinating Counter-ISIS Operations in Syria Led up to Obama Speech
Sept. 11….(DEBKA) Shortly before US President Barack Obama was to unveil his strategy for tackling ISIS in Iraq and Syria on Wednesday, Sept. 10, US and Syrian officers held secret talks for coordinating their military efforts against the common foe, the Islamic State of Iraq and the Levant. This is revealed exclusively by Debkafile's military and intelligence sources. The Syrian officers, on the authority of President Bashar Assad, met on the quiet several times with American officers in the capital of one of the Gulf emirates, most probably Muscat in Oman, to prepare the ground for the US and coalition to extend the military campaign against IS into Syria. Tehran was almost certainly in on the dialogue, which brought together US and Syrian officials for the first time in the nearly four years of the Syrian civil war.
Our military experts say that the US campaign will be a lot more complicated militarily on the Syrian side of the Islamic State than parallel operations in Iraq, although IS strongholds in northern and eastern Syria should not be hard to bomb from the air. But it must be taken for granted that the ISIS commander, Abu Bakr Al-Baghdadi, who has proved to be a competent military tactician, will not leave his troops in place to wait for US bombers, but has already moved them to safe hideouts, either in the mountains of northern Syria, the Syrian desert that spreads over into Iraq, or in the dense vegetation on the banks of the Euphrates River, good places from which to conduct protracted guerilla warfare.
Our military sources believe that Baghdadi has probably discovered that the US-led military campaign against him will lead off in Iraq, and only then expand into Syria. To prevent an IS counteroffensive taking off and gaining more ground straight after the Obama speech, the US military must go into action against its strongholds in Iraq, and only then turn to Syria. This will also be the message US Secretary of State John Kerry conveys to Arab foreign ministers when he meets them in Jeddah Wednesday and Thursday in an attempt to draw them into a coalition for fighting the Islamists. Before his speech, President Obama put in a call to Saudi King Abdullah, the key to an Arab lineup behind the effort.
Obama: 'ISIS is Not Islamic'
Sept. 11….(WND) In his prime-time speech to the nation on the eve of the 13th anniversary of the Sept. 11 terror attacks, President Obama vowed to "degrade and destroy" the Islamic State insurgency in Iraq and Syria and announced airstrikes on those targets along with 475 US boots on the ground as part of his plan, but he made a point of stating that the terrorists "are not Islamic." "Now let's make two things clear: ISIL is not Islamic," Obama said, speaking from the state floor of the White House residence. "No religion condones the killing of innocents, and the vast majority of ISIL's victims have been Muslim. He added, "And ISIL is certainly not a state. It was formerly al-Qaida's affiliate in Iraq, and has taken advantage of sectarian strife and Syria's civil war to gain territory on both sides of the Iraq-Syrian border. It is recognized by no government, nor the people it subjugates. ISIL is a terrorist organization, pure and simple. And it has no vision other than the slaughter of all who stand in its way."
Saudi Anti-Christian Sweep Prompts calls for US Involvement
(Even as Obama warms up To Saudi Arabia to fight their battle against ISIS, Saudi government wages war on Christians)
Sept. 10….(Fox news) Dozens of Christians arrested at a prayer meeting in Saudi Arabia need America's help, according to a key lawmaker who is pressing the State Department on their behalf. Some 28 people were rounded up Friday by hard-line Islamists from the Commission for the Promotion of Virtue and Prevention of Vice in the home of an Indian national in the eastern Saudi city of Khafji, and their current situation is unknown, according to human rights advocates. "Saudi Arabia is continuing the religious cleansing that has always been its official policy," Nina Shea, director of the Washington-based Hudson Institute's Center for Religious Freedom, told FoxNews.com. "It is the only nation state in the world with the official policy of banning all churches. This is enforced even though there are over 2 million Christian foreign workers in that country. Those victimized are typically poor, from Asian and African countries with weak governments."
In Friday's crackdown, several Bibles were confiscated, according to reports from the Kingdom. Rep. Frank Wolf, R-Va, told FoxNews.com he will press the US ambassador in Riyadh and the State Department to assist the arrested Christians. "I hope our government will speak up," said Wolf, adding that the anti-Christian raid was not surprising given that the Saudi regime "did not want our soldiers to wear crosses during the Desert Storm" operation in 1991 to stop Iraqi jingoism.
A spokeswoman for Saudi Arabia's embassy press officer, Nail Al-Jubeir, in Washington, told FoxNews.com that "Mr. Jubeir has nothing on that [arrests of Christians]." She suggested calling the Saudi Gazette newspaper. The English-language paper Saudi Gazette, along with Saudi Arabic-language news outlets, published a news item about the mass arrests. An article posted on the Arabic-language news website Akhbar 24 said the arrests came after the Kingdom's religious police got a tip about a home-based church. The report further noted that "distorted writings of the Bible were found and musical instruments, noting their referral to the jurisdictional institutions."
The Saudi media reported different compositions of the arrested Christians. Some reports said the Christians were men and women, while the Saudi Gazette wrote that children, as well as men and women, were detained. It was unclear if a court date has been set in the notoriously opaque fundamentalist court system.
Saudi Arabia has gone to great lengths over the years to re-brand its image as a tolerant advocate of multi-religious dialogue. The arch-conservative monarchy funded the Vienna-based King Abdullah International Center for Interfaith and Intercultural Dialogue. Nevertheless, critics argue, Saudi Arabia's Islamist religious police continue to expunge any trace of Christianity within its territory. Saudi Arabia's King Abdullah appears to be tied up in knots because of his conflicting messages to the international community about religious diversity. "Such actions are especially dangerous in the current situation, where the world is seeing the rise of extreme Islamist groups in Iraq, Syria, Nigeria, Somalia and elsewhere," Shea said. "The West should demand that its strategic ally, Saudi Arabia, release the Christians at once and allow them to pray according to their own faith traditions. Otherwise, Riyadh will appear to be validating the practices of the Islamic State in northern Iraq and Syria."
Secretary of State John Kerry is slated to visit Saudi Arabia on Tuesday to marshal support to combat the radical Islamic State terror organization. It was unclear if Kerry plans to raise the arrests of the Christians. On Tuesday, State Department spokeswoman Jen Pskai said she was not aware of the arrests, but pledged to look into the reports.
Obama Will Try to Sell Plan to Defeat Islamic State
(President to make a major public address on confronting terror group; Kerry to arrive in Mideast in effort to build international coalition)
Sept. 10….(Times of Israel) US President Barack Obama stepped up his bid to convince Americans he has a plan to defeat the Islamic State, meeting top congressional leaders and scheduling a primetime speech for Wednesday. Obama will summon the symbolic weight of a televised address to the nation at 9:00pm est, speaking from the ceremonial state floor of the White House. The speech will attempt to redress criticism that he has been slow to respond to the terror group's seizure of a haven in Syria and Iraq, amid fears fighters armed with Western passports could train their sights on the US homeland.
President Obama will enlist public support for a new military venture abroad at a poignant moment, the eve of the 13th anniversary of the September 11 attacks, which pitched America into a Middle East conflagration he has spent much of his presidency trying to escape. Obama has consistently said though that there will be no ground troops in Iraq and that is not expected to change. "The president will lay out what he clearly sees as American interests in this situation," White House spokesman Josh Earnest said in his daily briefing Tuesday. "He'll talk about the risks that the United States faces, and he'll talk about the strategy that he has put together to confront those risks, to mitigate them, and ultimately to degrade and destroy ISIL," he said, using an alternative acronym for IS. Earnest would not say whether the president will announce he intends to expand US air strikes against IS targets in Iraq into the group's stronghold in Syria.
While Obama is expected to prepare Americans for a prolonged engagement with IS, he will not establish a definite timeline for action, Earnest said. Obama met the bipartisan leadership of the House and Senate in the Oval Office to discuss his plans, which officials say will involve a broad international coalition and efforts to choke off IS funding and the flow of foreign fighters to the group, as well as military action. "He needs to present this plan to the Congress and the American people," said one of the leaders, Senate Republican minority chief Mitch McConnell. "Where the president believes he lacks authority to execute such a strategy, he needs to explain to the Congress how additional authority for the use of force will protect America."
The White House has been unwilling to say exactly what it wants from Congress, other than "buy in" from lawmakers. It has stopped short of signaling the president will ask for authorization to take military action. Obama has warned however that he will likely ask for more money to finance the campaign, which senior officials say could outlast his presidency, which ends in January 2017. The Obama administration rejects claims by Republican critics and a rising number of Democrats that it has been sluggish confronting the threat from IS, which has beheaded two US journalists. Obama's political position has been undermined by his own public missteps, including his admission two weeks ago that he did not yet have a strategy to take on IS in Syria.
The White House has consistently underlined that a key prong of its plan is the installation of an "inclusive" government in Iraq, after blaming the ex-prime minister Nuri al-Maliki of fostering sectarianism that led to the rise of IS. It therefore welcomed the debut on Monday of a new administration in Baghdad under Prime Minister Haidar al-Abadi as an important sign of progress.
US Secretary of State John Kerry arrives in the Middle East on Wednesday to accelerate Washington's efforts to build an international coalition to confront IS. Obama, who built his presidency on disengaging from wars in Iraq and Afghanistan, and on avoiding "stupid" new misadventures overseas, has long been loath to intervene in Syria's civil war. But he has sent signals in recent days he will intensify aid to the Free Syrian Army rebels, in an apparent bid to ensure that a vacuum left by a potential degrading of IS will not boost Syrian President Bashar al-Assad.
Public opinion in the United States appears to be shifting in favor of a limited intervention in Syria. A Washington Post/ABC News poll published Tuesday found that nine in 10 Americans saw Islamic State as a serious threat. Some 71 percent backed air strikes in Iraq and 65 percent agreed with extending air strikes into Syria.
Israel Altering its Anti-Assad Syrian Policy
(IDF redeploying against Islamist seizure of Golan)
Sept. 10….(DEBKA) The Israeli government has radically changed tack on Syria, reversing a policy and military strategy that were longed geared to opposing Syrian President Bashar Assad, Debkafile's exclusive military and intelligence sources report. This reversal has come about in the light of the growing preponderance of radical Islamists in the Syrian rebel force fighting Assad's army in the Quneitra area since June.
Al Qaeda's Syrian Nusra front, which calls itself the Front for the Defense of the Levant, is estimated to account by now for 40-50 percent, or roughly, 4,000-5,000 Islamists, of the rebel force deployed just across Israel's Golan border. No more than around 2,500-3,000 belong to the moderate Syrian militias, who were trained by American and Jordanian instructors in the Hashemite Kingdom and sent back to fight in Syria. This shift in the ratio of jihadists-to-moderates has evolved in four months. In early June, the pro-Western Syrian Revolutionary Front-SRF, mostly deployed in the southern Syrian town of Deraa on the Jordanian border, was the dominant rebel force and Nusra Front the minority. The balance shifted due to a number of factors:
1. Nusra Front jihadis fighting alongside insurgents on the various Syrian battlefronts made a practice of surreptitiously infiltrating their non-Islamist brothers-at-arms, a process which the latter's foreign allies, the US, Israel, Saudi Arabia, Qatar and Jordan, either ignored or were unaware of.
2. These tactics began to pay off in the past month, when large numbers of moderate rebels suddenly knocked on the Nusra Front's door and asked to join. One reason for this was these militias' defeat and heavy losses of men and ground under the onslaught of the combined forces of Syria, Hizballah and Iran. Nusra Front was less affected. It was also the moderate rebels' preferred home, rather than the Islamic State in Iraq and Levant, whose atrocities, especially the beheadings of hostages and prisoners, they find repelling.
3. Nusra deployment on the Syrian Golan further swelled of late as its fighters were pushed out of eastern Syria by IS in its rapid swing through the Syrian towns of Deir a-Zor and Abu Kemal to reach its ultimate goal, one which has so far not rated a mention in Western and Israeli media.
The Islamist extremists are on the way to conquering the Euphrates basin in Syria and Iraq before advancing on the place where the two great rivers of Mesopotamia, the Euphrates and Tigris, are in closest proximity, Mahmoudiya, south of Baghdad. Nusra fighters moved out of the way of the IS push through eastern Syria and made tracks for Quneitra to join the fight to seize this strategic Golan town and crossing into Israel from Assad's forces. The pro-Islamist cast of the Syrian rebel force on Israel's Golan border is reflected in the turnaround in Israel's military position and attitude toward the insurgents on the other side of the Golan border fence. The IDF will henceforth be less supportive of the rebel struggle and more inclined to help Syrian troops in fending off rebel attacks. This calls for a delicate balancing act in Jerusalem. While definitely not seeking an Assad victory in the long Syrian war, Israel has no desire to see Al Qaeda's Syrian branch, Al Nusra, seizing control of the Syrian sector of the Golan, including Quneitra.
Israel therefore finds itself in a quandary much like that of US President Barack Obama, who has promised to unveil his strategy for fighting the Islamic State of Iraq and Syria Wednesday, Sept. 10. He too is strongly reluctant to throw US support behind Bashar Assad, but he may find he has no other option.
FOJ Note: Could it be that God almighty is laying a trap for America in Syria. Syrian prophetic forecasts are ominous, and they could well involve God devising a device to frame a trap for America, because America has abandoned God, and sabotaged Israel's security. (See Jeremiah 18, concerning the sins of ancient Judah)
Russian Strategic Bombers Practice Cruise Missile Strikes on US
Sept. 9….(Fox News) Two Russian strategic bombers conducted practice cruise missile attacks on the United States during a training mission last week that defense officials say appeared timed to the NATO summit in Wales. The Russian Tu-95 Bear bombers were tracked flying a route across the northern Atlantic near Iceland, Greenland, and Canada's northeast.
Analysis of the flight indicated the aircraft were conducting practice runs to a pre-determined "launch box," an optimum point for firing nuclear-armed cruise missiles at US targets, said defense officials familiar with intelligence reports. Disclosure of the nuclear bombing practice comes as a Russian general last week called for Moscow to change its doctrine to include preemptive nuclear strikes on the United States and NATO.
Gen. Yuri Yakubov, a senior Defense Ministry official, was quoted by the state-run Interfax news agency as saying that Russia's 2010 military doctrine should be revised to identify the United States and the NATO alliance as enemies, and clearly outline the conditions for a preemptive nuclear strike against them. Yakubov said among other needed doctrinal changes, "it is necessary to hash out the conditions under which Russia could carry out a preemptive strike with the Russian Strategic Rocket Forces," Moscow's nuclear forces. The practice bombing runs are the latest in a series of incidents involving threatening Russian bomber flights near the United States. Analysts say the bomber flights are nuclear saber-rattling by Moscow as a result of heightened tensions over the crisis in Ukraine.
Syrian Rebels Reportedly Control Syrian Golan, Entering Lebanon
Sept. 9….(Arutz) Syrian rebels strengthened their hold of the Syrian side of the Golan Heights on Tuesday morning, conquering the mountain Al-Mal in the Quneitra region where they have recently been capturing control from Syrian President Bashar Assad's forces.
In conquering the strategic point on Tuesday, rebel forces killed roughly ten Syrian soldiers according to Arab news sources cited by Walla, with some reports assessing that all of Assad's forces in the area were killed in the clash. The victory gives the rebels full control over the mountain located roughly ten kilometers (just over six miles) from the border with Israel.
It also means Syrian rebels have essentially taken control of all of Assad's bases in the Syrian Golan Heights since starting their conquest of the region around two weeks ago. During the campaign they also took captive 45 UN peacekeepers from Fiji who were abducted by Al Qaeda-linked Al-Nusra Front rebel forces. The rebel forces reportedly said the UN soldiers would "stand trial" under sharia (Islamic law). Rebel forces on Monday expanded their control even further, as forces of the Lebanese-based terror group Hezbollah reportedly clashed with Syrian rebels in the Qalmoun mountain region, near the Syrian-Lebanese border in the south of Lebanon. Security sources told the Lebanese Al Mustaqbal paper about the clashes, noting "Hezbollah soldiers were forced to retreat from the area amid night strikes by Assad warplanes in the area."
Hezbollah has sent soldiers in the past to aid Assad in Syria, where a Shi'ite axis has been formed between the Iran-proxy terror group, Assad, and Iran. Rebel forces have been encroaching into Lebanese territory as that policy has come home to roost, with the brutal Islamic State (IS, formerly ISIS) recently conquering parts of Lebanon.
The Quneitra fighting has also been spilling into Israel, with an IDF soldier wounded on Monday by stray gunfire. Several Israelis have been wounded by errant shells, with the IDF responding to the attacks last week by hitting a Syrian military position after a mortar shell hit the Golan.
Benghazi Serves as Obama's War Chest to Syrian Rebels
Sept. 9….(WND) The US special mission in Benghazi and the nearby CIA annex were utilized in part to coordinate arms shipments to the jihadist rebels fighting the Syrian regime, with Ambassador Christopher Stevens playing a central role, documents an explosive new book released today. The activities, which included a separate, unprecedented multi-million-dollar weapons collection effort from Libyan militias who did not want to give up their weapons, may have prompted the Sept. 11, 2012, attacks on the US embassy in Benghazi. According to information cited by author, Aaron Klein, Stevens served less as a diplomat and more as an arms dealer and intelligence coordinator for assistance to the so-called Arab Spring, with particular emphasis on the Syrian rebels.
As was widely reported, Stevens originally arrived in Libya during the revolution aboard a Greek cargo ship carrying equipment and vehicles. His original task in Libya was to serve as the main interlocutor between the Obama administration and the rebels based in Benghazi. Stevens never abandoned that role, even after becoming ambassador, according to Klein. Indeed, the New York Times reported in December 2012 that Stevens himself facilitated an application to the State Department for the sale of weapons filed by one Marc Turi, whom the Times' describes as an "American arms merchant who had sought to provide weapons to Libya." The Times reported Turi's first application was rejected in March 2011 but was approved two months later after he stated "only that he planned to ship arms worth more than $200 million to Qatar." Qatar was Turkey's partner in aiding the Syrian rebels.
Klein notes the Times did not question why a US ambassador would help facilitate government applications for arms dealers. Nor did the Times bother to investigate the possible connection of those activities to the Benghazi attack. Continued Klein: "After all, it doesn't take Sherlock Holmes to divine a possible link to the Benghazi assaults amid reports of Stevens supporting a weapons dealer's application while American intelligence officers hiding in 'secret locations' were helping Arab governments shop for weapons to be sent to Mideast rebels, including some of the same groups linked to the September 11, 2012 attacks." Klein points out Stevens held his final meeting with a diplomat from Turkey, which was one of the main backers of the Syrian rebels.
Klein's statement about US intelligence officers aiding weapons shipments from "secret locations" is a reference to the larger arms-to-rebels pipeline that is thoroughly documented in the book. The story began prior to the establishment of the US mission in Benghazi, when the United States and NATO supported Arab airlifts of aid to the rebels who eventually toppled Libya's Moammar Gadhafi.
The Obama administration's "Arab Spring" adventures pivoted westward, reports Klein, when the CIA started helping Arab governments and Turkey obtain and ship weapons to the rebels fighting Bashar al-Assad's regime in Syria. The New York Times reported March 25, 2013, that the covert aid to the Syrian rebels started on a small scale and continued intermittently through the fall of 2012, expanding into a steady and much heavier flow later that year, including a large procurement from Croatia. However, Klein cites sources saying the airlifts actually began several months before the fall of 2012, including a massive arm shipment from Benghazi to the Syrian rebels in August 2012 days before the Benghazi attack. That massive weapons shipment departed the port in Benghazi and arrived in early September at the Turkish port of Iskenderun, 35 miles from the Syrian border, purportedly to deliver humanitarian aid. The Times, meanwhile, reported that from offices at "secret locations," American intelligence officers "helped the Arab governments shop for weapons, and have vetted rebel commanders and groups to determine who should receive the weapons as they arrive."
The exact nature of the US involvement with the February 17 Brigade that guarded the US special mission might have been unintentionally exposed when a Libyan weapons dealer formerly with the Brigade told Reuters in an in-person interview he had helped ship weapons from Benghazi to the rebels fighting in Syria. Klein noted that no one seems to have connected the dots from what the weapons dealer said to the activities taking place inside the Benghazi compound and whether the Brigade serves as a cut out to ship weapons.
In the Reuters interview published June 18, 2013, Libyan warlord Abdul Basit Haroun declared he is behind some of the biggest shipments of weapons from Libya to Syria. Most of the weapons were sent to Turkey, he said, where they were, in turn, smuggled into neighboring Syria. Ismail Salabi, a commander of the February 17 Brigade, told Reuters Haroun was a member of the brigade until he quit to form a group of his own. Haroun told Reuters his weapons-smuggling operation was run with an associate, who helped him coordinate about a dozen people in Libyan cities collecting weapons for Syria. Besides arming the Syrian rebels, Klein documents that from the US mission and CIA annex, American agents ran an unprecedented multi-million-dollar US effort to secure anti-aircraft weapons in Libya after the fall of Gadhafi's regime.
This weapons-collection effort may go a long way to explain the motive behind the Benghazi attack. The various jihadist organizations that looted Gaddafi's MANPAD reserves and the rebel groups that received weapons during the NATO campaign in Libya obviously would feel threatened by an American effort to try to retrieve the weapons. In March 2013, Sen. Lindsey Graham, R-S.C., connected Stevens to that effort. He told Fox News that Stevens was in the Libyan city to keep weapons caches from falling into the hands of terrorists. Previously, one source told Fox News that Stevens was in Benghazi the very night of the attack "to negotiate a weapons transfer in an effort to get SA-7 missiles out of the hands of Libya-based extremists." In August 2013, CNN reported there is "speculation" on Capitol Hill that US agencies operating in Benghazi "were secretly helping to move surface-to-air missiles out of Libya, through Turkey, and into the hands of Syrian rebels."
Obama Toughens Tone, Vows to 'Defeat' and 'Dismantle' Islamic State
Sept. 8….(Fox News) President Obama on Friday sought to fine-tune his response to the growing Islamic State terror threat, vowing to "degrade and ultimately defeat" the network, seemingly abandoning, at least publicly, his previously stated goal of making them a "manageable problem." "We are going to degrade and ultimately defeat ISIL, the same way we have gone after Al Qaeda," Obama said in Wales, during a press conference at the close of a meeting of NATO allies.
The president caused some confusion earlier in the week after saying the goal was to "destroy" the Islamic State, also known as ISIL, or ISIL, but also to "shrink" it to a "manageable" problem. Secretary of State John Kerry clarified Friday that there is no strategy to "contain" the group, and Obama agreed. "You can't contain an organization that is running roughshod through that much territory, causing that much havoc," Obama said. He said the goal must be to "dismantle" the group.
Obama administration representatives sat down with delegates from nine allies, including France and Britain, on the final day of the NATO summit to discuss the Islamic State threat. Kerry is separately trying to build support among Middle East partners for action against the group. Obama on Friday claimed "there was unity" at the NATO summit over the belief that ISIS poses a "significant threat to NATO members" and regarding a readiness to take action. "I did not get any resistance or pushback to the basic notion that we have a critical role to play in rolling back this savage organization," Obama said. The president has taken criticism in recent days for giving mixed signals over how far the administration is willing to go to target the Islamic State. He still hasn't said whether he would authorize airstrikes in next-door Syria, where the group also operates. But the president touted the more than 100 US airstrikes that have already been conducted in northern Iraq, and said the next steps will involve developing a "strong ground game" on behalf of allies in those countries, including Sunni tribes. "It's not going to happen overnight," Obama said.
Arab League Endorses US-led Coalition Against Islamic State
(Amazing…..The Arabs are only too willing to have America fight their enemies)
(Foreign ministers of the Arab League take part in an emergency meeting at
the league's headquarters in Cairo September 7)
Sept. 8….(Jerusalem Post) The Arab League elected on Sunday to join Europe and the United States in its confrontation with Islamic State. Vowing to provide all necessary support, foreign ministers from the league met in Cairo to endorse international action against the Islamist army, which has conquered territories throughout eastern Syria and northern Iraq. The Arab League also condemned Islamic State as a corrupt, immoral enterprise engaging in crimes against humanity. The group has reportedly killed thousands of civilians.
Consequentially, the Arab League also endorsed a United Nations Security Council resolution passed last month that aims to stem the flow of military equipment to extremists operating in Iraq and Syria. Member states of the league have openly armed various groups in Syria throughout the civil war there since it began in 2011. While a draft resolution proposed by Baghdad made explicit reference to the US air assault, the final text adopted by the league did not specifically endorse the coalition campaign against Islamic State. The wording, however, clearly offered Arab cooperation to US and Iraqi efforts, and is read as a tacit agreement to back Washington's campaign against the group, officials said in Cairo.
Baghdad and Arab League chief Nabil al-Arabi also called for harsher language on the extent of the group's criminality. Action from the Arab League comes at the strong encouragement of the Obama administration, which seeks multidimensional support from Sunni governments in the region to degrade the group. After dispatching US Secretary of State John Kerry to Amman and Riyadh for meetings to rally the Hashemite and Saudi kingdoms, US President Barack Obama will address the American people on Wednesday to outline his "game plan" for action. "The next phase is now to start going on some offense," Obama said in an interview on Meet the Press with Chuck Todd. "There's going to be an economic element to this.There's going to be a political element to it. There's going to be a military element to it."
Previewing his speech, the president said he wants to explain to the American people the significance of the Islamic State threat to the homeland, the capability of the US government to handle it, the breadth of coalition support he has built thus far and why it is imperative that the US Congress support the mission. Obama suggested, however, that he would not seek authorization for the use of force from Congress in Syria. Should the US choose to go after Islamic State targets militarily, the president would not have the expressed invitation of the nominal Syrian government in Damascus, as he currently does in Iraq from the government in Baghdad. "I'm confident that I have the authorization that I need to protect the American people," Obama said. Obama said he seeks to systematically degrade Islamic State capabilities, shrink their territorial claims and ultimately defeat the group. But that process will require manpower beyond what the US is prepared to offer, he said. "The boots on the ground have to be Iraqi," he said, "and in Syria, the boots on the ground have to be Syrian."
Since July, the US has conducted 143 air strikes against Islamic State targets throughout northern Iraq. Those operations are coordinated with the Peshmerga forces of the semi-autonomous Kurdistan regional government, in protection of its capital in Arbil, as well as the Iraqi Armed Forces. No such ground force exists in Syria, however, able to hold territory cleared by US air power, posing a tactical challenge to the Pentagon. The president said last week that his team does not yet have a military strategy to go after Islamic State targets in Syria, where the group holds court in Raqqa.
The US cannot "serially occupy various countries all around the Middle East," Obama explained, asked what ground force would aid in the fight against Islamic State at the heart of its territory. "We don't have the resources. It puts enormous strains on our military. And at some point, we leave. And then things blow up again." The US expanded its air campaign in Iraq on Sunday with strikes in a new location, by Haditha Dam, a site threatened by Islamic State fighters. "The Haditha Dam is the second largest hydroelectric contributor to the power system in Iraq," said Caitlyn Hayden, spokeswoman for the National Security Council. "Destruction of the dam or release of water would create a level of flooding that would potentially pose a catastrophic threat to thousands of Iraqis along the Euphrates Valley from Anbar province into parts of Baghdad, including possible flooding in areas in and around the Baghdad International Airport, where hundreds of US personnel reside." The Pentagon said the strikes came at the request of the Iraqi government.
Israel Preparing for 'Very Violent' War Against Hezbollah
(Army details dangers of conflict with Iran-backed guerrilla army in Lebanon, warns of 100,000 rockets, 5,000 long-range missiles, tunnels)
Sept. 8….(Times of Israel) Just 10 days after a ceasefire ended a 50-day Israel-Hamas conflict, the Israeli army is "making plans and training" for "a very violent war" against Hezbollah in south Lebanon, an Israeli TV report said Friday night, without specifying when this war might break out. The report, for which the army gave Israel's Channel 2 access to several of its positions along the border with Lebanon, featured an IDF brigade commander warning that such a conflict "will be a whole different story" from the Israel-Hamas conflict in which over 2,000 Gazans (half of them gunmen according to Israel) and 72 Israelis were killed. "We will have to use considerable force" to quickly prevail over the Iranian-backed Hezbollah, "to act more decisively, more drastically," said Colonel Dan Goldfus, commander of the 769th Hiram Infantry Brigade. The report said Hezbollah has an estimated 100,000 rockets, 10 times as many as were in the Hamas arsenal, and that its 5,000 long-range missiles, located in Beirut and other areas deep inside Lebanon, are capable of carrying large warheads (of up to 1 ton and more), with precision guidance systems, covering all of Israel.
Israel's Iron Dome rocket defense system would not be able to cope with that kind of challenge, and thus the IDF would have to "maneuver fast" and act forcefully to prevail decisively in the conflict, Goldfus said. Goldfus said it might be necessary to evacuate the civilian residents of the area. "Hezbollah will not conquer the Galilee (in northern Israel)," the officer said, "and I won't let it hurt our civilians." He said that anyone who thought Hezbollah was in difficulties because it has sustained losses fighting with President Bashar Assad in Syria is mistaken. The report noted, indeed, that Hezbollah has now accumulated three years of battlefield experience, and has greater military capabilities and considerable confidence as a consequence. The report said that Prime Minister Benjamin Netanyahu warned UN Secretary-General Ban Ki-moon in 2012 that, in a future war against Hezbollah, Israel would have to hit homes in villages across southern Lebanon from which Hezbollah would seek to launch rockets into Israel.
As with Hamas in Gaza, the report said there were concerns that Hezbollah has also been tunneling under the Israeli border ahead of planned attacks. A deputy local council chief, Yossi Adoni of the Ma'aleh Yosef Council, said dozens of border-area residents have reported the sounds of tunneling under their homes since 2006 — when Israel and Hezbollah fought a bitter conflict known as the Second Lebanon War. "We are absolutely certain there are cross-border tunnels," Adoni said.
WEEK OF SEPTEMBER 1 THROUGH SEPTEMBER 6
US-Iranian Military, Intelligence Cooperation in War on ISIS Reaps 1st Successes in Syria and Iraq
Sept. 6….(DEBKA) At least 18 foreign ISIS fighters including Americans and Europeans were killed Thursday, Sept. 4, in a Syrian air raid of the Al Qaeda-ISIS' northern Syrian headquarters in the Gharbiya district of Raqqa. The raid caught a number of high Al Qaeda commanders and a large group of foreign adherents assembled at the facility. A second group of high ISIS officers were killed or injured in another Syrian air raid over their base in Abu Kamal near the Iraqi border. Debkafile's military and intelligence sources report that top men of the Islamist terrorist group were holding meetings at both places Thursday to coordinate IS strike plans in Syria and Iraq. For Syria, these plans center on the Deir a-Zor and Al Qaim areas, while in Iraq, they focus on targets in the east and center of the country. The twin Syrian air offensive coincided with the opening of the two-day NATO Summit outside the Welsh town of Newport. The information about the two Al Qaeda meetings at Raqqa and Abu Kamal could have come from only two sources: US surveillance satellites and aircraft or Iranian agents embedded at strategic points across Syria.
Syria does not have the necessary intelligence capabilities for digging out this kind of information. Nor does its air force normally exhibit the surgical precision displayed in the two strikes on Al Qaeda bases. It is therefore more than likely that they owed their success to the widening military and intelligence cooperation between the United State and Iran in Iraq and Syria.
President Barack Obama will have taken his seat at the NATO summit to discuss ways of fighting ISIS after word of the successful Syrian strikes was already in his pocket. While they must be credited to top-quality US aerial surveillance over Syria and Iraq, they were undoubtedly made possible by the Obama Administration's deepening military and intelligence ties with Iran. Many of the allies present at Newport will not welcome these tidings, Britain, Germany and Australia, in particular. They deeply resent being displaced as America's senior strategic partners by the Revolutionary Republic of Iran, after their long partnership with the US in fighting terror in Afghanistan and Iraq. But they will find it hard to argue with success.
On Aug. 31, our military sources reveal, US and Iranian special forces fighting together, broke the 100-day IS siege of the eastern Iraqi town of Amerli, 100 km from the Iranian border, to score a major victory in their first joint military ground action. Then, Wednesday, Sept. 3, US jets struck an IS base in the northern Iraqi town of Tal Afar, killing its commander, Abu Hajar Al-Sufi, and two lieutenants of the IS chief Abu Baker Al-Baghdadi.
While President Obama has denied having a strategy for fighting ISIS, a working mechanism appears to have been put in place to support a trilateral military offensive against al Qaeda's Islamist State. The successful attacks in the last 24 hours were apparently made possible by this mechanism: Iranian intelligence collected US surveillance data from the Americans and passed it on to Syria for action.
Radical Imam: Terrorism Is 'Part of Islam'
Sept. 6….(Newsmax) A British imam gave a television interview this week in which he defended acts of terror, including the beheading of foreign journalists, as consistent with the teachings of the Koran, Breitbart News blogger John Sexton reported. London-based cleric Anjem Choudary told Russia Today that "terrorizing the enemy is in fact part of Islam" in an interview with the English-language RT news program, "Worlds Apart." Choudary cited a passage of the Koran that calls for Muslims to use "steeds of war by which you may terrify the enemy of Allah." "So terrorizing the enemy is in fact part of Islam," Choudary said. "I mean this is something that we must embrace and understand as far as the jurisprudence of Islam is concerned."
Sexton wrote that, "Choudary went on to say that Muslims make no distinction between civilians and armed forces since civilians elect the leaders who direct the armed forces." Choudary, also a lawyer who lectures on Sharia law, headed an Islamic group, Al Muhajiroun, which was banned in the United Kingdom. Two attendees of Al Muhajiroun events were arrested in the 2013 murder of a British Army veteran of the Afghanistan war, who was stabbed to death in broad daylight on a busy London street.
One-Third of Americans Support Axing God from Pledge of Allegiance
Sept. 6….(Newsmax) More than one-third of Americans support removing the phrase "under God" from the Pledge of Allegiance, according to a study released this week. The study conducted in May by The Seidewitz Group on behalf of the American Humanist Association (AHA), reports that 34 percent of respondents expressed support for adopting a new version of the pledge. It was released Sept. 2. "The current wording of the Pledge marginalizes atheists, agnostics, humanists and other nontheists because it presents them as less patriotic, simply because they do not believe in God," said Roy Speckhardt, AHA executive director, in a press release.
The AHA, which advocates "an ethical and life-affirming philosophy free of belief in any gods and other supernatural forces," frequently represents individuals or groups in lawsuits seeking to remove religious references from the public sphere. In April, the Association's Appignani Humanist Legal Center filed a lawsuit on behalf of a group of New Jersey parents to have "under God" removed from the Pledge.
The AHA, which queried 1,000 adults, said 21 percent of Christians support the removal of "under God," while 43 percent of individuals of other faiths were favorable to the proposition. Among those who had no specific faith, 62 percent backed the idea, while a clear majority (90 percent) of atheists wanted God removed.
The American Humanist Association will be announcing the launch of a new campaign on Sept. 8 to garner support for efforts to rewrite the Pledge, says the AHA statement. According to an AHA statement, the study was initiated to respond to a 2013 poll by Lifeway Research, which found only 8 percent of American adults supported deleting the reference to God in the Pledge.
In its survey, Lifeway Research, an evangelical research firm specializing in faith and religious issues, reported less than 1 in 10 Americans want to remove "under God" from the pledge. That survey, which was conducted Sept. 6-10, 2013, did find that 25 percent of Americans believe forcing students to recite the Pledge is a violation of their constitutional rights. Support for removing God was greatest among younger voters, Lifeway found. Fourteen percent of those ages 18-29 want to remove the phrase, compared to 5 percent of those over 64.
Syrian Army Poised to Strike Rebels in Golan Heights
Sept. 5….(DEBKA) The Syrian army was poised Wednesday, Sept. 3 for an all-out offensive in the coming hours to take out the rebels holding parts of the Golan town of Quneitra and the crossing into Israel, Debkafile's military sources report. The concentration of Syrian troops at a staging point is clearly visible from Israeli military positions and villages on the Golan. The assault force consists of a large number of troops from the Syrian army's 7th Division with many tanks, which the Syrians have been wary hitherto of moving into the battle zone, after being cautioned by Israel via the UN that they would be infringing ceasefire agreements with Israel and risk incurring IDF counteraction.
However, high authority in Damascus appears to be counting on the revulsion and shock, generated around the world by the beheading by ISIS of the American-Jewish journalist Steven Sotloff, deterring Israel from intervening against Syrian forces which are fighting another Al Qaeda offshoot, the Nusra Front. All in all, say DEBKA's sources, the decision to embark on a large-scale assault on rebel gains in the Golan means that military priorities have been reshuffled at the highest level of Syrian policy-making. After treating the Golan and Quneitra front as a strategic backwater hitherto, they suddenly occupy center stage in Damascus as a key arena for vanquishing rebel forces.
Israel's Golan forces and population are in a state of preparedness. Tensions rose palpably Wednesday, when Syrian fighter-bombers flew over Quneitra and dropped Iranian-made barrel-bombs on rebel positions. They acted in defiance of Israel's threat to send its air force against Syrian jets intruding in the Golan no-flight zone. This threat followed the first Syria air strike over Quneitra on Aug. 28, against which Israel refrained from interfering. But Damascus was obviously not deterred from launching another air strike over the Golan to support its coming offensive.
Wednesday night, the Security Council called on all UN members who had any influence with Nusra al-Jabha to intercede for the release of the 44 UN Fijian observers the Islamist group is holding hostage since last week. The same resolution also ordered Nusra to immediately return the weapons and vehicles, some of them armored, they had seized from the UN Disengagement and Observer Force. With the Syrian sword about to fall on their heads, it is doubtful that the Syrian Islamists will heed either of those calls.
Obama Paralyzed by Muslim Sympathies
ISIS failure attributed to religious background, ideology, incompetence
Sept. 5….(WND) President Obama's left-leaning political ideology combined with sympathies for Islam acquired from being raised by a Muslim stepfather paralyze him as he faces the threat posed by the Islamic jihadist group ISIS, former House Majority Leader Tom DeLay told WND in an interview. "In defending America against radical Islamic terrorism, Barack Obama cannot be trusted," DeLay said. "Barack Obama was raised a Muslim, and he claims he is a Christian, and I can't say for sure whether he's a Christian or not, but he has shown over the last few years that he has great sympathies with Islam," DeLay explained. "You combine that with Obama's political orientation that is far to the left," he continued, "and you get a president who hates war, hates the military, and you have a formula for military inaction when it comes to combating radical Islamic terrorists like we are seeing in ISIS."
DeLay's indictment of Obama did not end there. "You add to mix that Barack Obama is incompetent, way over his head as president, and the whole combination produces a worldview that makes Obama detached and reluctant to take the type of the military action against ISIS that would be effective," he said. DeLay concluded Obama "does not want to face the reality of the danger and threat represented to the United States by ISIS, and he does not want to admit the connections between al-Qaida and ISIS, because he refuses to understand that we are in a war against radical Islamic terrorism." "The truth is that ISIS is a huge threat to the United States and the whole world. But the problem is that under Obama, radical Islamic terrorism is growing in strength every day," he said.
DeLay said the step Obama should be taking at the upcoming NATO meeting in Wales is to form a "coalition of the willing" like President George H. W. Bush did in the run-up to the Gulf War in 1991. Instead, DeLay said, Obama is leaving the border with Mexico wide open, with no measures to block Islamic terrorists from mixing in with the invasion from Central American of "unaccompanied minors," many of whom are teenagers in the prime gang-recruitment years, including some with criminal records in their home countries.
DeLay also referenced recent news reports that some 11 airliners were missing from the airport in Tripoli after radical Islamic terrorists overran it. He joined with Reps. Jason Chaffetz, R-Utah, Trey Gowdy, R-S.C., and Bob Goodlatte, R-Va., in criticizing the Obama administration for trying to lift a ban on Libyans coming to the US to attend flight school or to study nuclear science. "We have something like 6,000 foreign student visas where the Department of Homeland Security cannot find where the students are today," DeLay commented. "It would be just the same letting Muslims come back into the country to learn how to be airline pilots. The Obama administration would probably just look the other way."
Second American Beheaded by Islamic Terrorists (IS)
Sept. 3….(Daily Telegraph) The Islamic State in Iraq and Syria has beheaded Steven J. Sotloff, the second American executed by the Islamic militant group, and posted a video of it on the Internet, the SITE Intelligence Group, a research organization that tracks jihadist web postings, said Tuesday. Mr. Sotloff's family issued a statement saying it believed he had been killed.
The execution of Mr. Sotloff, 31, came despite pleas from his mother aimed directly at ISIS's top leader seeking mercy for her son, a freelance journalist who was captured in northern Syria a year ago. Word of Mr. Sotloff's beheading came two weeks after James Foley, 40, another American journalist, was beheaded by ISIS, which warned that Mr. Sotloff would be the next to die. The videotaped beheadings and threats by ISIS have helped rocket the group's ascendance into a top crisis for the Obama administration and its Western allies.
Mr. Sotloff's family members issued a statement via a spokesman, Barak Barfi that suggested they believed the video was authentic: "The family knows of this horrific tragedy and is grieving privately. There will be no public comment from the family during this difficult time."
An image taken from a video released by the SITE Intelligence Group shows Steven Joel Sotloff, 31, before his execution at the hands of a fighter from the Islamic State in Iraq and Syria. Josh Earnest, a White House spokesman, said he could not immediately confirm the authenticity of the video showing Mr. Sotloff's killing. "It is something that will be analyzed very carefully by the US government and our intelligence officials to determine its authenticity," he told reporters in Washington. Jen Psaki, the State Department spokeswoman, said that American intelligence agencies would "work as quickly as possible" to determine whether the video was authentic. She said the United States would be "sickened" by confirmation of Mr. Sotloff's beheading.
In the video, Mr. Sotloff describes himself as "paying the price" for the Obama administration's decision to strike ISIS targets in Iraq. The same masked fighter with British-accented English who appeared in the video of Mr. Foley's beheading also appears beside Mr. Sotloff, asserting, "I'm back, Obama, and I'm back because of your arrogant foreign policy towards the Islamic State."
The SITE group also said ISIS was threatening a third captive, a Briton it identified as David Cawthorne Haines, as the next beheading victim. At least two other Americans are believed to be held by ISIS. Mr. Sotloff was a Florida native who wrote for Time magazine and other publications, and who had reported on the convulsions of the Middle East for the past few years. His capture by ISIS was largely kept a secret for months at the request of his family until he was seen in the execution video of Mr. Foley two weeks ago.
It was unclear from the video of Mr. Sotloff where and when it was recorded. Some Western intelligence officials have said that they believe Mr. Sotloff was executed the same day as Mr. Foley, and that the propagandists at ISIS decided to space out the publicity of each one. But the video reported by SITE on Tuesday showed Mr. Sotloff with a small beard and some hair on his head, in contrast to the Aug. 19 video showing Mr. Foley's death, in which Mr. Sotloff was nearly bald and relatively clean shaven. This indicated that the videos were probably made at different times.
Last Thursday Mr. Sotloff's mother, Shirley, released an emotional video appeal to his captors, asking the leader of ISIS, Abu Bakr al-Baghdadi, the self-proclaimed caliph of the Muslim world, to grant amnesty to her son.
The New Jihadi Threat From Syria
(A very wary Israel watches as an al-Qaeda offshoot wrests control of the Quneitra crossing area from Assad's forces)
Sept. 1….(Times of Israel) The Islamic State, US Secretary of State John Kerry said, is a cancer that should not be allowed to spread. It advances a "genocidal agenda" and "no civilized country should shirk its responsibility to help stamp out this disease." For the past week, the Israeli army has watched as a different strain of that same malady set up camp along the border, hoisting the black al-Qaeda flag over the Quneitra crossing on the Golan Heights. Israeli farmers have been ordered back from the border, as the ongoing fighting has occasionally spilled over. And although it's probably wrong to speak of ideology, however odious, as disease, because the cure can be overly aggressive, there is no doubt that the fall of Quneitra, for now, Assad's forces are battling to take it back, represents a significant milestone en route to the destabilization of a border region that has been largely tranquil since US secretary of state Henry Kissinger pushed Israel and Syria to sign a disengagement agreement on May 31, 1974.
In the wake of this destabilization in the Golan, the defense establishment has grappled with two central questions: Who does Israel want to see emerging as the victor? And what should be done in the meantime? The army, concerned primarily with the reality that has taken shape in the Golan, less so with the geopolitical implications of jihadist instability versus a triumph of the Syrian-Hezbollah-Iran axis, has re-hauled its deployment in the Golan Heights. Lt. Gen. Benny Gantz, the commander of the IDF General Staff, ordered a major shift last fall. He relieved Division 36, one of the army's only conscripted armored divisions, of its duties in the Golan Heights, the threat of a Syrian ground assault seems to have expired, and assembled, on the sloping plateau, a newly reconfigured regional division. These troops are focused not on ground maneuvers and firepower, the ingredients necessary to win wars, but rather on perimeter security.
The Bashan Division, operational in its new capacity since early 2014, is staffed with rotating infantry troops, the Golani Brigade hustled back from Gaza last week and took up its posts, along with greater surveillance and a much-improved fence. "In the past, our primary threat was the Syrian army," a regional officer told The Times of Israel during a 2013 tour of the border. "We knew it very well: when they wake up, what their days look like, the formation of their troop deployment." Today, he said, the primary danger, as far as his division is concerned, is of cross-border infiltration. Therefore, the surveillance teams along the Syrian border, he continued, were the first to receive what the army calls a "multiple-sensor system," a newly operational mechanism that synchronizes an array of radar and optical findings into one concrete warning. "It's a huge advance," he explained, and added that "it's the only one in the country."
The border fence itself, which is still under construction and is similar to the fence along Israel's southern border with Egypt, is dug deep into the ground. "The old one," the officer said, "could be knocked over with one kick and easily crossed with a ladder." The new one is protected by an anti-personnel ditch, is impassable to throngs of people, and is strong enough to detonate an incoming anti-tank missile before it reaches its target. The irony in the construction of the fence is that it was spurred on by a 2011 Nakba Day demonstration along the Syrian border, in which hundreds of Palestinians living in Syria rushed the border fence and, amid stone-throwing and Israeli fire, managed to cross the border and reach the Druze town of Majdal Shams. The troops on the border were seen to have acted wisely in using their firearms in a discriminating way, killing four protesters, but concern about the violation of Israeli sovereignty and the way an intifada along the border could shift the focus of the war in Syria, hastened the construction of the fence. Today, clearly, the main purpose of the 15-foot-high steel barrier has little to do with popular uprisings; it is the face of a potent Israeli deterrence set on keeping IS and al-Qaeda at bay.
Egyptian Troops Hunt Hamas, Islamic Jihad Rocket Gangs in Sinai
Sept. 1….(DEBKA) A wide-reaching Egyptian military hunt is on across northern and central Sinai for intruding Hamas and Islamic Jihad rocket squads and the launching sites they have buried beneath the desert surface, according to Debkafile's exclusive military and counterterrorism sources.
In the last week of warfare with Israel, up until the declaration of the Aug. 26 ceasefire, Hamas and Jihad secretly moved rocket teams across the border into Egyptian Sinai. They plan to use them as a second front for resuming rocket fire on Israel, or provide themselves with a lever in case no deal comes out of the Cairo negotiations later this month for a durable ceasefire and the rehabilitation of the shattered Gaza Strip.
Egyptian and Israeli intelligence surmised at first that only a handful of rocket teams had got through to Sinai and intended to pick them off quickly by air strikes. But in the course of the pursuit, it turned out that the two Palestinian terrorist groups had put down a substantial and elaborate network of sunken rocket pads across northern Sinai and along the Egyptian-Israeli border. It is linked to a remote activation system located in Bedouin villages and encampments, which also serve as the teams' contact points. Hamas and Salafi groups from Gaza pay the tribesmen, who also work with Al Qaeda's Ansar al-Maqdis, to provide them with food and water. Hamas has long maintained strong operational ties with al-Maqdis. For an independent supply of ordinance, Hamas set up rocket manufacturing workshops in the northern Sinai towns of Rafah and Sheikh Zweid.
Two days after the ceasefire went into effect, the semiofficial Egyptian news agency Mena quoted an Egyptian military source as disclosing that, on Aug. 21, "Thirty-one huts and houses used as launching pads and workshops for rockets were destroyed in the crackdown." Then, on Monday, Sept. 1, Gen. Will Safti, head of the Palestinian desk at Egypt's intelligence service, arrived in Ramallah. He came for an attempt to bring the quarrelling Hamas and Mahmud Abbas' Fatah factions together for a coherent Palestinian line at the forthcoming talks in Cairo for a permanent ceasefire, political and economic solutions for rebuilding the Gaza Strip, and for the establishment of stable Palestinian Authority rule over the territory. Those talks were scheduled to take place after the ceasefire had held for one month.
But the acrimony between Fatah and Hamas was described as so relentless, that the Egyptian officer gave up and returned to Cairo, without hope of bridging the differences between them or setting a date for the comprehensive Gaza talks to begin. It is now feared in Cairo that Hamas will take matters in its own hands and activate the covert rocket gangs in Sinai for a resumed barrage against Israel, only this time it will be launched from Egyptian soil. Hamas' Gaza command will then be able to deny responsibility and Israel's hands will be tied for hitting back.
In Gaza City, meanwhile, Hamas announced Monday that it was doubling the budget earmarked for its military wing, Ezz e-Din al-Qassam. There was no word about where the Palestinian fundamentalists had found the tens of millions of dollars they had lavished on their fighting arm.
---