WEEK OF JUNE 29 THROUGH JULY 5
The Time Has Come For America to Stand Up
July 3….(Jerusalem Post/By Caroline Glick) The time has come for our friends to also take action and stop funding and supporting our enemy and his efforts to destroy us. Eyal Yifrah, Gil-Ad Shaer and Naftali Fraenkel were teenagers. They were abducted and brutally murdered by Palestinian terrorists from Hamas, a partner in the Palestinian Authority's unity government, and a terrorist organization dedicated to the annihilation of Israel and the Jewish people. The teens' abduction and murder was supported by Palestinian society as a whole. While Israelis were united as never before in worry and prayer for the missing boys, Palestinian society was united in its expressed delight at the abduction and murder of the boys.
The government's response to this war crime, and to the support Palestinian society as a whole provides war criminals while reveling in their atrocities, will be significant. The vast majority of Israelis recognizes that maintaining faith with the mordant peace process can no longer be justified. Fatah and Hamas are equally dedicated to our destruction. By continuing to empower and legitimize the PA, Israel is facilitating its debilitation and victimization.
By legitimizing the PA, Israel has enabled the PA to conduct a massive campaign throughout the world to destroy Israel's moral, legal and diplomatic standing. The international community's indifferent response to the Palestinian abduction of the boys demonstrated how far the Palestinian campaign to deny the legitimacy of Israel and to dehumanize Israelis has advanced.
EU foreign policy chief Catherine Ashton took five days to issue a milquetoast condemnation of their abduction. But as execrable as Ashton's silence was, US President Barack Obama's response was even worse. Obama waited for the boys' bodies to be found before ever mentioning them. And when he finally spoke, he made no distinction between Israel, the victim of this war crime, and the Palestinians who facilitated, perpetrated and celebrated this war crime. In Obama's words, "From the outset, I have offered our full support to Israel and the Palestinian Authority to find the perpetrators of this crime and bring them to justice, and I encourage Israel and the Palestinian Authority to continue working together in that effort. I also urge all parties to refrain from steps that could further destabilize the situation." State Department spokeswoman Jen Psaki's reaction to the Israel's discovery of the boys' bodies was even more offensive than the president's refusal to draw a distinction between the victim and the perpetrator.
Diminishing the cold-blooded murder of the boys by Palestinian savages to the level of a mere "tragedy," Psaki said that the cooperation must continue between Israeli security forces and Palestinian terrorists "despite the pain on the ground." Not the pain inflicted on Israelis by the Palestinians who kidnapped and murdered and who overwhelmingly supported and celebrated the teens' abduction and murder. Rather, in Psaki's world, a general, amorphous "pain on the ground." Under questioning by AP reporter Matt Lee, Psaki defended the PA's Fatah- Hamas government and claimed that its members "are making every effort" to abide by US requirements, including the rejection of violence.
Now it is true that Palestinian Authority President Mahmoud Abbas did once condemn the kidnapping of the teens, and called for his Hamas governing partners to free them. But after he was attacked from all corners of the PA and Palestinian society, he quickly backtracked. Abbas blamed Israel for the abduction, and accused it of killing "Palestinian teenagers in cold blood." It is also true that the media and the Obama administration have repeatedly claimed that PA security forces assisted Israel in locating the teenagers. But if such assistance was provided, it was not helpful. The bodies were found by Israelis, based on intelligence gleaned by Israeli forces in Israeli operations. So why is the administration pretending otherwise? Obama and Psaki are not motivated primarily by their increasingly apparent antipathy for the Jewish state. They are trying to avoid having to abide by US law.
Standing legislation prohibits the US government from funding foreign terror organizations. Hamas is an officially designated foreign terror organization. If Fatah were ever treated on the basis of its actions, it would also be labeled a foreign terror organization because according to US law, it meets all the criteria for such a designation. And at any rate, Hamas's participation in the Palestinian government makes it illegal for the US to transfer any funds or grant any political recognition to the Palestinian government.
Since Obama and Psaki and their colleagues are aware of this fact, they have chosen to lie in order to protect the Hamas-Fatah government from the letter of US law. This situation is simply unacceptable. The facts are incontrovertible. Thorough the actions of Fatah terrorists and Hamas terrorists, PA is a terrorist organization. Even if Abbas were sincere in his devotion to peace with Israel, and clearly he is not, he would be nothing more than a figurehead at the top of a governing apparatus, and of a society as a whole that is dedicated to the eradication of Israel and the genocide of the Jewish people.
Every year the US gives the PA up to $500 million in aid. At this point, it is impossible to rationally argue that aid to the PA advances the cause of peace, which is supposed to be the point of the aid. The PA, including Abbas, refuses to recognize Israel's right to exist. The PA denies Jewish nationhood. It fabricates Jewish history. And the PA, led by Abbas, supports, facilitates and engages in terrorism against Israel. US assistance to the PA is instrumental to Palestinian efforts. The PA uses the legitimacy afforded it by US political and economic support to advance its campaign to delegitimize Israel and legitimize its destruction and the murder of its citizens. In other words, every dollar the US gives the PA advances the goal of destroying Israel. By continuing to support the PA despite its actions, the US is making a singular contribution to the dehumanization of Jews and the destruction of our state.
Obama's silence during the 18 days the teens were missing, and his hostile and duplicitous statement after their mutilated bodies were found makes clear that he remains committed to continuing this contribution. In acting in this way, Obama stands in opposition to the will of the American people, who do not wish to contribute to the destruction of Israel. Consequently, the time has come for the people's representatives in Congress to take action to remedy this unacceptable state of affairs.
To some extent, Congress already has stepped in. Last week the House of Representatives Subcommittee on State and Foreign Operations, which is responsible for allocating aid to the PA, did not include aid to the PA in the appropriations bill for 2015. The sub-committee's counterpart in the Senate took a similar, if less forceful step. Yet despite these actions, both the House and Senate bills assume that the aid will be restored and so they include stipulations for what Obama must do to waive Congressional limits on aid. This is very problematic. By assuming that aid will be allocated, US lawmakers take for granted that US law will be broken, and indeed, they green-light such unlawful and repugnant actions.
Immediately after the boys were taken, Reps. Michele Bachmann and Trent Franks co-authored a House resolution defining the PA as a foreign terrorist organization. As Rep. Franks said on June 12, "All US assistance to the Palestinian Authority should have been be suspended years ago, but openly joining a terrorist organization that kills women and children simply because they are Jewish should convince even the Obama administration to wake up and defund this madness."
Obviously, the Obama administration remains unconvinced, and undaunted by the resolution, despite the fact that it now enjoys more than a score of co-sponsors, including two Democrats. Obama may continue to fund the PA no matter what Congress does. But only Congress can take action that has a chance of ending US support for the destruction of Israel. If Congress were to transform the language of the Bachmann-Franks resolution into a bill and pass it as a rider on an appropriations bill, then like the Boland Amendment of the 1980s, it could force the executive branch to heel.
The cold-blooded murder of Fraenkel, Shaer and Yifrah requires Israel to stop playing a sucker's game. The PA is not our partner. It is our enemy. The US is not our enemy. It is our friend. The American people are our friends. The time has come for our friends to also take action and stop funding and supporting our enemy and his efforts to destroy us.
Syria-Iraq 'Caliph' Incites Muslims to Holy War
July 3….(Reuters) The leader of the al Qaeda offshoot now calling itself the Islamic State has called on Muslims worldwide to take up arms and flock to the "caliphate" it has declared on captured Syrian and Iraqi soil. Proclaiming a "new era" in which Muslims will ultimately triumph, Abu Bakr al-Baghdadi issued the call to jihad, holy war, in an audio message lasting nearly 20 minutes that was posted online on Tuesday. It was his first purported message since the group, previously known as the Islamic State in Iraq and the Levant (ISIL) proclaimed the caliphate on Sunday and declared him its leader, in an audacious bid to sweep away state borders and redraw the map of the Middle East.
Baghdadi, who has assumed the mediaeval title of caliph, used the message to seek to assert authority over Muslims everywhere. He called on them to rise up and avenge the alleged wrongs committed against their religion, from Central African Republic to Myanmar (Burma). "Terrify the enemies of Allah and seek death in the places where you expect to find it," he said. "Your brothers, on every piece of this earth, are waiting for you to rescue them." The audio message, titled "A Message to the Mujahideen and the Muslim Ummah in the Month of Ramadan," was posted online through the group's media arm. Another account affiliated to the group posted translations in English, Russian, French, German and Albanian. "By Allah, we will take revenge, by Allah we will take revenge, even if after a while," Baghdadi said.
While ISIL's power grab may appeal to many militants, there have already been signs of dissent. Some Islamist groups fighting in Syria have rejected the announcement of the caliphate, saying its terms had not "been realised at present", and urged Muslims to avoid siding with the Islamic State.Iraq's Association of Muslim Scholars, which was formed to represent minority Sunnis, said in a statement: "Any group that announces a state or an Islamic emirate, under these conditions is not in the interest of Iraq and its unity." The audio message's authenticity could not be immediately verified, but it was carried by SITE, an authoritative US-based organization that monitors jihadist statements. Fighters should "embrace the chance and champion Allah's religion through jihad", Baghdadi said. He called on Muslims to immigrate to the self-styled caliphate, saying it was their duty. In a direct, confident message, he urged them to "listen, realize and stand and free yourself from the shackles of weakness, and stand in the face of tyranny".
The declaration of the caliphate followed a three-week drive for territory by ISIL militants and their allies among Iraqi's Sunni Muslim minority. Dominating swathes of territory in an arc from Aleppo in Syria to near the western edge of Baghdad, the caliphate aims to erase colonial-era borders and defy the US and Iranian-backed government of Iraq's Shi'ite prime minister, Nuri al-Maliki.
'Israel's Looking at the Big End Game'
(Middle East scholar says region imploding due to failed US leadership)
July 2….(WND) A prominent Middle East scholar with close ties to Israeli Prime Minister Benjamin Netanyahu says three Israeli teens were captured and murdered just for being Jews, that Israel is looking at a much bigger threat than a resurgent Hamas and the region is imploding due to failed US leadership.
The bodies of Eyal Yifrah, Gilad Shaar and Naftali Fraenkel were discovered Monday, more than two weeks after they were abducted. Fraenkel also held US citizenship. "Hamas planned the target and murder of them. They didn't know them. They just wanted to kill Jews," author and award-winning journalist Mike Evans told WND. "Hamas is part of the Palestinian government. As a matter of fact, the PLO website had a picture of three rats depicting these three children. In Ramallah and in Gaza, they were singing songs. They were passing out candy. They were celebrating the deaths of these three teenagers," said Evans. He says one simple step Israel can take to retaliate is to demand the US stop foreign aid to the Palestinians, particularly since Hamas is still listed as a terrorist organization by the State Department. Currently, the US provides $1 billion dollars in "aid" annually to the Palestinian Authority, which just recently reunited with Hamas.
Netanyahu has not indicated what the scope of the immediate response would be, but Evans says his friend needs to think bigger than Hamas. "This is really a declaration of war in many ways. Iran is behind Hamas. Iran funds it and fuels it. Al-Qaida is also there," said Evans. "This is a very serious existential dilemma and here's why: we pulled out of Iraq. We pulled out of Afghanistan. We told jihadists of the Middle East, 'It's yours.' They're taking us very serious. Now we've got a brand new caliphate in Iraq. They're taking over the country. Israel just told the Kurds they should proclaim statehood.
So Israel's looking at the big end game and I think the prime minister's going to have to look at this more serious than just Gaza. He's going to have to look at this entire octopus and decide is it time to deal with the head of the octopus as opposed to the tail," said Evans, referring to Iran.
Evans, who has served as a confidant to multiple Israeli prime ministers and leaders in the Middle East for more than two decades, blames the Obama administration's policies for much of the recent upheaval in the Middle East and says the recent coziness between the U.S. and Iran over the ISIS threat in Iraq is reason for even more concern. "Obama has invited Iran to partner with him in fighting this new Sunni state, this new Islamist jihadist state. The quid pro quo, I'm sure, is an atomic Iran in exchange for that. So Netanyahu is looking at that and they realize the state of Israel is on their own," said Evans.
Netanyahu Vows 'Hamas Will Pay'
(After bodies of 3 kidnapped Israeli teens found)
July 1….(Fox News) Israel weighed its options Monday following the discovery of the bodies of three teens kidnapped June 12 in the West Bank, with Prime Minister Benjamin Netanyahu vowing, "Hamas will pay." The bodies of the youths, including one with US citizenship, were found just north of Hebron. "They were kidnapped and murdered in cold blood by animals," Haaretz quoted Netanyahu as saying at a hastily arranged security cabinet meeting. "In the name of the whole of Israel, I ask to tell the dear families, to the mothers, the fathers, the grandmothers and the grandfathers, the brothers and sisters, our hearts are bleeding, the whole nation is crying with them."
The leader's angry words came hours after the search for Eyal Yifrach, 19; Gilad Shaar, 16; and Naftali Frenkel, also 16, who were snatched while hitchhiking, ended in the West Bank, where Hamas operates. Sources said the bodies were found in a shallow grave in an open field in the West Bank village of Halhul, just north of Hebron. "Hamas is responsible, and Hamas will pay," Netanyahu vowed.
The abductions outraged the Jewish state as well as the international community, and several vigils and rallies were held around the US during the intensive hunt. Hundreds of Palestinians took part in the search, dubbed "Brother's Keeper." The three youths disappeared as they were heading home from a West Bank religious school. Israeli officials said at the time that one of the teens called a police emergency line around 10:25 p.m. local time and said: "We've been kidnapped." They were not heard from again. Frenkel holds dual US-Israeli citizenship.
Palestinian Authority President Mahmoud Abbas criticized the kidnapping, and pledged help in the search but denied there was evidence linking Hamas to the crime. Hamas, which governs the Palestinian territories jointly with the PA, praised the kidnapping without claiming responsibility. Hamas spokesman Sami Abu Zuhri accused Israel of using the murders as a pretext for aggression. "Only the Israeli version of the events has been published. Israel is attempting to make way for aggression against us, against the Hamas," Zuhri said. "We reject all Israeli allegations and threats against us. We are already used to it and will know how to defend ourselves. No Palestinian group, Hamas or any other group, has taken responsibility for the action, and thus the Israeli version can't be trusted."
Elton John: Jesus Christ Would Support Same-sex Marriage
July 1….(CBS) Elton John says if Jesus Christ were around today, he believes he would support same-sex marriage. In a new interview with Sky News, John said, "Times have changed. We live in a different time. If Jesus Christ was alive today I cannot see him as the Christian person that he was and the great person that he was saying, 'This could not happen.' He was all about love and compassion and forgiveness and trying to bring people together. And that's what the church should be about."
With that, the 67-year-old singer said he thinks Pope Francis has done a "wonderful" job so far. Although the Catholic Church does not support same-sex marriage, John says does Pope Francis' approach to all groups of people is encouraging. "He says it's all basically about love and taking everybody in inclusiveness," said John. Still, John thinks the Catholic Church has more strides to make. "I don't see why Catholic priests have to be celibate. It's crazy. These are old and stupid things," he said.
Meanwhile, the singer plans to marry longtime partner David Furnish, 51, next year. The couple, who share two children, already had a civil ceremony, but with same-sex marriage now legal in England, they plan to officially wed. "It's a great opportunity to take advantage of the new laws and to celebrate it," said John, who noted that next year's nuptials will likely be "very quiet and off-the-cuff." "We had our big shebang when we had our civil union," he said.
Terrifying ISIS Map Showing Its 5-Year Expansion Plan
July 1….(ABC News) The Islamic militant group currently marching across Iraq trying to seize territory in order to create an Islamic state has purportedly published a map showing their plans for the next five years. The maps were widely shared on Twitter this weekend. They show parts of Africa, the Middle East, and even Europe shaded in black, to represent the territories that ISIS hopes will be part of its Sunni-run state.
Al-Qaida Breakaway Formally Declares Islamic State
(The leaders of an Al Qaeda splinter group that has seized vast portions of northern and western Iraq have declared the establishment of an Islamic state and demanded allegiance from other Muslim groups.)
June 30….(AP) The al-Qaida breakaway group that has seized much of northern Syria and huge tracks of neighboring Iraq formally declared the creation of an Islamic state on Sunday in the territory under its control. The spokesman for the Islamic State of Iraq and the Levant, Abu Mohammed al-Adnani, made the announcement in an audio statement posted online. Islamic extremists have long dreamed of recreating the Islamic state, or caliphate, that ruled over the Middle East for hundreds of years.
Abu Mohammed al-Adnani said the group's chief, Abu Bakr al-Baghdadi, is the new leader, or caliph, of the Islamic state. He called on those living in the areas under the organization's control to swear allegiance to al-Baghdadi and support him. "The legality of all emirates, groups, states and organizations becomes null by the expansion of the caliph's authority and the arrival of its troops to their areas," al-Adnani said. He said that with the creation of the caliphate, the group was changing its name to just the Islamic State, dropping the mention of Iraq and the Levant. It was unclear what immediate practical impact the declaration would have on the ground in Syria and Iraq, or among the wider global jihadi community.
Muslim extremists have long dreamed of recreating the Islamic state, or caliphate, that ruled over the Middle East, much of North Africa and beyond in various forms over the course of Islam's 1,400-year history. Al-Baghdadi, an ambitious Iraqi militant who has a $10 million US bounty on his head, took the reins of the Islamic State in 2010 when it was still an Al Qaeda affiliate based in Iraq.
Al-Baghdadi has long been at odds with Al Qaeda leader Ayman al-Zawahri, and the two had a very public falling out after al-Baghdadi ignored al-Zawahri's demands that the Islamic State leave Syria. Fed up with al-Baghdadi and unable to control him, al-Zawahri formally disavowed the Islamic State in February. But al-Baghdadi's stature has only grown since then, as the Islamic State's fighters have strengthened their grip on much of Syria, and now overrun large swathes of Iraq.
In Washington, the Obama administration called on the international community to unite in the face of the threat posed by the Sunni extremists. "ISIS's strategy to develop a caliphate across the region has been clear for some time now. That is why this is a critical moment for the international community to stand together against ISIS and the advances it has made," State Department spokeswoman Jen Psaki said. The Islamic State's declaration comes as the Iraqi government tries to wrest back some of the territory it has lost to the jihadi group and its allies in recent weeks.
Russian Advisers Ready Iraq to Use New Combat Aircraft
(As Iraq received its first shipment of Sukhoi fighter jets from Russia on Saturday to combat a radical insurgency seizing major cities, Moscow took a swipe at the West for "playing into the hands of terrorists" in the region. Russia's delivery of the jets seems to be the latest sign of its growing influence in the Middle East.)
June 30….(Bloomberg) Russian military advisers helped to prepare Iraq's air force to use five newly delivered combat planes in its campaign to recapture areas of the country's north that fell to an al-Qaeda breakaway. The used Russian Sukhoi combat aircraft arrived in Iraq as government ground forces, backed by helicopter gunships, pressed their offensive to drive Sunni fighters of the Islamic State of Iraq and the Levant from the northern city of Tikrit. Al-Mada Press reported late yesterday that government forces recaptured Ouja village, Saddam Hussein's birthplace, south of Tikrit.
The Iraqi government turned to Russia to bolster its air capabilities, saying US fighter jets were taking too long to be delivered. Russian advisers who arrived in Iraq are helping to put the "logistical procedures in place," and the aircraft will enter service within three to four days, air force commander General Anwar Ameen said yesterday on state-run Iraqiya TV. "One day after the Russian deputy foreign minister said that Moscow would not stand by idly, the Kremlin delivered the first of 25 Sukhoi fighter jets to Iraq," said Theodore Karasik, director of research at the Institute for Near East and Gulf Military Analysis in Dubai. "The delivery is to illustrate the Kremlin's quick action to help the Iraqi government fight the opposition," Karasik said. "The move is also part of guaranteeing that any future government in Baghdad will be tied to Moscow for military equipment. Russia, an ally of the Syrian regime that ISIL seeks to oust, also benefits by coming to Iraq's aid quickly and contrasting its deliveries' with the U.S., he said.
The region's stock markets and global energy markets have been roiled by the possibility that ISIL's gains may reignite a sectarian civil war in the Organization of Petroleum Exporting Countries' second-largest producer. Governments critical of the Shiite-led regime of Prime Minister Nouri al-Maliki, including the US, say its sidelining of the Sunni minority fueled alienation that helped ISIL press its advance. They've urged Iraqi leaders to form a more inclusive government, saying military might by itself won't resolve the crisis.
Anti-Assad Rebels Seize 95% of Syrian Golan Heights
June 30….(Times of Israel) Almost the entire Syrian side of the Golan Heights is now under the control of rebel forces, including radical Islamist groups, a senior Israeli military commander in the area said Friday. Only the Quneitra border area is still in the hands of forces loyal to President Bashar Assad, Lt.-Col. Anan Abbas, deputy commander of the Golan Brigade, told Israel's Channel 10. About 95 percent of the Syrian side of the Golan is in the hands of anti-Assad rebels, including radical Islamic groups such as the Al-Nusra Front, affiliated with al-Qaeda, a rival of the burgeoning Islamic State of Iraq and the Levant, better known as ISIL or ISIS.
One of two Syrian army brigades that used to control the area has completely disappeared, the officer said. At present, the Islamist groups in the area are focused on the war against Assad, he said, "but we know their goal is to harm Israel; we've seen their propaganda material." The Israeli officer said that the dramatic gains made by the rebel forces in the area appeared to explain why Syrian troops fired a missile on Sunday that killed a 15-year-old boy on the Israeli side of the border. Apparently forces loyal to Assad, stationed some five kilometers inside Syrian territory, erroneously calculated that a civilian truck, delivering water to Israeli contractors who were working on the border fence, was actually a rebel truck on the Syrian side of the border, and opened fire on it with an anti-tank missile. The attack killed 15-year-old Mohammad Karkara, who had accompanied his father, a civilian contractor, to work that day.
In response to the attack, Israel that night launched a series of retaliatory air strikes that killed a reported 10 Syrian soldiers, though Damascus put the number at four. Subsequently, the TV report said, Syria conveyed the message to Israel, via UN liaison personnel stationed on the Golan, that the anti-tank missile was fired in error. Israel "is inclined to accept the explanation," the report said.
The Golan Heights is a strategic plateau on the Israeli-Syrian border. Israel captured the territory in the 1967 war, having been attacked from the Golan over the previous 20 years, and extended Israeli law to the area in 1981. Unsuccessful peace efforts over the years have seen Israel ready to trade most of the Golan for a permanent accord with Damascus, but the notion of Israeli-Syrian peace has all but disappeared as Syria collapsed into anarchy over the past three years of civil war.
Jordanian Bedouin Terrorists Hoist Al Qaeda Flag in Ma'an
June 30….(DEBKA) "Ma'an is the Falluja of Jordan!" shouted thousands of Bedouin Saturday, June 28, in the southern Jordanian town of Ma'an. This legend was inscribed on the placards and flags they bore aloft with one hand in the name of the Islamic State of Iraq and the Levant (ISIS). In the other, they waved automatic rifles. Ma'an (pop: 50,000) is in a sensitive location: 218 km south of Amman, it also lies 104 km from the Israeli port town of Eilat and some 60 km from the main artery cutting south from northern Israel to the south. But although pro-Al Qaeda riots have been going on for days in Ma'an, capital of the southern province of the Kingdom of Jordan, military and security personnel have not been seen in its vicinity. The town has a history of violent unrest. It has in the past suffered curfew and was even, when the rioting got out of hand, stormed by soldiers firing live rounds and leaving dozens dead.
For now, King Abdullah is conferring urgently with his army and intelligence chiefs on how to suppress the Islamist revolt in Ma'an without it spilling over into other Jordanian towns, especially Salt, Irbid and Zerka, which have large clusters of Al Qaeda followers. There was anxious talk in Washington Sunday about the prospect of Abdullah's throne being rocked by an Islamist revolt, in which case the Obama administration would have no option but to approve the intervention of American and Israeli special operations forces to defend the king, and push back against an Al Qaeda-ISIS invasion. However the domestic Islamist peril may be more immediate and acute than the external one. A US military source consulted by Debkafile revealed that the Jordanian army is now concentrated in three sectors: The Syrian border in the north, the Iraqi border in the east and the capital.
In the first case, Jordanian troops are ranged to head off a possible incursion by ISIS forces concentrated in eastern Syria. They are also prepared to withstand a possible Syrian army assault to dampen Jordan's military support for the Syrian rebels operating in southern Syria in defense of the Jordanian and Israeli borders.
In the second case, the Jordanian army is deployed directly opposite the ISIS forces which have seized control of most of Iraq's Anbar province adjacent to the Jordanian border. The army's third sector is the capital, Amman, where it acts as the guardian of the royal regime. Should the Islamist conflagration spread from Ma'an to other corners of the kingdom, its army will be short of fighting manpower for simultaneous defense against internal and external threats.
Our Washington sources report that Brig. Gen. Dennis McKean, commander of the joint US-Jordanian-Israeli underground Centcom-Forward war room established near Amman, has already received instructions to place the 12,000 US soldiers and USAF F-16 fighter squadron positioned in Jordan on the ready. They also disclose that Brig. McKean is in direct communication with Israel's Chief of Staff Lt. Gen. Benny Gantz, the commander of Israel's Deep Operations command, Maj. Gen. Shay Avital and Israel Air Force chief Maj. Gen. .Amir Eshel.
The Deep Operations command was established in case it was necessary to launch operations against Iran or the Lebanese Hizballah in alien territory. This unit may find itself operating against Al Qaeda's ISIS in Jordan instead
Washington, Jerusalem and Amman are mulling over whether to wait for the trouble in Jordan to escalate further before intervening, or to act preemptively before matters get out of hand by punching hard at ISIS forces concentrated along the Iraqi-Jordanian border. In the latter case, there would have to be a second decision as to which army would inflict the punch, its location and a forward estimate of the potential repercussions on Jordan's internal security.
Obama Adviser Reasserts US is 'Islamic Country'
(Homeland Security senior fellow also touts rise of 'Caliphate')
June 30….(WND) An Obama adviser who ruffled feathers last year claiming the US is "an Islamic country with and Islamically compliant constitution" is reportedly at it again. Mohamed Elibiary is a senior fellow of Obama's Department of Homeland Security Advisory Council. According to a report from the Investigative Project on Terrorism, or IPT, Elibiary revisited his October 2013 tweet in which he claimed the US was an "Islamic country," explaining in another tweet Saturday (reportedly since deleted), "I said America was an Islamic country not a Muslim country.
IPT reports a source close to Elibiary explained the Homeland Security adviser meant to say that he feels there is nothing in the US Constitution and the American system that runs contrary to Islam. IPT, however, also quoted Zuhdi Jasser, president of the American Islamic Forum for Democracy, who rejected Elibiary's claims. "His entire attempt to repeatedly say that 'American is Islamic' is pure deception," Jasser said. "In fact it is not." "Islamism is incompatible with liberty and is a supremacist doctrine," Jasser continued. "In all of Elibiary's work, you will not find any critique of Islamism, the Islamic state, or government imposed shariah in his opinions or any admission of the deep reforms necessary for American ideals to be compatible with Islam."
The IPT report was also noticed by former Florida Republican Congressman Allen West, who wrote a blog piece in which he also opposed Elibiary's assessment of America's Islamic compliance. "I hate to disagree with this fella, but he fails to understand that America is a Constitutional Republic," West wrote. "And how he comes up with the conclusion that our US Constitution is 'Islamically compliant' is beyond comprehension, considering Islamic law is rooted in the practice called Sharia rooted in the Koran. That is clearly a violation of our establishment of religion clause."
Indeed, in nations where Islamic Shariah law has been implemented, Christians, Jews and women in particular have suffered discrimination, violence and court-supported persecution, a legal system in clear contradiction not only of America's religious freedoms, but also of several other constitutional rights. "This, ladies and gentlemen, is how it begins. Islamists infiltrate our governing systems and deceive us with lies, making us believe there is no true delineation in our fundamental beliefs," West continued. "What I find disturbing, but not surprising is this man is allowed to have a position in the most important domestic security government agency, our Department of Homeland Security."
WEEK OF JUNE 22 THROUGH JUNE 28
Most Palestinians Want to Eliminate Israel
(Less than 30% back two-state solution)
June 28 ….(Times of Israel) Palestinian support for a two-state solution with Israel has dropped to below the 30 percent mark, according to a new poll commissioned by the US-based think tank the Washington Institute for Near East Policy though most respondents said they were opposed to violent Marking a notable shift in Palestinian public opinion, 60 percent of the population surveyed in the West Bank and the Gaza Strip (55% and 68%, respectively) said that the five-year goal "should be to work toward reclaiming all of historic Palestine, from the river to the sea," according to the poll, a position meaning the elimination of Israel. Meanwhile, less than 30% (31% in the West Bank, 22% in Gaza) would like to "end the occupation of the West Bank and Gaza to achieve a two-state solution."
In contrast, 53% of Palestinians supported the two-state solution in a December 2013 poll conducted by the Hebrew University. Numerous other statistics from the survey confirmed the downward trend of support for a two-state solution as an end to the conflict. Two-thirds of respondents said that a two-state solution would be "part of a 'program of stages,' to liberate all of historic Palestine later" and that "resistance should continue until all of historic Palestine is liberated."
On a more promising note, a majority of respondents registered opposition to violent resistance against Israel, particularly in the Gaza Strip, where 70% said Hamas should maintain a ceasefire with Israel and 57% said that Hamas should accede to the PA unity government's renunciation of violence. In the West Bank 56% said that Hamas should adhere to the ceasefire and 50% said it should renounce violence altogether. The poll showed that a clear majority of Palestinians, 62% of the West Bank and 73% of Gazans, support nonviolent "popular resistance against the occupation" and see it as a useful tactic. Perhaps surprisingly, Hamas seems to have gained little political clout for its alleged abduction of the three Israeli teenagers, despite popular support for the kidnapping on the street. Asked who should lead the Palestinian Authority in the next two years, 65% chose Fatah leaders, with Mahmoud Abbas leading (30%), then Marwan Baghouti (12%), Mohammed Dahlan (10%) and others (13% combined), while various Hamas leaders only won 9% of support in the West Bank and 15% in Gaza. The Palestinian public also appeared to exhibit some short-term pragmatism, with over 80% saying they "definitely" or "probably" wanted to see more job opportunities for Palestinians in Israel. A majority said they also wanted Israeli companies to offer more jobs to Palestinians in the West Bank or Gaza. The Washington Institute said the poll was conducted by "a leading Palestinian pollster" on June 15-17 through face-to-face interviews among 1,200 adult Palestinians, with a 3% statistical margin of error.
ISIL hell-bent on creating Islamic state to be launchpad for attacks on US
June 26….(In The Days) This undated file image posted on a militant website on Tuesday, Jan. 14, 2014 shows fighters from the al-Qaida-linked Islamic State of Iraq and the Levant (ISIL) marching in Raqqa, Syria. Saudi Arabia and other Gulf petro-powerhouses encouraged a flow of cash to Sunni rebels in Syria for years. But now they face a worrying blowback as an al-Qaida breakaway group that benefited from some of the funding storms across a wide swath of Iraq. Gulf nations fear its extremism could be a threat to them as well. But the tangle of rivalries in the region is complex: Saudi Arabia and its allies firmly oppose any US military action to stop the Islamic State's advance in Iraq because they don't want to boost its Shiite-led prime minister or his ally, Iran.
The al Qaeda-linked army now conquering territory in Syria and Iraq ultimately wants its emerging Islamic state to be a launching pad for attacking the US homeland, says a new congressional report. Four analysts at the Congressional Research Service made that assessment, citing intelligence reports and the words of Abu Bakr al-Baghdadi, the leader of the Islamic State in Iraq and the Levant (ISIL).
The CRS report, delivered to members of Congress, makes the point that ISIL is a well-organized, well-funded terrorist group with definite goals to take territory and kill people it considers nonbelievers. "Several leading representatives of the US intelligence community have stated that ISIL maintains training camps in Iraq and Syria, has the intent to attack the United States and is reportedly recruiting and training individuals to do so," says the June 20 report. It quotes al-Baghdadi threatening the US: "Know, O defender of the Cross, that a proxy war will not help you in the Levant, just as it will not help you in Iraq. Soon, you will be in direct conflict, God permitting, against your will." What makes ISIL even more dangerous is its ability to raise, and steal, money. Wealthy Sunni sheiks in Saudi Arabia, Kuwait and Qatar have funneled money to ISIL to help it bring down the regime of Syrian President Bashar Assad, who is an Alawite, an offshoot of Shia Islam. Mr. Assad aligns himself with Shiite-dominated Iran, and its proxy in Lebanon, the militant group Hezbollah.
Oil-rich, Sunni-dominated Gulf states consider the Shiite-led regimes a threat. ISIL also is coercing money from businesses in the cities it conquers. Media reports say it may have stolen hundreds of millions of dollars from banks in the northern Iraqi city of Mosul. It now controls many of the Sunni-majority towns in the north of Iraq and is expanding its conquest in Anbar province, including the cities of Fallujah and Ramadi. The Shiite-dominated government of Iraqi Prime Minister Nouri al-Maliki mostly has watched and retreated, unable to field army units that can blunt or reverse the assaults. ISIL attempts to assert control over the cities of Fallujah and Ramadi in Iraq's Al Anbar province, and its June 2014 offensive in northern Iraq underscored the group's lethality and ability to conduct combat operations and manage partnerships with local groups in multiple areas over large geographic distances," the CRS report states.
Robert Maginnis, a retired Army officer and military analyst, said ISIL is planting the seeds for attacks on the West. "It already has many hundreds of jihadists with Western nation passports," Mr. Maginnis said. "Those battle-proven jihadists will eventually return to their Western homelands to carry on the jihad using the violent ways learned in Syria and Iraq. And now that ISIL controls a giant swath of the Middle East, the Western jihadists have a training platform, financing and a cheerleading state sponsor."
ISIL is partly an offshoot of al Qaeda in Iraq, which American forces virtually defeated in 2007-2011 before a complete US troop pullout. Without US guidance and intelligence, Iraqi security forces have shown themselves unable to deal with the new al Qaeda fighter influx. The invaders and Iraqi Sunni allies waged a new war based on terrorism, unleashing waves of vehicle-borne improvised explosive devices. The remnants of al Qaeda in Iraq have now hooked up with ISIL. The Pentagon on Tuesday conceded that ISIL now controls vast stretches of territory in Iraq, as 90 more special operations, intelligence officers and planners arrived in Baghdad.
President Obama said as many as 300 US troops ultimately will go to Iraq to create a new joint Iraqi-US operations center. The Americans first will assess the situation, then advise US commanders on what is needed, and then advise Iraq's security forces themselves. The mission's duration is sketchy. Navy Rear Adm. John Kirby, spokesman for Defense Secretary Chuck Hagel, said ISIL is "well resourced" and "better organized" than most terrorist groups. "If you look at the map of Iraq, I mean, sort of the central swath going from north of Samarra around Tikrit all the way up to Mosul, that's ISIL-controlled territory, by and large, and we're seeing them try to solidify those gains and to continue to threaten Baghdad," Adm. Kirby said. "That's kind of the general lay down." The CRS report concluded: "The offensive in northern and central Iraq, led by the Sunni Islamist insurgent and terrorist group ISIL, has raised significant concerns for the United States. These concerns include a possible breakup of Iraq's political and territorial order and the establishment of a potential base for terrorist attacks in the region or even against the US homeland."
Gaza Rockets aim at Kurdish Oil Route via Israel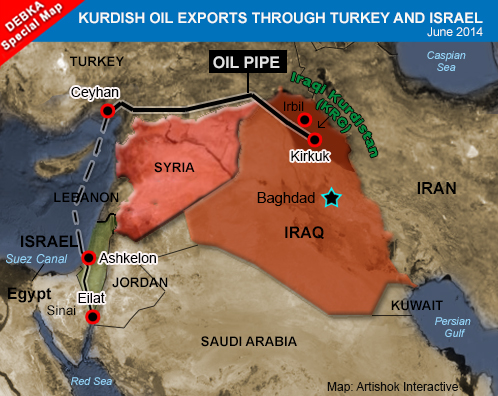 June 26…..(DEBKA) The Trans-Israel Pipeline from Ashkelon to Eilat is the real target of the increased Grad rocket fire on Ashkelon and nearby coastal areas, military sources tell debkafile. Its momentum has quickened since the launch this month of a transit route for oil exports from the Kurdish Regional Government (KRG) in northern Iraq via Turkey and Israel. Islamic Jihad and other Salafist militants in Gaza are in cahoots with the Al Qaeda affiliated Ansar Bayt al-Maqdis operating out of Sinai. All are potential sources of the rocket fire and certainly have an eye on civilian targets, but the sources say the uptick of the last few days is a clear attempt to take out the new Kurdish export route. (see attached Special Map)
Islamic Jihad and Al Qaeda in Sinai are strange bedfellows , their backers, Iran and ISIS, are at loggerheads in Iraq. But they share an interest in preventing Israel from using its small oil ports, Ashkelon and Eilat, to become a major conduit for Kurdish oil. Through its geography and infrastructure, Israel has quickly become a key element in the war in Iraq and its future. Iran wants to put a stop to oil sales out of the northern Iraqi oilfields near Kirkuk, while ISIS considers Iraqi oil to be an important war spoil and strategic asset, likewise the oilfields in eastern Syria. ISIS is already using captured Syrian oilfields as a major source of income, bringing in some $1 billion per year. With control of Iraq's oilfields, refineries, and pipelines, the Al Qaeda-affiliated group could easily double or triple its annual oil income. Israel's role puts a damper on these plans.
Both Tehran, which has its own designs on Kirkuk, and ISIS, were amazed to discover the Turkish Prime Minister Recep Tayyip Erdogan had signed onto a combined Kurdish-Turkish-Israeli concern for the new Kurdish export route. No time was lost for this transaction after the Kurdish peshmerga moved into Kirkuk as Iraqi troops fled the oncoming ISIS fighters. The crude flows to Ceyhan, Turkey's port city on the Mediterranean. From there it is loaded onto tankers that sail to Ashkelon, where the cargo is unloaded either into storage or poured into the 254-kilometer Trans-Israel Pipeline. Traditionally the pipeline has served companies from Russia and Central Asia who use Israel as a middleman for their sales to Asian countries. But with the arrival of the first Kurdish tankers in the past few weeks, the pipeline has begun to operate at its capacity of 20 million tons per year.
Our sources report that Kurdistan, which exports 120,000 barrels of oil a day, has already sent 2 million barrels of oil to Israel via Ceyhan. Most of this shipment is due to arrive in Ashkelon and Eilat in the coming days. Oil industry insiders believe that Irbil pays Turkey and Israel a dollar each for every barrel that passes through their territory. Now that the tanker channel between Turkey and Israel has opened in the service of oil, Western military sources say that the two countries' navies have boosted their cooperation in the eastern Mediterranean to secure the channel, the tankers, and their precious cargo. They add that Israel has put special security measures in place to bolster its defenses against terror and rocket attacks in Eilat and the Gulf of Aqaba, lest newly arrived Iranian and ISIS elements in Sinai target Eilat's oil terminal and the tankers full of Kurdish oil.
IAF Strikes Military Targets in Syria
(Direct hits confirmed on Assad army positions)
June 23….(Times of Israel) The Israeli Air Force launched retaliatory air strikes on the Syrian side of the Golan Heights overnight Sunday, confirming direct hits on nine army positions belonging to the Assad regime, including a regional command center, after a 15-year-old boy was killed earlier Sunday in an attack on the Israeli side. "The IDF targeted nine Syrian army positions in response to the earlier attack that originated in Syria killing an Israeli teenager and injuring two other Israeli civilians. The targeted sites include Syrian regional military headquarters and launching positions," the IDF said in a statement. Several Syrian soldiers were reportedly killed in the airstrikes. Citizens in northern Israel reported hearing large explosions shortly after midnight, according to Israeli news source Ynet. Syria did not formally respond immediately to news of the air raids. Opposition forces reported that the command center hit in the strikes belonged to the 90th Brigade of the Syrian Army.
IDF spokesman Lt. Col. Peter Lerner said Sunday's deadly attack on a car in the Golan Heights, which killed Mohammed Karkara, 15, and injured three others, was "an unprovoked act of aggression against Israel, and a direct continuation to recent attacks that occurred in the area." Military officials said the car was hit by anti-tank fire from an area under the control of Assad regime forces, though one rebel commander told the Times of Israel it was possible the regime had targeted the car with a heat-seeking missile. In response, Israeli tanks fired at Syrian army positions. "The IDF will not tolerate any attempt to breach Israel's sovereignty and will act in order to safeguard the civilians of the State of Israel," Lerner said.
Karkara, from the town of Arraba in the Lower Galillee, was killed in the attack and his father, a civilian contractor, and two others were injured while delivering water to workers on the border fence. Israel has responded in the past to cross border fire with targeted strikes on Syrian positions, and planes have reportedly also hit Syrian missile shipments deep inside the war-torn country, though Israel has never confirmed those strikes. Prime Minister Benjamin Netanyahu spoke afterward with Mohammed Karkara's father Fehmi Karkara and offered his condolences. "Israel's enemies are using every means, they don't hesitate to attack civilians or kill children, as happened this morning," Netanyahu said at a Jewish media conference in Jerusalem. "They don't differentiate between the Jewish and non-Jewish citizens of Israel. As a people, our heart breaks at the kidnap of every child, at the killing of every child and I am sure that I speak for all of you when sending our condolences to the grieving family." Three weeks ago, IDF forces fired artillery shells at a target in Syria after a mortar shell fired from the war-torn country hit Mount Hermon.
The Israel-Syria border region has seen intermittent exchanges of fire throughout the war in Syria. Although Israel has largely attributed these incidents to stray fire from clashes in Syria, there have been attempts to target Israeli soldiers.
Iraq's Christians May Face Extinction after Jihadist Invasion
June 23….(JNS) For most Westerners, Iraq is a foreboding and dangerous place that is filled with extremists and daily violence. Yet as little as 75 years ago Iraq was a vibrant country that was home to many different ethnic and religious minorities, including large Jewish and Christian populations. But the latest round of violence spearheaded by the jihadist terrorist group Islamic State of Iraq and Greater Syria (ISIS), which is driving through the heart of Iraq to the capital of Baghdad and inflicting medieval-style Islamic justice on anyone in its path, might be the last gasp of Iraq's ancient Christian community, which faces extinction like Iraq's Jewish community before it. "Iraq used to be a beautiful mosaic made of many different faiths, including Judaism," Juliana Taimoorazy, founder and president of the Iraqi Christian Relief Council, told JNS.org.
Like the Jewish people, the Christians of Iraq have a long and storied history that can be traced back to the very foundations of human civilization. Most Iraqi Christians belong to an ethnic group known as the Assyrians. The Assyrian people consider themselves to be direct descendants of the numerous ancient Mesopotamian civilizations such as the Sumerians, Akkadians, Babylonians, and Assyrians. "The Assyrians, also known as Chaldeans and Syriacs are the children of Sumerians, the original people of Iraq," Taimoorazy said. Mentioned numerous times in the bible from Genesis and onward, the peoples of Mesopotamia were key in formation of Judeo-Christian history. It is the land from which the biblical patriarch Abraham hailed. And later on, the Assyrians played a notable role in Jewish history, as they conquered the Northern Kingdom of Israel and expelled the Jewish people to Mesopotamia. That led to the creation of Iraq's Jewish community, which continued until the 20th century. Additionally, the Mesopotamians' successors, the Babylonians, were the ones who later destroyed the First Temple in 587 BCE.
Christianity was first brought to modern-day Iraq by Jesus Apostle St. Thomas during the 1st century CE, making it one of the oldest Christian communities in the world. Christians formed the majority of the country's population until the 14th century. The region's Christians have subdivided since then into a number of churches, with the Chaldean Catholic Church and the Assyrian Church of the East forming the largest denominations. Today, the Assyrians are based in northern Iraq's Nineveh plains, where they have fought to preserve the customs, culture, and languages of the area's past, despite facing numerous waves of persecution, mass killings, and expulsions since the invasion of Islam in the 7th century CE. "For hundreds of years Christians have been marginalized in the Islam-dominated part of the world.
Before 2003, it was estimated that around 130,000 Christians lived in Mosul, Iraq's second-largest city, but only about 10,000 remained before the recent ISIS invasion a week ago. Now, residents say around 2,000 Christians remain in the city. Many have gone to the surrounding countryside or to Kurdistan. Additionally, many are seeking to flee the country altogether. Mosul is also very important for Christians, the prophet Jonah is buried there and also Abraham is supposed to be born in that part of Iraq. Assyrian refugees are all saying pretty much the same thing: ISIS is a radical Sunni Islamic group who preaches and demands Sharia laws. That means that Christians have to pay a certain tax for protection, convert, or die. The latest attacks are nothing new for Assyrian Christians and other minorities. They have faced nearly a century of continuous assault on their way of life. "We lost 75 percent of our nation during the Armenian, Assyrian, and Greek genocide from 1914 through 1918," one lady said.
This has accelerated over the last decade, where nearly two-thirds of Iraq's 1.5 million Christians have fled the country since 2003. As the jihadist invasion continues, Iraq's Christian leaders fear that this may very well be the end of Christianity in Iraq. "After more than 2,000 years, during which we have withstood obstacles and persecutions, Iraq is today almost emptied of its Christian presence," Chaldean Auxiliary Bishop Saad Syroub of Baghdad said in an interview with the international Catholic charity group Aid to the Church in Need. "We fear a civil war. If the various different opposing internal parties do not succeed in finding an agreement, then we must expect the worst. Another war would mean the end, especially for us Christians," added Syroub.
The modern persecution and expulsion of Iraq's Christian and other minorities draws many parallels to the waves of attacks on and eventual expulsion of Iraq's Jewish community during the mid-20th century, when nearly 135,000 Jews were forced to leave from 1948 onwards. Overall, nearly 900,000 Jews were expelled from their homes across the Middle East, many settling in Israel, Europe, and North America. Similar to Iraq's Jews, who were targeted for their success and accused of supporting Israel, Christians in Iraq are also being targeted for their relative success and supposed ties to the West, especially the United States. "The history of Jews and Christians in the Muslim dominated part of the world goes hand in hand. Massacres and atrocities to the members of the two religions have been going on for centuries," Kino told JNS.org. "It is very sad that the colorful and very cultivated Jewish community of Iraq vanished."
For Iraqi Christians, as well as those in Syria, Egypt, Lebanon, and elsewhere in the Middle East, their ancient communities may soon also vanish, as many flee for safety in Europe and North America. "At the current rate, with the mass exodus which is being witnessed by the world, the number of Christians left in the Middle East will be slim to none," Taimoorazy said.
Netanyahu to US: Don't Work with Iran on Iraq Crisis
June 23….(Times of Israel) Prime Minister Benjamin Netanyahu on Sunday warned close ally the United States against working with arch-foe Iran in the effort to pull Iraq back from the brink. The United States and Iran now find themselves sharing a common interest in helping Iraqi Prime Minister Nuri al-Maliki fend off the onslaught, and the two sides held rare, brief talks last week in Vienna on the sidelines of international consultations on Tehran's nuclear program. "What you're seeing in the Middle East today in Iraq and in Syria is the stark hatred between radical Shiites, in this case led by Iran, and radical Sunnis led by al-Qaeda and ISIS and others," Netanyahu told NBC's "Meet the Press," referring to ISIL. "Now both of these camps are enemies of the United States, and when your enemies are fighting each other, don't strengthen either one, weaken both," said Netanyahu, who was in Israel. "And I think by far the worst outcome that could come out of this is that one of these factions, Iran, would come out with nuclear weapon capability. That would be a tragic mistake, it would make everything else pale in comparison." Netanyahu added: "I think that there are two actions you have to take: one is to take the actions that you deem necessary to counter this ISIS takeover of Iraq, and the second is not to allow Iran to dominate Iraq the way it dominated Lebanon and Syria. "You actually have to work on both sides, as I say, you try to weaken both."
Jordan Bombs Al Qaeda-Iraq Units, ISIS Stands at Saudi Border.
June 23….(DEBKA) The Jordanian air force hit ISIS contingents, Monday night, June 23, as they drove into the kingdom through the Turaibil border crossing which they seized Saturday. The jets destroyed 4 Islamist State of Iraq and Levant (ISIS) armored personnel carriers, which were already on the move. Also Monday, ISIS completed its capture of the strategic Tal Afar and its environs in northern Iraq, capping its conquest in the last two weeks of Nineveh Province and Mosul, all but one town (Ramadi) of the western Anbar Province, and Iraq's key border posts in the north, west and southwest.
Jordan called up military reserves Sunday, after discovering that its capital Amman was to be the Islamist organization's next prey. Instead of making straight for Baghdad, ISIS turned west and south for what it saw as softer targets, deploying two forces for shooting into Jordan, one from Syria, for which they also captured Al Walid, through which to head into the kingdom from the north; and one pointing from Turaibil (which the Jordanians call Karame) and aiming for the eastern Jordanian towns of Zarqa, Irbid and Amman. By seizing Turaibil, the Islamists were able to cut off the main Iraqi-Jordanian artery for trade and travel between the two countries. They may have been stopped for now by the Jordanian air strike, espcially if there is a follow-up. Their capture of the key town of Rutba Saturday is seen by Western military sources tracking the Iraqi conflict as marking out the Islamists' next target. That force split in two, one heading southwest toward the Saudi Arabia border and the other heading west to Jordan. Sunday, June 22, the Islamists put on the world web a new site called "ISIS in Saudi Arabia."
Debkafile's military and intelligence sources report that the US and Israel have laid on a battery of advanced intelligence-gathering measures in the last few hours, including military satellites, drones and reconnaissance planes for keeping track of the Islamist fighters' rapid advance. A 500-km broad expanse of desert separates the Iraqi border from Amman which would be no picnic for the ISIS to navigate without discovery. However, they were counting on al Qaeda cells planted in most Jordanian towns to help them make their way across. It is important to remember that the US and Israel are both bound by military pacts to defend the throne of the Hashemite King Abdullah II. As for Iraq's southwestern neighbor, Saudi Arabia, our sources report that the main topic of conversation between King Abdullah bin Abdulaziz and Egyptian President Abdel Fattah El-Sisi Saturday, June 21 at Cairo airport, was the Iraq crisis and the threat the Islamist extremists threat present to the two kingdoms.
The Saudi king made it his business to stop over briefly at Cairo airport on the way to his summer palace in Morocco, and invite the Egyptian president aboard his plane for that conversation. He wanted to hear El--Sisi promise to reward the oil kingdom and Gulf emirates for the generous financial aid they bestowed on him with a pledge of Egyptian military commando units to the rescue in the event of an al Qaeda invasion. Interestingly, the Saudi monarch's companion on the royal flight, he also took part in the conversation with El-Sisi, was Prince Bandar bin Sultan, who five months ago was relieved of his posts as Director of General Intelligence and senior strategist of the Saudi campaigns in Syria and Iraq, the first of which failed in its goal to unseat Bashar Assad. It looked very much as though the king had a change of heart and decided to restore Bandar to his inner circle of advisers under the looming threat of ISIS and its lightening advances in Iraq.
That threat also drove US Secretary of State John Kerry to pay an unannounced visit to Baghdad Monday, June 23, after discussing the Iraqi crisis in Cairo with the Egyptian president. His arrival was accompanied by further rapid ISIS territorial gains in Iraq and actions to consolidate its grip. After talking to Prime Minister Nouri Al-Maliki, Kerry said at the US embassy that US support will be "intense, sustained, and effective," provided Iraq's leaders came together to form a government representing the rival sects. Debkafile adds: Kerry canvassed Shiite, Sunni and Kurdish leaders for a consensual candidate to lead a government representing all of Iraq's sects and communities. He had in mind a Shiite prime minister able to gain the endorsement of Grand Ayatollah Ali Sistani. Secretary Kerry planned to visit Irbil Tuesday for talks on this and on Kurdish military aid against the ISIS offensive with the heads of the autonomous Kurdish region. However the Kurds wanted first to hear what they will get from Baghdad for sending their pershmerga militia to fight the Islamists in northern Iraq. Since Maliki is the object of Kerry's maneuvers to replace him, he is not ready to offer the Kurds any concessions at this point. So Kerry's Iraq mission has so far struck a high wall.
Iraq Invaders Threaten Nuke Attack on Israell
(ISIS focus on 'destroying Zionist regime' to 'liberate Palestine')
June 23….(WND) The well-organized army of the Islamic State of Iraq and Syria, or ISIS, claims it has access to nuclear weapons and a will to use them to "liberate" Palestine from Israel as part of its "Islamic Spring," according to a WND source in the region.
Franklin Lamb, an international lawyer based in Beirut and Damascus, said the move is part of the ISIS aim of creating a caliphate under strict Islamic law, stretching from the Mediterranean Sea to Iraq. Lamb, who has access to ISIS fighters and sympathizers, said ISIS has been working with a "new specialized" unit organized at the beginning of 2013 to focus "exclusively on destroying the Zionist regime occupying Palestine." Lamb added that the ISIS "Al-Quds Unit" is working to broaden its influence in more than 60 Palestinian camps and gatherings from Gaza, across "Occupied Palestine," or Israel, to Jordan and from Lebanon up to the north of Syria "seeking to enlist support as it prepares to liberate Palestine."
ISIS is also know as the Islamic State of Iraq and the Sham. "Sham," or "Greater Syria," refers to Cyprus, Palestine, Jordan, Iraq, Syria, Lebanon, Israel and southern Turkey. ISIS also is known as DAASH, the Arabic acronym for al-Dawlah al-Islamiyah fi al-Iraq wa-al Sham. The Sunni militant group, which has taken over much of the Sunni region of Iraq, could leave the Shia-dominated region of the country and head toward Jordan and Turkey.
Lamb said that in Iraq alone, some 6 million Iraqi Sunnis recently have become supportive of the ISIS lightning strikes in the Sunni portion of the country. Some of the Sunni supporters are secular, such as the Naqshbandia Army of former top officials of executed Iraqi leader Saddam Hussein. As WND reported, the Sunni group may have given ISIS access to its ongoing sarin production facility in northwestern Iraq. WND also reported ISIS already has captured towns bordering Iraq and Turkey. The militant group also has steamrolled through the Iraqi desert in the west and taken over the major al-Walid crossing with Syria and the Turaibil crossing into Jordan. Lamb said ISIS has established a capital for its caliphate in the Syrian city of Raqqa. "The Islamist organization believes it currently has massive regional support for its rapidly expanding 'revolution of the oppressed,'" Lamb said.
ISIS estimates it will take 72 months to "liberate" "Occupied Palestine," or Israel, according to Lamb. Lamb quoted an ISIS member as saying: "Zionists call us masked, sociopathic murderers, but we are much more complicated and representative of those seeking justice than they portray us. "Are we more barbaric than the Zionist terrorists who massacred at Dier Yassin, Shatila, twice at Qana, and committed dozens of other massacres? History will judge us after we free Palestine." Lamb said ISIS can do what no other Arab, Muslim or Western backers of resistance have been able to accomplish. He quoted the ISIS member as saying: "All countries in this region are playing the sectarian card just as they have long played the Palestinian card, but the difference with ISIS is that we are serious about Palestine and they are not. Tel Aviv will fall as fast as Mosul when the time is right."
The WND source said ISIS appears "eager" to fight Israeli armed forces "in the near future despite expectation that the regime will use nuclear weapons." "Do you think that we do not have access to nuclear devices?" Lamb quoted the ISIS member as saying. "The Zionists know that we do, and if we ever believe they are about to use theirs, we will not hesitate. After the Zionists are gone, Palestine will have to be decontaminated and rebuilt just like areas where there has been radiation released." ISIS access to nuclear weapons could come from Sunni Pakistan, which is home to more than 30 terrorist groups. Pakistan possibly has transferred nuclear weapons to the chief bankroller of its nuclear development program, Sunni Saudi Arabia, as WND previously has reported.
The Saudis, who also have provided billions of dollars to ISIS, have threatened to acquire nuclear weapons if Iran were to develop its own. The WND source said ISIS denies any interest in training and directing foreign fighters to attack Europe, claiming its goals are to establish the al-Sham caliphate and "liberate Palestine." The source said the West, and especially the Israelis, may already be aware of ISIS plans and tactics to take over "Palestine." He said Western intelligence sources were in possession of an "encyclopedia of information" obtained by Iraqi intelligence less than 48 hours before Mosul fell two weeks ago. He said an ISIS messenger who was captured and "under Iraqi torture" turned over more than 160 computer flash sticks with the detailed information. "The US intelligence community is still decrypting and analyzing the flash sticks," Lamb said. He indicated that the information already has been handed over to members of Congress, some of whom are sharing it with the Israeli Embassy in Washington. "The current sense on Capitol Hill is reported to be that the Obama administration is not in the mood to share anything with Israel these days and certainly not with the Netanyahu regime which it loathes," he said. Lamb said only time will tell whether or not ISIS reaches both of its objectives. He added that if the "Zionist regime" can be ejected from Palestine, it will set in motion "historic currents" that will be "rather different from the Ehud Olmert-Condoleezza Rice fantasy of 'a New Middle East.' "In any event," Lamb said, "it is unlikely that Iraq, Syria, Yemen, Libya, Lebanon among other countries in this region are going to look much like what George Bush and Dick Cheney and their still active neo-con advisers had in mind when they were beating the drums for a US invasion of Iraq, Libya and now Syria and Iran."
ISIS Threatens to Storm Jordan with 15,000 Fighters
June 23….(WND) Members of the Islamic State of Iraq and Syria are claiming on jihadist websites that the group is preparing an operation in which more than 15,000 of its militants will storm into Jordan, WND has found. The claims were made on Arabic jihadist websites in which the Islamic State of Iraq and Syria, or ISIS, is known to be active. While it was unclear whether or not the ISIS could fulfill its threat to storm Jordan, the after the al-Qaida-inspired group on Sunday reportedly seized control of Iraq's main border crossing with Jordan.
Alongside its capture of the Turabil border crossing, three more towns in Iraq's western Anbar province fell to ISIS, putting the jihadist group within reach of Jordan. According to informed Middle Eastern security officials, Jordan has been holding emergency meetings since yesterday to discuss a possible military response, while the Jordanian air force was placed on high alert. ISIS previously posted a video on YouTube threatening to move on Jordan and "slaughter" King Abdullah, whom they view as an enemy of Islam.
Israel, meanwhile, is watching ISIS developments in neighboring Jordan particularly closely amid fears the violence could ultimately spill over to the Jewish state's own borders. Yesterday, the Israel Air Force hit nine Syrian military targets in retaliation for a cross-border missile attack that killed a 13-year-old Israeli boy. The Israel Defense Forces said its jets and artillery missiles targeted Syrian command posts and firing positions. The Syrian missile that struck inside Israel may have been intended for insurgents fighting Syrian President Bashar al-Assad's regime, including at sites near Israel on the Syrian side of the border.
Nevertheless, Israeli Defense Minister Moshe Ya'alon said the Jewish state held Assad's government responsible for yesterday's missile attack. "We see the regime of Bashar Assad and the Syrian military as responsible for what occurs in the territory under their control, and we will respond aggressively and harshly against any provocation and violation of our sovereignty," stated Ya'alon.
WEEK OF JUNE 15 THROUGH JUNE 21
Where Christian Churches, Other Religions Stand on Gay Marriage
June 20….(Pew Research Center) In the last two decades, several religious groups have moved to allow same-sex couples to marry within their traditions. This includes the Reform and Conservative Jewish movements, Unitarian Universalist Association and the United Church of Christ. At the same time, many of the largest religious institutions have remained firmly against allowing same-sex marriage, including the Roman Catholic Church, the Orthodox Jewish movement, the Church of Jesus Christ of Latter-day Saints, as well as the Southern Baptist Convention and other evangelical Protestant denominations. (Pew Research Center's Religion and Public Life Project has published a fact sheet on religious groups' positions on same-sex marriage.)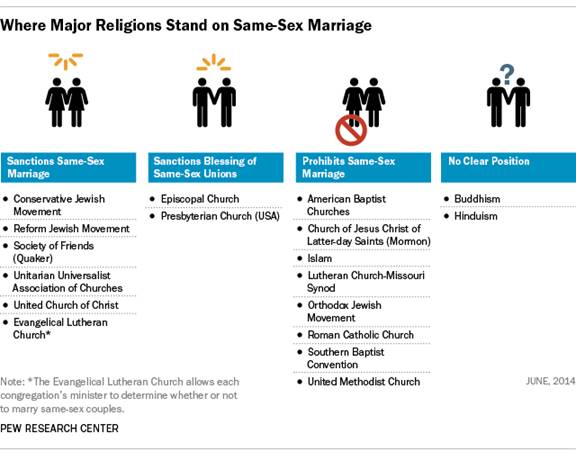 Isis Jihadists 'Seize Saddam Hussein's Chemical Weapons Stockpile'
(Saudi Arabia warns that Britain and US must not meddle in Iraq)
June 20….(The Telegraph) The US is sending up to 300 military advisors to support the Iraqi military but Obama is adamant that US forces "will not be returning to combat in Iraq". The crisis in Iraq has raised a tantalizing question: can the US and Iran work together against the Sunni jihadists? Obama says there is a role for Tehran but only if it tries to support a unified Iraq, rather than tipping the scales in favor of its Shia allies.
President Obama intends to create joint operation centers in Baghdad and northern Iraq, to share intelligence and coordinate planning to confront the terrorist threat of ISIL. As well as the military advisors, Obama says he is dispatching John Kerry to Europe and the Middle East to coordinate with allies and increase US surveillance over Iraq. He also had a coded message for Iran: what happens in Iraq is your problem too. As he put it, other countries in the region "have a vital interest in ensuring that Iraq doesn't descend into civil war".
That statement is a reflection upon the fact that Saudi Arabia has warned Mr. Obama to keep his hands out of Iraq. Most experts suspect that Saudi Arabia is supporting the ISIS network in an effort to counter Shia Iran's manipulations in Iraq.
Iran Supreme Leader Warns of 'War In Muslim World'
June 20….(Business World) A Twitter account Iran experts believe is run by the office of Supreme Leader Ayatollah Ali Khamenei, in comments apparently inspired by Iraq's turmoil, accused Sunni militants on Thursday of wanting to bring about a war in the Muslim world. Shi'ite Iran has been alarmed by rapid territorial gains made in Iraq by the militants of the 'Islamic State of Iraq and the Levant' (ISIL), which seeks a caliphate ruled on medieval Sunni Muslim precepts in Iraq and Syria. ISIL's advances pose a threat to the survival of Shi'ite-majority Iraq as a united country.
Iraqi Prime Minister Nuri al-Maliki's Shi'ite-led government, an ally of Tehran, has called for military help from the United States, Iran's longtime foe. Khamenei said the Sunni militants wanted to foment distrust between Sunni and Shi'ite Muslims, a goal they shared with "arrogant" powers, normally an Iranian codeword for the United States and its Western and Israeli allies. The message referred to "takfiri" militants - Sunnis who proclaim followers of other sects of Islam to be infidels and therefore legitimate targets of holy war. "Muslims should be aware of Takfiris and arrogant's common goal to create a war in Muslim world - both Shias and Sunnis should be vigilant," it said.
Is there a Link Between Fatah, Hamas and the Obama Administration?
June 18….(NewAntiSemitism) Nobody should really be surprised at the latest move from the US administration. It goes along the lines of current US policy in the Middle East. Every single US president has tried his best to leave a legacy if not bring home a trophy for being a peacemaker in the Israeli/Arab conflict. The current administration chooses to sit at the table with murderers who have been committing crimes against humanity for decades. I wish we could blame the move on stupidity or ignorance but that would vindicate the culprits instead of exposing their grave mistake.
President Obama approved a partnership with the new Palestinian Authority formed recently from Fatah and Hamas' reconciliation. The move took place while Secretary of State John Kerry was in Lebanon, reassuring the Lebanese government of US support in the region. Keep in mind that the current Lebanese government includes members of the terrorist organization Hizbollah. So I guess there is a certain consistency in the way the US is handling its partnerships in the region
Apparently, the reasoning behind the willingness to work together with the new Palestinian government is the fact that as of now there are no key Hamas players in any position of leadership. But to think that Hamas' influence will not be introduced into the decision making of the new authority regarding Israel, is akin to hiring a KKK senior member to become part of the new leadership of the NAACP, it is simply preposterous!
Fatah was originally founded by the late Yasir Arafat in 1965 as a more secular/leftist political party. Fatah comes from a reverse acronym from the Palestinian National Liberation Movement and means "conquering" or "victory". According to its charter, Fatah is a revolutionary movement calling its members to "sacrifice" and "struggle" for the Palestinian cause. It has always been a more secular and less religious movement, yet Arafat's bloody trail can be traced throughout its history. Frankly, as moderate as Fatah's leader Mahmoud Abbas appears to be, it is just a facade. A recent statement by a former Hamas spokesman explains it well: "When I go out [publicly] and say that the [PA] government is my [Abbas] government and it recognizes 'Israel' and so on, fine-these words are meant to trick the Americans."
As to the goals of Hamas, they certainly are no secret, and nothing could be clearer than their official motto claiming that: Allah is its Goal / The Messenger is its Leader / The Qur'anis its Constitution / Jihad is its methodology, and / Death for the sake ofAllah is its most coveted desire.
Further reading of the Hamas charter will leave no doubt in the reader's mind as to the evil and hatred emanating from such an organization towards Israel and the Jewish people. Especially when we read in article 13 of their charter that: Initiatives, and so-called peaceful solutions and international conferences, are in contradiction to the principles of the Islamic Resistance Movement.
Hamas is recognized as a terrorist organization by Israel, the European Union, Canada, China and many other civilized nations including the United States, or so I thought! The recent decision by the US administration to dialog with the new Palestinian authority including Hamas, comes out of two possible approaches. Hamas is either not considered a terrorist organization by the US anymore, or it simply doesn't matter to President Obama and John Kerry. In both cases Israel and the United States are weakened and further ridiculed in the Middle East, not to mention put at greater risk.
So what's next America? Since we have a president with nothing to prove and nothing to lose in his second term, we could expect the worst. Additionally, I wouldn't put it past the Palestinian Authority to again try to obtain recognition at the UN this coming September. This time they might have a real chance since Hamas has shown their "willingness to reconcile" with Fatah. As a matter of fact I wouldn't be a bit surprised if the new PA would fly under the radar for a short while until they have a chance to gain further recognition at the United Nations.
In the meantime, in the Middle East, Iraq has declared a "state of emergency" since the city of Mosul (biblical Nineveh) was just taken over by members of ISIS. ISIS stands for Islamic State of Iraq and Al Sham, and is a breakaway Sunni insurgent group from Al-Qaeda. How bad do they have to be for Al-Qaeda to separate themselves from ISIS? Bad, very, very bad!
Maybe we will see our administration dialoguing with ISIS in a not so distant future? It doesn't matter if it is out of stupidity, ignorance or malice because the result is going to remain the same. It will be disastrous for the region and it will further embolden terrorists to manipulate the rest of our civilized world. Somehow, with this last move with Hamas, I question if the current United States administration is still interested in freedom? Is it Anti-Zionism, anti-Israelism or anti-Semitism? Frankly, we are well passed the semantics argument!
When Mr. Obama claims that Israel is one of our strongest allies in the world in one breath, yet rubs shoulders with Hamas and Hezbollah, who's going to believe him? Then again, does he really care? Is the link between Fatah, Hamas and our current administration a common hatred for Israel? It certainly appears that way.
I fear for America more than I fear for Israel because God promised to never destroy Israel (Jeremiah 31:35-37), as for America, well, no promises there except to curse those who curse Israel (Genesis 12:3) and corporately, we are well on our way!
Researchers Discover Vast Subterranean Ocean
June 18….(In The Days) Researchers at Northwestern University have found evidence for a massive reservoir of water deep within the Earth's mantle. The reservoir, which is said to be three times the volume of the oceans on the surface, is contained within highly-pressurized rock known as ringwoodite. The scientists hope that their findings, recently published in the journal Science, can shed light on where Earth's oceans came from. The team, led by mineralogist Steven Jacobsen, used an array of 2000 seismometers to study how seismic waves generated by earthquakes move through the Earth's interior. The waves' speed changed depending on the type of rock they pass through, and wet ringwoodite has a particular effect on wave velocity. Jacobsen was able to reproduce wet ringwoodite in his lab, and the group's findings matched what he observed in the lab. As it turns out, ringwoodite, under the extreme heat and pressure of the mantle, bleeds water. That water would then become trapped in the transition zone at between roughly 200 and 400 miles underground.
The new research lends credence to theories that our oceans originated on Earth. However, more tests will need to be conducted moving forward. Jacobsen's team could only verify that the reservoir exists below the continental United States, so it's unclear how far this "ocean" extends. (In the six hundredth year of Noah's life, in the second month, the seventeenth day of the month, the same day were all the fountains of the great deep broken up, and the windows of heaven were opened. Genesis 7:11)
US Special Forces Capture Benghazi Raid Leader
June 18….(DEBKA) Ahmed Abu Khattala, commander of the Libyan Ansar al-Sharia, who led the 2012 assault on the US consulate in Benghazi, has been captured in a secret US Special Operations forces raid in the same Libyan town. The Islamist terrorist, who was the prime mover in the attack which killed US Ambassador Chris Stevens and three of his staff, is now in US custody outside the country. US intelligence had turned up a dangerous link-up between the Yemen-based Al Qaeda in the Arabian Peninsula (AQAP) and Libya's Ansar al-Sharia. The CIA feared that the two groups were fabricating a sophisticated smart-bomb capable of evading conventional airport security screening measures for smuggling by plane or ship to the United States. US officials reported Tuesday, June 17, that the capture of the radical Islamist Abu Khattala Sunday near Benghazi Sunday by US troops in conjunction with the FBI followed months of planning.
There is a Growing Trend For Impeachment of Obama
June 18….(WND) America is less safe under Barack Obama's leadership, its military probably has little respect for the decisions of the commander in chief, and a majority of Americans believe that removal by impeachment would be a proper result, according to a new poll. It was the same poll that revealed the depth of disgust America holds for Obama because of his decision to swap five terrorists from Guantanamo Bay for a solder who was detained in the Middle East after he apparently deserted his US Army assignment there. It showed that 54 percent of Americans say Obama's swap for soldier Bowe Bergdahl amounts to providing aid to terrorists, which violates federal law. And they say impeachment is deserved. The results are from a national survey of registered voters by Wenzel Strategies. It was conducted June 12-14 and has a margin of error of 3.95 percentage points. "The country's disapproval of the Obama prisoner exchange likely stems from the fact that they feel the national security of the US should always trump the health and safety of one soldier," said Fritz Wenzel of Wenzel Strategies. He said the message is not good for the Obama administration. "The die has largely been cast on this as a serious foreign policy blunder, reinforced by the thought that these five Taliban leaders may well come back to haunt the US much the way Obama's walk away from Iraq is also now blooming into a disaster of epic proportions. "For a man who came into office promising to unite the world and heal old wounds, the meltdown in the Middle East must be disturbing to even Obama's staunchest supporters. This survey shows the American public has lost all confidence in his leadership abroad, and that they are growing less and less likely to trust his judgment, if not his version of the facts." The results from the poll reveal that more than 54 percent of all respondents said they agreed Obama should be impeached because of his handling of the Bergdahl case. Only 37 percent disagreed.
Among key numbers was the one revealing that more than 27 percent of Democrats believe in impeachment as a solution for the president from their own party. More than three-quarters of Republicans agreed and nearly 55 percent of independents. On several other issues, Americans, by a significant margin, believe their nation is less safe under Obama, and they believe the best leaders on national security issues come from the GOP.
More than 56 percent say they believe he earns little or no respect from members of the military. "The country has been hit with a series of scandals stemming directly from the Obama administration in recent months and weeks, from the ongoing unanswered questions about the 2012 Benghazi attacks, the VA scandal affecting returning soldiers, the Bergdahl terrorist exchange and now the terrorist resurgence in Iraq," said Wenzel. "Such an atmosphere of international uncertainty easily explains the survey's finding that just 36 percent said they think the nation is safer from outside threats under the leadership of Barack Obama, and 57 percent feel we are less safe today. Again, the intensity of emotion in the response to this question is important to note, as 52 percent said they believe the nation is 'much less safe' than we were before Obama took office," Wenzel said. "And, after nearly six years in office blaming George W. Bush for almost every problem he has faced, the survey shows that Bush is actually trusted more than Obama and several other prominent leaders from both parties when it comes to national security and foreign policy. "There is notable outrage about the Obama administration's handling of the murders in Benghazi nearly a year ago, as 53 percent of all respondents said Obama should be impeached for his handling of this issue. Just 9 percent said they were unfamiliar with the Benghazi story, and among those who knew at least a little about it, 58 percent said Obama should be impeached," said Wenzel at the time. A short time before, a Wenzel poll asked about impeachment, and voters responded that Obama should be impeached for the Internal Revenue Service abuses of Americans. At that time, more than 52 percent also said Obama should be impeached for his oversight of the National Security Agency, which was revealed to be monitoring the emails, Internet browsing and phone calls of millions of Americans. About the same total, 53 percent believe impeachment is appropriate for Obama's behavior regarding Arizona's attempts to enforce federal immigration laws.
US Dawdles in Iraq as Iran Moves In
June 17….(Times of Israel) The big players in Iraq are surprised and deeply alarmed by the lightning gains achieved over the past week by the Sunni militants of the Islamic State of Iraq and the Levant (ISIL). In Baghdad, the Shiite-dominated government of Nuri al-Maliki is on its heels, its soldiers led passively to the slaughter in the desert, and its patrons in Iran sending troops across the border to help prop it up. The United States, which expended billions of dollars and thousands of lives building up the Iraqi state and training the crumbling Iraqi army, finds itself mulling military action two weeks after President Barack Obama ridiculed those who say "that every problem has a military solution."But for the Kurds, rulers of Iraq's semi-autonomous northern region, the Iraqi army's retreat offers new opportunity. The most significant gain they have made so far is to take full control of the disputed oil-rich city of Kirkuk, after rolling in last Thursday with their Peshmerga forces.
Kurds see Kirkuk as an integral part of their historic homeland, their "Jerusalem," and believe it should be under their authority. A historically ethnically mixed city of Turkomen, Assyrians, Arabs, and Kurds within a heavily Kurdish province, Kirkuk's demographics were changed drastically by Saddam Hussein's Arabization campaign, during which he drove out of 100,000 Kurds.
A referendum on Kirkuk's future, mandated by the 2005 Iraqi constitution, has been delayed indefinitely by Baghdad. Thus, the Kurds have decided to solve their biggest outstanding dispute, and there are many, with the central government themselves, by taking control of the city. With the Kurdistan Regional Government in control of all the areas under dispute between Baghdad and the KRG capital Erbil, the Kurds' position has improved drastically. According to some reports, Kurdish Prime Minister Nechirvan Barzani ordered the Peshmerga to prepare for permanent control of the city. And who would take the city from them? The United States and the Iraqi central government have much bigger problems on their hands; and for ISIL, fighting the Peshmerga forces would be an unnecessary, perhaps fatal, diversion from the campaign against Iraq's Shiites. Still, there is always an outside chance that in the bloody ring that Iraq has become, the Peshmerga could find itself in a serious fight with the Islamists. "The Kurds stated that they do not want to open a front against ISIL, but if the latter does there is no doubt that such a clash might occur," Bengio noted.
Kurdish media reported that Peshmerga forces have already battled ISIL militants, in the town of Jalula last week, driving the Islamist fighters out while losing two of their own. In addition, Kurdish news channel Rudaw reported Sunday that ISIL was sending messages to the Peshmerga through civilians passing through checkpoints, asking the Kurds to refrain from attacking. A video posted to YouTube showed a group of Kurdish ISIL fighters addressing the Kurdish people in their own language, said Rebaz Ali, a Kurdish journalist based in the United States. They promised to liberate the Kurds one day from the parties currently controlling the region. In any event, the Peshmerga are not about to pursue ISIL fighters beyond disputed territories. "Kurds are not ready to fight against ISIL in support of Maliki unless they have some assurance from his side that he's going to resolve the issues with them," said Ali.
Granting Iraq to Iran on a silver plate
As Sunni militants advance, Iran sends troops in to back the US-supported government, and Kurds move closer to independence, what options remain for the United States? First, Washington should give up the expectation that it can put the country back together again, emphasized Bengio: "Iraq as a unitary state has gone forever. In fact this artificial entity has never managed to become a cohesive and unified entity without the force of arms." She also placed significant blame on the Obama administration for the current turmoil in Iraq. "Not because it withdrew its forces from Iraq, as Maliki insisted that not one soldier should remain in Iraq after 2011 there, but because of the free hand which it gave him in the aftermath of the withdrawal to marginalize the Sunnis and antagonize a whole section of the population," she said. "Their support of Maliki against the Kurds was another gross mistake. "However, the worst was granting Iraq to Iran on a silver plate."
Unless Obama takes decisive action now, including airstrikes, Iran could gain significantly if it manages to save the Maliki government, becoming the decisive player in the country at the expense of the US. If that were to happen, Tehran would hold sway from Iraq to the Mediterranean Sea through Syria and Lebanon. But airstrikes alone are only one piece of the solution, Ali said, and the US must pressure Baghdad to enact policies designed to meet the needs of the Sunni population, now actively helping ISIL fighters. "It's a Sunni uprising against the Shiite-dominated government," said Ali. "Maliki's sectarian war against the Sunnis has been brutal. We only see the ISIL fighters, but there are also tribal fighters, former Iraqi military officers and soldiers."
Moreover, there is a stable, pro-Western force in the country, the Kurds, and Washington is doing itself no favors by not backing them more firmly in their disputes with Baghdad and neighboring countries. But there is little chance the US will back Kurdish independence. Washington, after investing so much blood and treasure into keeping the Iraqi state together after Saddam's downfall, is not interested in seeing it fracture along ethnic lines. The Americans "want to keep the political map of the region as it is," noted Salam Saadi, editor of Rudaw. If the US insists on keeping out of the Iraqi mess, there is not much left for it to do but hope Iran can stem the ISIL advance while moving Iraq in a direction that will meet American interests, not an especially good bet.
Source: Besieged Iraq sees Obama as Jihad 'Accomplice'
(Says US was aware for 2 months of ISIS training in Turkey)
June 17….(WND) The Obama administration has been aware for two months that the al-Qaida-inspired group that has taken over two Iraqi cities and now is threatening Baghdad was training fighters in Turkey, according to a Shiite source in contact with a high official in the government of Iraqi Prime Minister Nouri al-Maliki. The source told WND that at least one of the training camps of the group Iraq of the Islamic State of Iraq and the Syria, the ISIS, is in the vicinity of Incirlik Air Base near Adana, Turkey, where American personnel and equipment are located. He called Obama "an accomplice" in the attacks that are threatening the Maliki government the US helped establish through the Iraq war. "Who would believe that Obama's administration was not part of the scheme?" he asked. "What is happening in Iraq is sectarian cleansing." The source said that after training in Turkey, thousands of ISIS fighters went to Iraq by way of Syria to join the effort to establish an Islamic caliphate subject to strict Islamic law, or Shariah.
Turkey, a Sunni nation and a member of NATO, is opposed to Maliki because of his interference in Ankara's negotiations with the Kurds over oil and to extend its influence over Sunnis in Iraq. The Maliki administration has been seeking help from the Obama administration in the form of drones and airstrikes but has been turned down. The WND source said knowledge of ISIS actions was to be coordinated with the Saudis. Riyadh, he said, had paid some $3 billion to the jihadist group to overthrow Maliki. "Plan B" was to split Iraq into three States, for Kurds, Sunnis and Shiites. He said Iraqi officials told him the US Embassy in Baghdad had known since June 2 of the attack on Mosul but declined to inform Maliki.
In an interview Monday with CBS's "This Morning," former acting CIA Director Mike Morell confirmed the intentions of ISIS and asserted that America's security is threatened. "One (aim) is to set up that caliphate and, it's not just in Iraq and in Syria," Morell said. "Their second goal then is to use that as a safe haven to attack the United States." In the past, Turkey has been criticized by counter-terrorism experts for allowing ISIS to use its country for training and for turning down calls to close what is called the "jihadist highway" from Turkey to Syria for ISIS fighters and other armed groups.
Persian Gulf nations, with US coordination, have been funneling arms into Turkey to help equip the Syrian opposition, much of which is comprised of ISIS other jihadist fighters. In addition to Maliki, the Sunni Iraq Kurds similarly blame Turkey for backing the ISIS militants. There are separate reports that Turkish army personnel recently were caught training ISIS fighters in Iraq and that four Turkish soldiers have been arrested by the Iraqi army in Fallujah. The Turkish army has denied the claim.
US Considers Coordinating War on ISIS by Assisting Iran
June 17….(CNN) Secretary of State John Kerry says the Obama administration is willing to talk with Iran over deteriorating security conditions in Iraq and is not ruling out potential US-Iranian military cooperation in stemming the advance of Sunni extremists. Kerry also says US drone strikes "may well" be an option. In a Monday interview with Yahoo! News, Kerry said Washington is "open to discussions" with Tehran if the Iranians can help end the violence and restore confidence in the Iraqi government. Asked about possible military cooperation with Iran, Kerry said he would "not rule out anything that would be constructive." However, he stressed that any contacts with Iran would move "step-by-step." US officials said earlier there is a possibility that a senior American diplomat may discuss Iraq with an Iranian delegation at nuclear talks in Vienna. Deputy Secretary of State William Burns is in Vienna for nuclear talks with Iran and could hold discussions on the side about Iraq with Iranian Foreign Minister Mohammad Javad Zarif, a senior administration official said in a background briefing with reporters Monday. In fact, the United States and Iran held "very brief discussions" about Iraq and the threat posed by ISIS on the sidelines of those negotiations.
Iran is an ally of Iraq's Shiite-led government, and is wary of furthering Iran's already considerable influence there.
Abbas Rejects Responsibility for Captive Israeli Teens
June 16….(Israel Today) The Palestinian leadership on Saturday rejected Israeli assertions that it was responsible for the well being of three Jewish youth who were abducted by Palestinian terrorists late Thursday night. "We see Palestinian leader Mahmoud Abbas and the Palestinian Authority as responsible for every attack on Israel emanating from their territory, whether it is from Judaea and Samaria, or from the Gaza Strip," Israeli Prime Minister Benjamin Netanyahu told reporters Saturday evening. As such, Netanyahu demanded that "the Palestinian Authority do whatever necessary to help the hostages get home safely. That is the Palestinian Authority's responsibility."
The Israeli leader said arguments that the abduction took place in an area of Judea under Israeli security control are irrelevant. "The authority which controls the area from which those terrorists came is responsible. That is exactly the situation in this case. The terrorists came from the Palestinian Authority's area, and the Palestinian Authority is responsible for this," Netanyahu insisted.
Gen. Adnan Damiri, a spokesman for the Palestinian Authority police, dismissed Netanyahu's statement, and himself insisted that Israel was to blame for "illegally bringing settlers into the territories of the State of Palestine." At the same time, Damiri confirmed that Abbas had ordered Palestinian police to assist Israel in finding the abducted boys. It is believed American pressure had a hand to play in that development. Still, Abbas was very conspicuously not going out of his way to condemn the abduction and work to bring about a peaceful resolution to the crisis. As a media commentator on Israel's Channel 2 News noted, Abbas has for years been publicly preaching a policy of non-violence, but when some of his people perpetrate a clearly unacceptable act of violence, he is oddly silent.
ISIS Leader: 'See You in New York'
June 15….(The Daily Beast) When Abu Bakr al-Baghdadi walked away from a US detention camp in 2009, the future leader of ISIS issued some chilling final words to reservists from Long Island. The Islamist extremist some are now calling the most dangerous man in the world had a few parting words to his captors as he was released from the biggest US detention camp in Iraq in 2009. "He said, 'I'll see you guys in New York,'" recalls Army Col. Kenneth King, then the commanding officer of Camp Bucca. King didn't take these words from Abu Bakr al-Baghdadi as a threat. Al-Baghdadi knew that many of his captors were from New York, reservists with the 306 Military Police Battalion, a unit based on Long Island that includes numerous numerous members of the NYPD and the FDNY. The camp itself was named after FDNY Fire Marshal Ronald Bucca, who was killed at the World Trade Center in the Sept. 11, 2001, attacks.
King had not imagined that in less that five years he would be seeing news reports that al-Baghdadi was the leader of ISIS, the ultra-extremist army that was sweeping through Iraq toward Baghdad. "I'm not surprised that it was someone who spent time in Bucca but I'm a little surprised it was him," King says. "He was a bad dude, but he wasn't the worst of the worst." King allows that along with being surprised he was frustrated on a very personal level. "We spent how many missions and how many soldiers were put at risk when we caught this guy and we just released him," King says.
WEEK OF JUNE 8 THROUGH JUNE 14
Iraq's Vulnerable Christians Further Imperiled by Jihadist Advance
June 14….(CNSNews.com) The startling gains made by jihadist fighters in Iraq are placing the region's already extremely vulnerable Christians in even greater peril, Christian advocacy groups are warning. While hundreds of thousands of Iraqis are affected by the Islamic State of Iraq and the Levant's takeover of key cities including the Ninawa (Nineveh) provincial capital, Mosul, minority Christians, some of whom trace their origins to the earliest years of Christianity, are among those with the most to lose.
In previous years, Christians fleeing violence in Baghdad or elsewhere in the south often headed for the Mosul area. The Nineveh Plain formed the historic homeland of Assyrians, an ancient non-Arab ethnic group in Iraq. Main Christian denominations include Chaldean Catholic, Assyrian, Syrian Orthodox, Armenian and evangelicals.
Syria was another key destination for Christians who were able to leave Iraq, but the civil war there made life even riskier across the border than at home, prompting some to return. For many Christians in the Mosul area now, the autonomous Kurdish region to the north-east may offer the best short-term hope, if they are able to cross over. Chaldean archbishop Amel Nona told the Catholic charity Aid to the Church in Need (ACN) he believed all Mosul's Christians had left the city, and spoke of efforts to find emergency accommodation in ancient Christian villages in the Nineveh Plain. As the jihadists swept into Mosul this week, they reportedly looted and torched churches, raised their black "there is no god but Allah" flags and started demanding that women wear the Islamic veil.
The Assyrian International News Agency identified two of the targeted churches as the Chaldean Church of the Holy Spirit, and an Armenian church under construction, which it said was bombed. Barnabas Fund, an aid agency that supports minority Christians in Islamic countries, said the attacks on churches were "a clear statement from ISIS that they are no longer welcome in Mosul." "It is feared that this latest exodus could be the final death knell for the Christians of Iraq," said Barnabas international director Patrick Sookdheo. "Having previously sought refuge in Syria, this is no longer an option, and as ISIS violence threatens the stability of the wider region, Christians have very few places of safety to which to run."
An Iraq-based representative of the religious freedom advocacy group Open Doors sounded a similar warning. "This could be the last migration of Christians from Mosul," the organization quoted the representative as saying. Open Doors says an estimated 1,000 Christian families were living in the city as of Monday this week. "The Islamist terrorists want to make Iraq a 'Muslim only' nation and as a result they want all Christians out," Open Doors USA President/CEO Dr. David Curry said in a statement. "The situation for Christians has deteriorated each year over the past 10 years. Iraqi Christians have faced kidnappings, threats and even death for being followers of Jesus. And they have little faith in their government to provide security as we see in the tragedy unfolding this week." Open Doors urged Christians to pray for their Iraqi brothers and sisters caught up in the conflict.
ISIS's conduct in Syria, where it is engaged in the jihad against the Assad regime but has also been fighting against other rebel groups, gives Christians in Iraq particular cause to be fearful. In areas under its control, including its stronghold in the north, Raqqa, ISIS militants have imposed Taliban-like shari'a regulations, enforced through brutal punishments including public beheadings and crucifixions. Sookdheo recalled that earlier this year Christians in Raqqa were given the choice between converting to Islam, paying the jizya tax, a humiliating Qur'an-mandated tribute to be paid by conquered non-Muslims, or risk death. "Earlier this month, ISIS confiscated houses and land belonging to Christians in Raqqa; the owners were forced to leave the area," Sookdheo reported. "ISIS has turned the main Armenian church in Raqqa into an office for the management of Islamic affairs and the promotion of shari'a."
Under its former name, al-Qaeda in Iraq (AQI), ISIS was responsible for the deadliest single act of violence against Iraqi Christians. Its Oct. 31, 2010 attack on Baghdad's Our Lady of Salvation church cost the lives two priests, 44 congregants and seven Iraqi security force members. Five terrorists were also killed. When AQI claimed responsibility for the church assault, it called Iraqi Christians "legitimate targets" and warned that the "killing sword will not be lifted."
A brief White House statement issued the following day did not identify the victims as Christians or note that the killings took place in a church. A 1987 census recorded 1.4 million Christians in Iraq, and in the 1990s the Christian population was estimated at over 1.2 million. Many left the country following the toppling of Saddam Hussein and while there are no accurate figures available today, advocacy groups believe there are fewer than 400,000.
Iraq Vets Helplessly Watch Their Gains in Iraq Squandered
("What was the point of it all in Iraq?)
June 14….(National Journal) Americans are tired of war. For the 17 members of Congress who served in Iraq, that means watching helplessly as the cities they fought for fall once more to extremists. Militants believed to be associated with al-Qaida overtook Mosul, the second-largest city in Iraq, on Tuesday. The group then seized Tikrit, hometown of former President Saddam Hussein, on Wednesday.
Three Republican congressmen who served in Iraq, Scott Perry of Pennsylvania, Doug Collins of Georgia, and Brad Wenstrup of Ohio, said it feels like the progress they made has been thrown away. "Going out across the desert I remember the feelings that you have, wondering if you're going to make it out alive," Perry said. "Right now I wonder what that was all about. What was the point of all of that?"
Share This Story
A security agreement was what Perry, Collins, and Wenstrup wanted to see come out of the war, one that would allow US troops to remain involved in the region when the enemy, thought to be the Islamic State in Iraq and Syria returned. "We have an enemy today that senses weakness, knows how to find it, and then goes after it," Wenstrup said. "I think Iraq maybe thought they could [defend themselves]. This was an opportunity for us to have another ally in the region. I came home from Iraq feeling that we liberated 25 million people." But that freedom is in jeopardy, Wenstrup said, if Iraqi citizens cannot or will not fight back. And none of the congressmen thought there was much the United States could do. "I think at this point the administration made a choice to cut and run," Collins said. "When Fallujah fell again, we knew this foreign policy had consequences. Aside from an intervention, which I don't think is on anybody's mind, Iraq is going to have defend for itself. At this point we'll see if the Iraqi security forces are capable."
Fallujah fell to militants in January. The city was taken by US forces in late 2004 at the cost of more than 100 American soldiers' lives, the bloodiest battle of the Iraq War.
Iraq Crisis: The Jihadist Behind the Takeover of Mosul
(and how America, like with the recent Taliban Five, just let him go)
June 14….(Telegraph) The march of al-Qaeda-linked militants towards the Iraqi capital is a coup for the shadowy leader, Abu Bakr al-Baghdadi, a former US detainee. The FBI "most wanted" mug shot shows a tough, swarthy figure, his hair in a jailbird crew-cut. The $10 million price on his head, meanwhile, suggests that whoever released him from US custody four years ago may now be regretting it.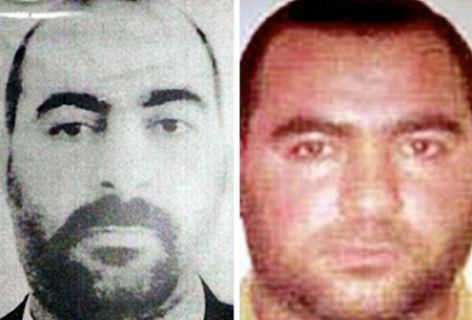 Taken during his years as a detainee at the US-run Camp Bucca in southern Iraq, this is one of the few known photographs of Abu Bakr al-Baghdadi, the new leader of al-Qaeda in Iraq and Syria, now known as the Islamic State of Iraq and al-Shams (ISIS). But while he may lack the photogenic qualities of his hero, Osama bin Laden, he is fast becoming the new poster-boy for the global jihadist movement. Well-organized and utterly ruthless, the ex-preacher is the driving force behind al-Qaeda's resurgence throughout Syria and Iraq, putting it at the forefront of the war to topple President Bashar al-Assad and starting a fresh campaign of mayhem against the Western-backed government in Baghdad.
This week, his forces have achieved their biggest coup in Iraq to date, seizing control of government buildings in Mosul, the country's third biggest city, and marching further south to come within striking distance of the capital, Baghdad. Coming on top of similar operations in January that planted the black jihadi flag in the towns of Fallujah and Ramadi, it gives al-Qaeda control of large swathes of the north and west of the country, and poses the biggest security crisis since the US pull-out two years ago. But who is exactly is the man who is threatening to plunge Iraq back to its darkest days, and why has he become so effective?
As with many of al-Qaeda's leaders, precise details are sketchy. His FBI rap sheet offers little beyond the fact that he is aged around 42, and was born as Ibrahim Ali al-Badri in the city of Samarrah, which lies on a palm-lined bend in the Tigris north of Baghdad. Abu Bakr al-Baghdadi is a nom de guerre, as is his other name, Abu Duaa, which translates roughly as "Father of the Summons". Some describe him as a farmer who was arrested by US forces during a mass sweep in 2005, who then became radicalised at Camp Bucca, where many al-Qaeda commanders were held. Others, though, believe he was a radical even during the largely secular era of Saddam Hussein, and became a prominent al-Qaeda player very shortly after the US invasion. "This guy was a Salafi (a follower of a fundamentalist brand of Islam), and Saddam's regime would have kept a close eye on him," said Dr Michael Knights, an Iraq expert at the Washington Institute for Near East Policy. "He was also in Camp Bucca for several years, which suggests he was already considered a serious threat when he went in there." That theory seems backed by US intelligence reports from 2005, which describe him as al-Qaeda's point man in Qaim, a fly-blown town in Iraq's western desert. "Abu Duaa was connected to the intimidation, torture and murder of local civilians in Qaim", says a Pentagon document. "He would kidnap individuals or entire families, accuse them, pronounce sentence and then publicly execute them."
Why such a ferocious individual was deemed fit for release in 2009 is not known. One possible explanation is that he was one of thousands of suspected insurgents granted amnesty as the US began its draw down in Iraq. What does seem clear, however, is that al-Qaeda now has its most formidable leadership since Abu Musab al-Zarqawi, the Jordanian who kidnapped the British hostage, Ken Bigley, and who died in a missile strike in 2006. When al-Baghdadi was announced as a new leader in 2010, following the killing of two other top commanders, al-Qaeda was seriously on the back foot, not just in Iraq but regionwide. In former strongholds like Fallujah, its fighters had been routed after their brutality sparked a rebellion by local tribes. In Pakistan and Afghanistan, drone strikes were destroying the cream of its senior leadership. And the following year, the onset of the Arab Spring revolutions, with their emphasis on democracy and human rights, made it look simply irrelevant. Indeed, when bin Laden himself was killed in May 2011, Baghdadi's pledge to revenge his death with 100 terrorist attacks across Iraq looked like little more than bluster.
His greatest coup until this week was to free around 500 of his most loyal supporters during a spectacular jail break last July at Baghdad's Abu Ghraib prison, supposedly the most-heavily guarded facility in the country. It is a trick he is believed to have repeated this week in Mosul, where three jails holding at least 1,000 militants were "liberated". Many of those freed in the earlier Abu Ghraib break out in July are believed to have headed to neighboring Syria, where they have proved decisive in turning al-Qaeda into the pre-eminent rebel movement in the fight against President Assad. Al-Baghdadi himself is also believed to have relocated there, and last year renamed his group the Islamic State of Iraq and Syria (ISIS), which sees both countries as a single al-Qaeda caliphate. Already the group has about 7,000 fighters in northern Syria, including volunteers from Britain and Europe whom it is feared may one day start terror campaigns at home. Baghdadi is known to have a vicious hatred of Shia Muslims, the sect to which Syria's Assad belongs. Like most other al-Qaeda extremists, Baghdadi views Shias as apostates, be they those in Syria or those in the Shia-majority government in Baghdad.
The Battle for Iraq Is Partly a Saudi War on Iran
(Why the ISIS invasion of Iraq is really a war between Shiites and Sunnis for control of the Middle East.)
June 14….(Foreign Policy) Be careful what you wish for" could have been, and perhaps should have been, Washington's advice to Saudi Arabia and other Gulf states that have been supporting Sunni jihadists against Bashar al-Assad's regime in Damascus. The warning is even more appropriate today as the bloodthirsty fighters of the Islamic State of Iraq and al-Sham (ISIS) sweep through northwest Iraq, prompting hundreds of thousands of their Sunni coreligionists to flee and creating panic in Iraq's Shiite heartland around Baghdad, whose population senses, correctly, that it will be shown no mercy if the ISIS motorcades are not stopped.
Such a setback for Iraqi Prime Minister Nouri al-Maliki has been the dream of Saudi Arabia's King Abdullah for years. He has regarded Maliki as little more than an Iranian stooge, refusing to send an ambassador to Baghdad and instead encouraging his fellow rulers of the Gulf Cooperation Council (GCC) Kuwait, Bahrain, Qatar, the United Arab Emirates, and Oman, to take a similar standoff-ish approach. Although vulnerable to al Qaeda-types at home, these countries (particularly Kuwait and Qatar) have often turned a blind eye to their citizens funding radical groups like Jabhat al-Nusra, one of the most active Islamist groups opposed to Assad in Syria. Abdullah has no doubt realized that, with his policy of delivering a strategic setback to Iran by orchestrating the overthrow of Assad in Damascus showing little sign of any imminent success, events in Iraq offer a new opportunity.
This perspective may well confuse many observers. In recent weeks, there has been a flurry of reports of an emerging, albeit reluctant, diplomatic rapprochement between the Saudi-led GCC and Iran, bolstered by the apparently drunken visit to Tehran by the emir of Kuwait, and visits by trade delegations and commerce ministers in one direction or the other. This is despite evidence supporting the contrary view, including Saudi Arabia's first public display of Chinese missiles capable of hitting Tehran and the UAE's announcement of the introduction of military conscription for the country's youth. The merit, if such a word can be used, of the carnage in Iraq is that at least it offers clarity. There are tribal overlays and rival national identities at play, but the dominant tension is the religious difference between majority Sunni and minority Shiite Islam. This region-wide phenomenon is taken to extremes by the likes of ISIS, which also likely sees its action in Iraq as countering Maliki's support for Assad.
ISIS is a ruthless killing machine, taking Sunni contempt for Shiites to its logical, and bloody, extreme. The Saudi monarch may be more careful to avoid direct religious insults than many other of his brethren, but contempt for Shiites no doubt underpinned his WikilLeaked comment about "cutting off the head of the snake," meaning the clerical regime in Tehran. Despite the attempts of many, especially in Washington, to write him off, King Abdullah remains feisty, though helped occasionally by gasps of oxygen, as when President Barack Obama met him in March and photos emerged of breathing tubes inserted in his nostrils. When Sheikh Mohammed bin Zayed, the crown prince of Abu Dhabi, and, after his elder brother's recent stroke, the effective ruler of the UAE, visited King Abdullah on June 4, the Saudi monarch was shown gesticulating with both hands. The subject under discussion was not revealed, but since Zayed was on his way to Cairo it was probably the election success of Egypt's new president, Abdel Fattah al-Sisi, considered a stabilizing force by Riyadh and Abu Dhabi. Of course, Sisi gets extra points for being anti-Muslim Brotherhood, a group whose Islamist credentials are at odds with the inherited privileges of Arab monarchies. For the moment, Abdullah, Zayed, and Sisi are the three main leaders of the Arab world. Indeed, the future path of the Arab countries could well depend on these men (and whomever succeeds King Abdullah).
For those confused by the divisions in the Arab world and who find the metric of "the enemy of my enemy is my friend" to be of limited utility, it is important to note that the Sunni/Shiite divide coincides, at least approximately, with the division between the Arab and Persian worlds. In geopolitical terms, Iraq is at the nexus of these worlds, majority Shiite but ethnically Arab. There is an additional and often confusing dimension, although one that's historically central to Saudi policy: A willingness to support radical Sunnis abroad while containing their activities at home. Hence Riyadh's arms-length support for Osama bin Laden when he was leading jihadists in Soviet-controlled Afghanistan, and tolerance for jihadists in Chechnya, Bosnia, and Syria.
When the revolt against Assad grew in 2011, and Riyadh's concern at Iran's nuclear program mounted, Saudi intelligence reopened its playbook and started supporting the Sunni opposition, particularly its more radical elements, a strategy guided by its intelligence chief, former ambassador to Washington, Prince Bandar bin Sultan. The operation's leadership changed in April, when Bandar resigned in apparent frustration over dealing with the cautious approach of the Obama administration, but Saudi support for jihadi fighters appears to be continuing. (The ISIS operation in Iraq almost seems the sort of tactical surprise that Bandar could have dreamt up, but there is no actual evidence.)
In the fast-moving battle that is now consuming northern Iraq, there are many variables. For Washington, the option of inaction has to be balanced by the fate of the estimated 20,000 American civilians still left in the country (even though the US military is long-departed). Qatar, the region's opportunist, is likely balancing its options of irritating its regional rival, Saudi Arabia, while trying not to poke the Iranian bear. There are no overt Qatari fingerprints yet visible and Sheikh Tamim bin Hamad al-Thani, just celebrating his first full year in power after his father's abdication in 2013, may be chastened by the public scolding he received from the rest of the GCC after he was accused of interference in the domestic affairs of his brother rulers. Additionally, Doha may be cautious in risking Iran's ire by an adventure in Iraq. Having just given five Taliban leaders refuge as part of the Bowe Bergdahl swap, Qatar has effectively clearly stated where it lies in the Sunni-Shiite divide.
There is a potentially important historical precedent to Saudi Arabia's current dilemma of rooting for ISIS but not wanting its advances to threaten the kingdom. In the 1920s, the religious fanatic Ikhwan fighters who were helping Ibn Saud to conquer Arabia were also threatening the British protectorates of Iraq and Transjordan. Ibn Saud, the father of the current Saudi king, gave carte blanche to the British to massacre the Ikhwan with machine-gun equipped biplanes, personally leading his own forces to finish the job, when the Ikhwan threatened him at the battle of Sabilla in 1929.
It's hard to imagine such a neat ending to the chaos evolving in the Euphrates river valley. At this stage, a direct confrontation between Saudi and Iranian forces seems very unlikely, even though, as in Syria, the direct involvement of the Iranian Revolutionary Guard Corps cannot be ruled out. What is clear that the Syrian civil war looks like it will be joined by an Iraqi civil war. ISIS already has a name for the territory, the al-Sham caliphate. Washington may need to find its own name for the new area, as well as a new foreign policy.
Iraq Crisis: Baghdad About to Fall to Terrorists
June 13….(Independent) Iraq is breaking up. The Kurds have taken the northern oil city of Kirkuk that they have long claimed as their capital. Sunni fundamentalist fighters vow to capture Baghdad and the Shia holy cities further south. Government rule over the Sunni Arab heartlands of north and central Iraq is evaporating as its 900,000-strong army disintegrates. Government aircraft have fired missiles at insurgent targets in Mosul, captured by Isis on Monday, but the Iraqi army has otherwise shown no sign of launching a counter-attack.
The nine-year Shia dominance over Iraq, established after the US, Britain and other allies overthrew Saddam Hussein, may be coming to an end. The Shia may continue to hold the capital and the Shia-majority provinces further south, but they will have great difficulty in re-establishing their authority over Sunni provinces from which their army has fled. It is unlikely that the Kurds will give up Kirkuk. "The whole of Kirkuk has fallen into the hands of peshmerga [Kurdish soldiers]," said the peshmerga spokesman Jabbar Yawar. "No Iraqi army remains in Kirkuk."
Foreign intervention is more likely to come from Iran than the US. The Iranian President Hassan Rouhani said that Iran would act to combat "the violence and terrorism" of Isis". Iran emerged as the most influential foreign power in Baghdad after 2003. As a fellow Shia-majority state, Iraq matters even more to Iran than Syria. Iran will be deeply alarmed by the appearance of a fanatically Sunni proto-state hostile to all Shia in western Iraq and eastern Syria. Abu Mohamed al-Adnani, the Isis spokesman, said today that the Shia, 60 per cent of the Iraqi population, "are a disgraced people", accusing them of being "polytheists".
Iraq's Shia may well conclude that their army has failed them and they must once again rely on militias like the Mehdi Army which was responsible for the slaughter of Sunni in 2005 and 2006. At that time, much of Baghdad was cleansed of Sunni. The loss of Baghdad has never been forgotten or forgiven by Sunni states such as Saudi Arabia, which has long hoped to reverse the Shia dominance in Iraq.
Iran Stepping Into Iraq in Battle With Al Qaeda + Others
June 13….(Fox News) Iran is considering coming to the aid of its historic nemesis, sending elite fighters to Iraq in the wake of a Sunni insurgency that has claimed two key northern cities and now threatens Baghdad, Fox News has learned. Some 150 fighters from the Revolutionary Guards elite Quds force have already been dispatched by Tehran, and the division's powerful commander, Qassem Suleimani, met with Iraqi Prime Minister Nouri al-Maliki Thursday and pledged to send two notorious Iranian brigades to aid in the defense of Baghdad. That could amount to as many as 10,000 soldiers sent to fight the Sunni group known as Islamic State in Iraq and the Levant (ISIS).
Maliki is believed to be considering the offer, especially in light of reported decisions by the US to reject his request for American airstrikes against the Al Qaeda-affiliated militants who have recently overrun Mosul and Tikrit and appear to be preparing for a march on the capital. The two brigades that Suleimani offered are Asaab Ahel Haq, a Shi'ite paramilitary unit, and the Shi'ite insurgency group Kata'ib Hezbollah. After US-trained security forces dropped their weapons and fled their posts in Mosul, the regime in Baghdad has reason to fear for its survival, an intelligence official said. "Baghdad is going to be overrun," he said. "The Green Zone is going down."
Although Iran and Iraq were at war in the 1980s, both the Maliki regime and the rulers in Tehran are Shi'ite, and Iran does not want a fanatical jihadist takeover of its neighbor. Iran has positioned troops along its border with Iraq and has threatened to bomb opposition forces if they come within about 60 miles of Iran's border, according to an Iranian army general. News about the fall of these two cities, which caused about 500,000 to flee, worried Iran. Mosul is in the western Iraqi province of the Biblically-mentioned Nineveh, which shares a 300-mile border with Syria, where the Iranian government has been pulling the political and financial puppet strings to keep President Bashar al-Assad in power against the opposing rebels and militants.
In addition to protecting the strategic border to Syria, Iran's government has interests in safeguarding holy shrines and sites in Najaf and Karbala, significant to the Shiite Islamic religion. Many Iranians make pilgrimage to these sites every year. Predominantly Shiite Muslim Iran will combat the "violence and terrorism" of Sunni extremists who have launched an anti-government offensive in neighboring Iraq, Iran's President Hassan Rouhani warned on Thursday. "This is an extremist, terrorist group that is acting savagely," Rouhani said live on state television.
If Iraq's pleas for support are rebuffed by the US, it may have no choice but to turn to Iran, said experts. "My sources tell me Maliki believes he is in a desperate situation and wants and needs our support," said retired four-star Gen. Jack Keane, former vice chief of staff of the US Army. "If he doesn't get it in a way that will help him, he will certainly turn to Iran." Iran has more to offer than just the region's most powerful army, Keane said. Tehran could support Maliki with intelligence and advisors, too.
ISIS, a Sunni Islamic jihadi group, which is an offshoot of Al Qaeda, has gained control of geopolitically vital cities in both Syria and Iraq over the last year. It considers Shi'ite Muslims heretics that must be killed at the sword. Its goal is to cleanse Iraq from its Shiite influences. ISIS spokesman Abu Muhammad Al-Adnani said in an audio released by intelligence sources that the group is planning to march toward Baghdad and other pivotal cities, including Karbala and Najaf. "March to Baghdad al-Rashid, the Baghdad of the Caliphate. We have a score to settle. Be certain of the victory of Allah as long as you fear Him," Al-Adnani said in the recording.
As ISIS forces have stormed their way across northern Iraq, they have put into effect Sharia law on the citizens of Nineveh province, circulating a document on social media warning local leaders and religious sheikhs not to "work with the Iraqi government and be traitors." The document also prohibits women from leaving the house unless absolutely necessary and for women to "dress decently and wear wide clothes." The document also bans drugs, alcohol, cigarettes in public and the possession of guns and non- ISIS flags. ISIS terrorists in Iraq are allegedly made up of Tunisians and Yemenis, along with other "international fighters," according to one Iraqi witness.
As the militants went from Mosul to Tikrit, they seized oil fields in Salahuddin province and looted the central bank and collected $420 million. They also took 48 Turkish citizens hostage as they seized the Turkish consulate in Mosul, which could bring another regional power down on them. Many eyes are on Turkey, a NATO ally that has shown interest in northern Iraq for some time now for economic reasons and to support Iraq's marginalized Kurdish minority. Prime Minister Recep Tayyip Erdogan of Turkey held an emergency briefing with high ranking security officials and the Turkish foreign minister, Ahmet Davutoglu, who said, "No one should try to test the limits of Turkey's strength."
President Barack Obama may be close to a decision on a number of US military steps for thwarting the march of Al-Qaeda in Iraq, now halted at Samarra 70 km short of Baghdad. In a comment Thursday night, he said: "We do have a stake in making sure that these jihadists are not getting a permanent foothold in either Iraq or Syria, for that matter." Ironically, Washington and Iran may have to cooperate for the first time in a joint military endeavor, and in of all places Iraq.
A War Against Israel's Right to Exist
June 12….(commentary by Sarah Stern) Over the last 20 years, since the signing of the Oslo Accords, we have witnessed in the United States a constant and steady war of attrition against Israel's moral right to exist. An atmosphere of moral relativism has been widely adopted, so much so that many Americans cannot distinguish the difference between an openly and unabashedly Islamist terrorist organization and a free democratic state with Western values of liberalism and democracy and respect for human rights and the rule of law.
The most recent and flagrant example of this is the Obama administration's willingness to work with a Fatah-Hamas unity government. In fact, before the ink was even dry, State Department spokeswoman Jen Psaki announced that the US was willing to work with the new Palestinian government. Using the familiar tactic of the State Department linguistic shuffle, she called the merger between Fatah and the virulently anti-Semitic organization of Hamas merely a "technocratic government." She then added that the US was still going ahead with plans to give the Palestinians another $500 million in US taxpayers' money.
This is a clear violation of US law. Both the 2006 Anti-Terrorism Act and the 2012 Appropriations Act clearly prohibit funding "to Hamas or any entity effectively controlled by Hamas, any power-sharing government of which Hamas is a member." However, President Barack Obama and his apparatchiks in the State Department have become spin doctors and apologists for what we all know is an openly terrorist organization, hell-bent on the destruction of Israel. It saddens me to see the US government engage in all sorts of linguistic contortions in efforts to obfuscate and cover up what most of us know, and what we can assume they too know, deep down: that Hamas is little more than a radical Islamist organization whose aim is clearly to destroy the Jewish state and Jews throughout the world.
This erosion of morality has been a gradual process that had its beginning 20 years ago when then-Israeli Prime Minister Yitzhak Rabin and then-PLO Chairman Yasser Arafat shook hands on the White House Lawn. Today, the US is simply borrowing a page from an old playbook. Prior to Sept. 13, 1993, Arafat was known as the grand-daddy of international terrorism. He and his Fatah organization had invented airplane hijackings, bombings, kidnappings, and other types of attacks, including the 1972 murders of 11 of Israel's Olympic athletes in Munich, the 1973 murder of US Ambassador to Sudan Cleo Noel, the 1985 hijacking of the Achille Lauro cruise ship (resulting in the murder of wheelchair-bound Leon Klinghoffer), and the 1974 massacre of 26 people (21 of them schoolchildren) in Maalot.
The Palestinian National Covenant, which, contrary to popular opinion, has never been annulled, calls for the complete eradication of Israel. On April 24, 1996, the Palestinian National Council voted to set up a committee to consider revoking the covenant. As a result of this hollow vote, the international community, which has always been eager to whitewash the Palestinian Authority, telegraphed to the world that the charter had been annulled. In reality, the committee was never appointed and never convened a single meeting. Immediately after that vote, Arafat's spokesman Marwan Karnafani left the room and said, "It is not an amendment. It is not an amendment. It is a license to set up a new resolution; to start a new charter."
In fact Article 8 of the charter says: "The conflicts among the Palestinian national forces are secondary, and should be ended for the sake of the basic conflict that exists between the forces of Zionism and of imperialism on the one hand, and the Palestinian Arab people on the other." The Palestinian Authority is therefore merely following its own credo when it unites with Hamas or any other Palestinian resistance group.
Nearly every day, there is some clear and transparent indication of the Palestinian Authority's true intentions, meticulously documented by Palestinian Media Watch. Not a day goes by without the Palestinian Authority's television station inciting its people to hate and kill Jews, naming squares and sports games after suicide bombers, or calling to replace all the land that we recognize as Israel with "Palestine."
To the outside world, however, the Palestinian Authority at least donned some sort of camouflage to disguise their lethal goals, flimsy as it was. They became masters in the art of double speak, talking to Western diplomats in the gentle, seductive language of peace, even as these diplomats sat within the PA's official headquarters in Ramallah, directly under the map of Israel, re-designated as "Palestine." Hamas, on the other hand, does not even bother making that feeble attempt to cover up its deadly objectives.
For a while, the international community was determined to make the PA into the "good cop" in contrast with Hamas' "bad cop." Now, with their unity, this is no longer relevant, but the State Department and the European Union are determined to continue on with the charade. Perhaps this willful blindness is the result of the constant and steady erosion of our moral integrity and intellectual courage that began the day that Arafat and Rabin shook hands on the White House lawn. I am afraid it also signifies something deeper. It signifies the profound failure of imagination of many in leadership roles around the world, as well as the fact that the peace process for many has become like a religion, and has ossified in many people's minds. For some, it is to be preserved at all costs, irrespective of the nefarious behavior and maximalist and deadly intentions of one of the parties.
Ex-Border Agents: Immigrant Flood 'Urchestrated'
(Obama policies are leading America to becoming a failed-state!)
June 12….(WND) An organization of former Border Patrol agents Wednesday charged that the federal government, under the administration of President Obama, is deliberately arranging for a flood of immigrant children to arrive in America for political purposes. "This is not a humanitarian crisis. It is a predictable, orchestrated and contrived assault on the compassionate side of Americans by her political leaders that knowingly puts minor illegal alien children at risk for purely political purposes," said the statement released by officials with the National Association of Former Border Patrol Officers. "Certainly, we are not gullible enough to believe that thousands of unaccompanied minor Central American children came to American without the encouragement, aid and assistance of the United States government. "Anyone that has taken two six to seven year old children to an amusement park can only imagine the problems associated with bringing thousands of unaccompanied children that age up through Mexico and into the United States."
There have been hundreds, even thousands, of illegal aliens, including many children, reported along the nation's southwestern border with Mexico recently. According to a report this week from Fox, Arizona Gov. Jan Brewer calls the situation a "creation" of the federal government, and Sen. Jeff Sessions, R-Alabama, assigned blame for the "calamity" to Obama.
Fox reported it had obtained a memo from an official with Customs and Border Protection who said the current policies are serving as an incentive for illegal aliens to sneak into the US. "If the US government fails to deliver adequate consequences to deter aliens from attempting to illegally enter the US, the result will be an even greater increase in the rate of recidivism and first-time illicit entries," said Ronald Vitiello, a deputy Border Patrol chief. Officials say among Obama's policies that are attracting illegals is his instructions for "deferred action" for young illegals. Recently, the federal government said it was hunting for lawyers to provide legal help to children who are in the US illegally. The Obama White House is asking for $1.4 billion more for the illegal alien children, which by some estimates will grow to 150,000 next year.
The former Border Patrol agents said the campaign is a "political deception" and the responsibility rests with the political leaders who support "a path to citizenship, regularization or any other form of amnesty for illegal aliens before providing for full protections for national security (jobs and economy) and public safety (the right of the people to be secure in their property and person)."
The officers argue that the non-enforcement of immigration laws is "the next step in becoming a failed state." "Yes, our leaders are guilty. However, we are responsible because it is the American voter, who has placed untrustworthy people in positions of power and kept them there when they have clearly demonstrated that they have violated that public trust. A federal judge even concluded the White House "has simply chosen not to enforce any border security laws."
America's Second Most Popular Religions by State
June 11….(Charisma News) President Obama bragged about the fact that America is no longer a Christian nation a few years ago while in Turkey. And there's no shortage of disagreement over whether or not the US is a "Christian nation." And while nominal Christians continue to dominate statistical tallies, true biblical faith is increasingly unpopular. But if America isn't a "Christian nation," what is it? The Association of Statisticians of American Religious Bodies, a group which assists in the US Census, recently released an interesting map showing which religions rank No. 2 throughout the country.
Islam ranks as the second most prevalent religion in 20 states, many of which are in the old Bible belt. Judaism is the second most common faith in most of the Northeast, while towards the West, 13 states are noted for their sizeable Buddhist minorities. Hinduism is only the No. 2 religion in two states, Arizona and Delaware. Notably, the survey considers Mormonism a form of Christianity, failing to account for the religion's sizable majority in Utah over Christian sects including Catholicism, Protestantism, and the like.
FOJ Note: Below the green states are Muslim states, and the yellow states are Buddhist.
Of course the map does not reflect secular humanism as a religion, which is probably the number one religion in America today!
Eighty (80%) of Syria rebels are Islamist
June 11….(Times of Israel) Eighty percent of the opposition fighters in Syria have "a clear Islamist agenda," a senior Israeli intelligence officer said on Monday, noting that Iran continues to aspire to nuclear weapons despite abiding by a provisional agreement signed with the superpowers.
Brig. Gen. Itai Brun, head of Military Intelligence research, assessed in a presentation to the Herzliya Conference on Monday that of a total of some 120,000 men fighting the Assad regime, some 50,000 are Salafists who would like to see Islam implemented in the future Syria, belonging to groups like Al-Nusra Front. Approximately 30,000 support a more moderate political Islam, akin to the ideology of the Muslim Brotherhood. The number of global jihadists, members of organizations such as ISIS, is around 15,000, or 13 percent of the fighting body. Only 20 percent of Syria's fighters, Brun estimated, could be categorized as "secular." "The Islamist nature of the [Syrian] opposition will have, I believe, a great impact on the future Syria," Brun said.
Speaking to The Times of Israel last month, a Syrian opposition member affiliated with the pro-Western Free Syrian Army warned of the expanding influence of Al-Nusra Front in Syria's south. The group, dubbed a terror organization by the US, is better funded and better equipped than the Free Syrian Army, and has therefore managed to draw a large number of local fighters from the ranks of the FSA.
Poll: Palestinians Say Hamas' Way is Best
June 11….(Israel Today) A plurality of Palestinian Arabs believe Hamas' desired method of ending the so-called "occupation" and establishing a Palestinian state is the correct way forward, according to a survey conducted by the Palestinian Center for Policy and Survey Research (PCPSR). Speaking at a Damascus mosque in 2006, overall Hamas leader Khaled Mashal revealed precisely how his group sees the future unfolding: "Before Israel dies, it must be humiliated and degraded."
Indeed, item #3 of the Hamas Charter states that "there is only one solution to resolve the conflict and that is jihad." Item #1 of that same charter acknowledges that "Israel will continue to exist", "until Islam will obliterate it."
Now, Hamas recently joined a unity government, and many, like US Secretary of State John Kerry, seem to think that will bring the terror group in line with previous agreements signed between Israel and the Palestinian Authority. Except that it won't. As Gaza-based Hamas Prime Minister Ismail Haniyeh declared just last week: "Hamas will continue the armed resistance, whether or not we are in power." And 42 percent of Palestinian respondents to the recent PCPSR have no problem with that, while only 39 percent think that Palestinian leader Mahmoud Abbas' notion of non-violence and negotiations is preferable.
Unsurprisingly, a mere 19 percent of Palestinian respondents believe that independent armed groups like Hamas and Islamic Jihad need to be disarmed now that a unity government has formed. And 66 percent of Palestinians say Hamas should retain security control over the Gaza Strip, even though under the group's stewardship Gaza continues to be used to launch rocket attacks against southern Israel.
Hamas is Planning the Next Confrontation
(Hamas has thousands of rockets aimed toward Israel and is preparing the next confrontation, says Defense Minister.)
June 11….(Arutz) Defense Minister Moshe Ya'alon warned on Tuesday that despite the reconciliation agreement it reached with the Fatah movement, Hamas is preparing for its next confrontation with Israel. "Hamas signed the reconciliation pact from a position of disadvantage. It has no better alternative," Ya'alon said during a meeting with soldiers from the IDF's Gaza Division. "But make no mistake: Hamas is preparing itself for a confrontation with Israel, training forces and storing missiles and rockets," he continued. "It already has thousands of missiles and rockets pointed towards Israel."
Al Qaeda-ISIS Conquers Iraqi Mosul, Links up with Syrian Front for Core of Islamist State
June 11….(DEBKA) Al Qaeda in Iraq (ISIS: Islamist State of Iraq and Syria), captured the northern Iraqi oil city of Mosul, capital of Nineveh Province, Tuesday, June 10, after the Iraqi military defenders caved in and fled. Mosul is Iraq's third largest city after Baghdad and Basra with a population of around two million. Ministers in Nuri al-Maliki's government have sent desperate appeals to the Obama administration for help to save Baghdad and Iraq from doom. Debkafile's military sources report that the Iraqi army's command facilities and bases in Mosul are ablaze and many bodies of Iraqi soldiers are lying in the town's streets. Convoys of fleeing troops were ambushed by the invaders and destroyed.
The fall of Mosul with heavy casualties is the worst disaster suffered by the Iraqi army in its feeble attempts to fend off the deep inroads Al Qaeda has been making in the country for more than a year. ISIS now controls two major Iraqi cities, after capturing Fallujah earlier this year, has overrun parts of Ramadi and Tikrit, as well as eastern provinces bordering on Iran, Diyala province and parts of the town Baquba, where just Tuesday, 20 people were killed in two explosions.
The loss to Islamist terrorists of Mosul, home to Arab, Assyrian, Christian, Turcoman and Kurdish minorities, and the site of Old Testament prophets such as Jonah - is critical for six additional reasons outlined here by debkafile's counter-terror and military sources:
1. Mosul's conquest gives ISIS the key to the highway to Baghdad, enabling its fighters to advance on the capital from three directions: the west from Fallujah and Ramadi, the east from Diyala and now the north, from Mosul.
2. ISIS can merge its Iraqi and Syrian fronts and move its forces freely between them.
3. Mosul straddles the two banks of the vital Tigris-Euphratest river system shared by Iraq, Turkey, Syria and Iran. The Iraqi Islamists now have their hand on its flow.
4. With Mosul's capture, Bakr Al-Baghdadi, commander of ISIS, had taken a flying leap towards his avowed goal of establishing an independent Islamist state in the heart of the Middle East. No army has been able or willing to stem his steady advance, including the United States, although his state would present a direct threat to Saudi Arabia, Jordan, Turkey and Israel.
5. Mosul is a vital link in Iraq's northern oil trade; one third of its exported crude is pumped past this city from Kirkuk and it also has a refinery.
6. Iran and Hizballah face a second front in Syria opened by Al Qaeda from Iraq. To save their proudest strategic gains in Syria, Tehran will have to send troops into Iraq to save Baghdad from falling to the Islamists, or else see Syria falling into another abyss, this one of vicious Sunni-Shiite warfare.
Hamas: Abbas is Tricking America With Fancy Words
June 10….(Israel Today) A senior Hamas spokesman on Sunday reassured Palestinians that the conciliatory language toward Israel coming out of Palestinian unity government talks is all for show, and that ultimately no one recognizes the Jewish state's right to exist. Writing on his Facebook page in Arabic, Hamas spokesman Ihab al-Ghussein revealed that "behind closed doors," even Palestinian leader Mahmoud Abbas, the darling of Western leaders, admitted that remarks in English are to be ignored by the Arab masses.
According to al-Ghussein, Abbas told him and other Palestinian leaders that "when I go out and say that the government is my government and it recognizes 'Israel' and so on, fine, these words are meant to trick the Americans." The spokesman went on to stress that all media statements coming out of both Gaza and the "West Bank" are meant only for international consumption, and do not reflect the true sentiments in the region. "Guys, let me continue saying what I say to the media. Those words are meant for the Americans and the occupation (i.e., Israel), not for you," explained al-Ghussein. "What's important is what we agree on among ourselves. Don't harp on everything I tell the media, forget about the statements in the media."
Hamas has never shied away from telling the truth of the matter, even when it directly contradicted what Abbas and others were telling the Americans and Israel in English. The problem has always been that Washington and other Western powers are so desperate for a breakthrough in the Middle East peace process that they will gladly make themselves willing fools by swallowing Abbas' statements, while ignoring Hamas' revelations.
Hamas stated since the unity government was sworn in that it remains committed to its goals of terrorism and the annihilation of Israel, in contrast to Abbas's "four Palestinian principles." Casting a shadow of doubt over how much the American administration is being "tricked" by Abbas are reports last Thursday from Buzzfeed, claiming that the US has been negotiating with Hamas for months, despite it's official policy against the terrorist organization. US officials denied the reports.
Pope Francis's Peace Prayer
(Let us all come together, all brothers of Abraham, and be ONE)
June 9….(Times of Israel) Pope Francis made his vibrant appeal to Shimon Peres and Mahmoud Abbas at the end of an unprecedented prayer meeting among Jews, Christians and Muslims in the Vatican gardens that marked the first time the two presidents have met in public in more than a year. Peres and Abbas embraced in the foyer of the Vatican hotel where Francis lives, joked together and sat on either side of Francis for an hourlong invocation of Jewish, Christian and Muslim prayers in the Vatican gardens. Francis told the two men, who signed the Oslo peace accords in 1993, that he hoped the summit would mark "a new journey" toward peace. The following is the full text of Pope Francis's speech during the prayer for peace ceremony at the Vatican on Sunday.
Distinguished Presidents, I greet you with immense joy and I wish to offer you, and the eminent delegations accompanying you, the same warm welcome which you gave to me during my recent pilgrimage to the Holy Land. I am profoundly grateful to you for accepting my invitation to come here and to join in imploring from God the gift of peace. it is my hope that this meeting will mark the beginning of a new journey where we seek the things that unite so as to overcome the things that divide. I also thank Your Holiness, my venerable Brother Bartholomaios, for joining me in welcoming these illustrious guests. Your presence here is a great gift, a much-appreciated sign of support, and a testimony to the pilgrimage which we Christians are making towards full unity. Your presence, dear Presidents, is a great sign of brotherhood which you offer as children of Abraham. It is also a concrete expression of trust in God, the Lord of history, who today looks upon all of us as brothers and who desires to guide us in his ways.
This meeting of prayer for peace in the Holy Land, in the Middle East and in the entire world is accompanied by the prayers of countless people of different cultures, nations, languages and religions: they have prayed for this meeting and even now they are united with us in the same supplication. It is a meeting which responds to the fervent desire of all who long for peace and dream of a world in which men and women can live as brothers and sisters and no longer as adversaries and enemies.
Dear Presidents, our world is a legacy bequeathed to us from past generations, but it is also on loan to us from our children: our children who are weary, worn out by conflicts and yearning for the dawn of peace, our children who plead with us to tear down the walls of enmity and to set out on the path of dialogue and peace, so that love and friendship will prevail. Many, all too many, of those children have been innocent victims of war and violence, saplings cut down at the height of their promise. It is our duty to ensure that their sacrifice is not in vain. The memory of these children instills in us the courage of peace, the strength to persevere undaunted in dialogue, the patience to weave, day by day, an ever more robust fabric of respectful and peaceful coexistence, for the glory of God and the good of all. Peacemaking calls for courage, much more so than warfare. It calls for the courage to say yes to encounter and no to conflict; yes to dialogue and no to violence; yes to negotiations and no to hostilities; yes to respect for agreements and no to acts of provocation; yes to sincerity and no to duplicity; all of this takes courage, it takes strength and tenacity. History teaches that our strength alone does not suffice. More than once we have been on the verge of peace, but the evil one, employing a variety of means, has succeeded in blocking it. That is why we are here, because we know and we believe that we need the help of God. We do not renounce our responsibilities, but we do call upon God in an act of supreme responsibility before our consciences and before our peoples.
We have heard a summons, and we must respond. It is the summons to break the spiral of hatred and violence, and to break it by one word alone: the word "brother." But to be able to utter this word we have to lift our eyes to heaven and acknowledge one another as children of one Father. To him, the Father, in the Spirit of Jesus Christ, I now turn, begging the intercession of the Virgin Mary, a daughter of the Holy Land and our Mother. Lord God of peace, hear our prayer! We have tried so many times and over so many years to resolve our conflicts by our own powers and by the force of our arms. How many moments of hostility and darkness have we experienced; how much blood has been shed; how many lives have been shattered; how many hopes have been buried. But our efforts have been in vain.
Now, Lord, come to our aid! Grant us peace, teach us peace; guide our steps in the way of peace. Open our eyes and our hearts, and give us the courage to say: "Never again war!"; "With war everything is lost." Instill in our hearts the courage to take concrete steps to achieve peace. Lord, God of Abraham, God of the Prophets, God of Love, you created us and you call us to live as brother and sisters. Give us the strength daily to be instruments of peace; enable us to see everyone who crosses our path as our brother or sister. Make us sensitive to the plea of our citizens who entreat us to turn our weapons of war into implements of peace our trepidation into confident trust, and out quarreling into forgiveness. Keep alive within us the flame of hope, so that with patience and perseverance we may opt for dialogue and reconciliation. In this way peace may triumph at last, and may the words "division", "hatred" and "war" be banished from the heart of every man and woman. Lord, defuse the violence of our tongues and our hands. Renew our hearts and minds, so that the word which always brings us together will be "brother", and our way of life will always be that of: Shalom, Peace, Salaam! Amen.
FOJ Note: Peace, peace, peace, and they shall seek peace, and they shall not find it. They shall not find it because they do not know the "Prince of Peace." His name is Jesus Christ, and none of these religious elitists knows the prince of peace, (nor the way to him) and therefore all their searches for peace will lead them to a false pretense of peace, allied with a false peace partner, the Antichrist.
(Isaiah 28:15-18 Because ye have said, We have made a covenant with death, and with hell are we at agreement; when the overflowing scourge shall pass through, it shall not come unto us: for we have made lies our refuge, and under falsehood have we hid ourselves: Therefore thus saith the Lord GOD, Behold, I lay in Zion for a foundation a stone, a tried stone, a precious corner stone, a sure foundation: he that believeth shall not make haste. Judgment also will I lay to the line, and righteousness to the plummet: and the hail shall sweep away the refuge of lies, and the waters shall overflow the hiding place. And your covenant with death shall be disannulled, and your agreement with hell shall not stand; when the overflowing scourge shall pass through, then ye shall be trodden down by it.)
WEEK OF JUNE 1 THROUGH JUNE 7
Only 28% of Americans Believe Bible is Literal Word of God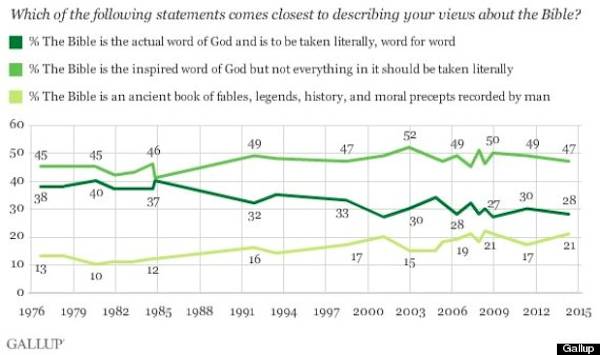 June 7….(Religion) Many debates within Christian theology revolve around the origins of the Bible, who wrote it, the nature of its authority, and its relationship to the Divine. According to a Gallup poll conducted in May, a solid twenty-eight percent of Americans believe that the Bible is the literal word of God and should be interpreted accordingly. That's a 3% decrease since 2007, when about 1/3 of the United States answered that they believed the Bible was the actual word of God. However, in the late 1970s, 38% to 40% of Americans told Gallup that they believed in the Bible as God's word.
Today, 47% of Americans consider the Bible to be "the inspired word of God, but not everything in it should be taken literally." According to Gallup, the aggregate figure means that in America "a combined 75% believe the Bible is in some way connected to God." 21% of Americans consider the Bible to be "an ancient book of fables, legends, history, and moral precepts recorded by man." That percentage has only been so high once in the history of the survey, just before 2009.
Gallup asked some follow-up questions in a split-sample poll to further investigate the beliefs of people who believe in the Bible as God's word. By providing two potential responses which included the supposition that the Bible is God's actual word, researched determined that out of those who believe in the Bible as God's word, 44% believe that it should be taken literally, word for word, while 56% believe that multiple interpretations are possible.
Over time, the tendency to take the Bible literally is waning, though it's still a strong source of guidance for a large percentage of the country, concludes Gallup.
North Korea Holds American Over Bible Left in Hotel
June 7….(AP) An American tourist is being held in North Korea reportedly for leaving a Bible in a hotel room as he was leaving the country, according to news reports in North and South Korea. He was identified in Korean without providing the English spelling, but it translates to Jeffrey Edward Fowle. "The US citizen, who entered the DPRK (North Korea) on April 29 as a tourist, engaged in activities that were in breach of DPRK's laws," the country's official Korean Central News Agency said today. South Korea's Yonhap News quoting sources in North Korea said he had left a Bible in the hotel upon departure. He is the third American currently held in North Korea.
North Korea has been holding a Korean-American missionary Kenneth Bae since November 2012. Bae was sentenced to 15 years of hard labor for what the North says were hostile acts against the state. Today's announcement came as tension on the Korean Peninsula remains high with North Korea keeping up rhetoric against the US and South Korea following its series of missile and rocket launches earlier this year. The North's state media have also unleashed racist and sexist slurs against US and South Korean leaders. The peninsula is still in a technical state of war because the 1950-53 Korean War ended with an armistice, not a peace treaty. About 28,500 US troops are stationed in South Korea to deter potential aggression from North Korea.
How Does Obama Get Away With Everything?
June 7….(FOJ) Trading deserters for terrorists. Deserting Americans in Benghazi and then lying about it. Using the IRS to persecute critics. Destroying America's healthcare system and allowing Veterans hospitals to just let veterans die. Millions of Americans are wondering: How exactly does Barack Obama get away with dismantling and destroying the greatest nation on earth, committing outrage after outrage, day after day and year after year?
How can a scandal-plagued president so openly and arrogantly trample the nation's laws, hobble its economy, hurt its friends and, shockingly help its enemies without being impeached and removed from office? Are Americans caught in some sort of trance-like state, oblivious to what is happening to them, and paralyzed from acting rationally while their nation disintegrates before their eyes?
Increasingly, an offbeat-sounding yet surprisingly insightful answer to that question is present in a comparison of America in the Age of Obama with ancient Rome when the restless masses were continually bribed and entertained during the once-great empire's rapid decay and disintegration. Many people realize the Obama Administration is obsessed with increasing its power and control through promoting dependency on government with massive entitlements, handouts, subsidies and bribes, while an extraordinarily perverse popular culture entertains, influences and corrupts as many people as possible. Our corrupt politicians and 'societal experts' become our gods, and lead a continual distraction and escape from reality, while the abandonment of the Bible in our nation leads us in the diametric opposite of the two principles on which early America was founded: Christianity and liberty. So, how does Obama get away with it? He gets away with it because too many Americans have been dumbed down about America's founding, and have become addicted to Washington's hand-outs!
Almighty God has given us over to our own lusts! The prophet Daniel spoke about when a nation abandons the one true God, and begins the process of self-glorification, then that same God will give them over to leaders that they deserve!
Hamas is Following the Hezbollah Model
June 6….(Times of Israel) On June 2, Hamas and Fatah formed a unity government in the Palestinian Authority after many months of reconciliation talks, with Hamas nominally dissolving its government in the Gaza Strip. The move represents the fruit of a long internal debate within the group's higher echelons regarding its future course. Rather than adhering to the seven-year-old strategy of prioritizing exclusive control of "Fortress Gaza" with no serious effort to heal the rift with Fatah in the West Bank, Hamas leaders have now changed tack toward a different program: transplanting the Hezbollah model from Lebanon to Palestine.
For Hamas, this means integrating into the general political system while retaining independent, well-equipped armed forces and striving to maintain control of Gaza through its existing grip on local bureaucracy, its wide network of social institutions, and, of course, its 20,000 well-trained military cadres and security personnel. The group has recruited no less than 50,000 employees to the public sector since its June 2007 military takeover of the territory. At the same time, Hamas seems determined to exploit the reconciliation agreement as a means of resuscitating its political organization and clandestine terrorist activities in the West Bank. Outgoing Hamas prime minister Ismail Haniyeh described the new formula best, declaring this week, "We leave the government but stay in power, We give up the chair but not the role we play."
The shift in Hamas strategy, from emphasizing a monopoly of power in Gaza to reaching a deal that allows some PA presence there, and from harsh criticism of PA president Mahmoud Abbas to cautious cooperation with him, has been the result of agonizing soul searching among the group's leaders. This internal questioning was spurred by several recent setbacks: the loss of a friendly Muslim Brotherhood regime in neighboring Egypt, the cessation of weapons smuggling through the Sinai Peninsula, the decline of financial subsidies from Iran and Qatar, and the growing resentment of Gaza inhabitants due to rising unemployment, economic hardship, and constant repression.
Western countries quick to endorse the Hamas-Fatah reconciliation should be aware of what is really happening here. Amid these bleak circumstances, Hamas leaders held a number of meetings in recent weeks with Iranian officials in Tehran and Hezbollah leaders in Beirut. There, the group's representatives were advised to adopt a more ambitious plan than merely defending Gaza, namely, by contesting Fatah in its own West Bank territory instead. Hezbollah's modus operandi in Lebanon, which can be summed up as "add ballots to your bullets," was pushed as a model to be emulated.
Subsequently, Tehran praised the initial reconciliation pact between Hamas and Fatah; on April 26, an Iranian Foreign Ministry spokeswoman stated, "The Islamic Republic of Iran welcomes solidarity among Palestinian groups against the Zionist regime [of Israel], as well as any kind of national reconciliation that results in Palestinian unity." The statement was one of several signals that Iran had approved the deal in advance.
Similar to Hezbollah's longstanding stance in Lebanon, statements by numerous Hamas leaders over the past few days make clear that the group's military branch, the Izz al-Din al-Qassam Brigades, will not be disarmed or come under any PA supervision and will continue to grow as a powerful "resistance." The same applies to its intelligence and security apparatus. Just as Hezbollah maintains armed forces far superior to the Lebanese army and various secret services, so does Hamas intend to expand its independent military units, which are already far larger and better equipped than the PA's National Security Forces.
For example, Gaza workshops will continue production of M-75 missiles, which are capable of reaching Tel Aviv and Jerusalem, even though Abbas has previously accepted the principle of a demilitarized Palestinian state. Hamas also has no intention of disbanding its intelligence organs, which will allow it to preserve de facto control of Gaza in much the same manner that Hezbollah forces control southern Beirut, southern Lebanon, and the Beqa Valley. Although some PA units will be introduced into Gaza, their main role will be to man the border terminals with Egypt and Israel; they are unlikely to change the overall situation on the ground.
If Hamas opts to fully implement the Hezbollah model, it will also seek to integrate itself as fast as possible into all PA institutions in the hope of taking over some of them. Currently, Hamas leaders have accepted that they will not have any ministers in the reshuffled semi-technocratic cabinet of PA prime minister Rami Hamdallah. Yet the group's real focus is on the elections promised by Abbas six months down the road, and on the establishment of a newly agreed "Leadership Body" in the Palestine Liberation Organization (PLO), which will include top figures from Hamas and Palestinian Islamic Jihad for the first time ever.
Similar to Hezbollah, Hamas aspires to operate as a political party. It is eager to take part in presidential, parliamentary, and municipal elections in the hope of securing a majority or at least a plurality of the vote and thus forming a government or becoming a coalition partner. For now, Hamas leaders are skeptical that they can win the presidency or a Legislative Council majority, mainly because Abbas unilaterally modified the elections law to suit Fatah candidates better than the previous law, which was in force when Hamas won the 2006 elections. At the same time, they have indicated their ambition to take over important ministerial portfolios, as Hezbollah did in Lebanon, and influence parliamentary motions.
The reconciliation agreement has already produced important gains for the group. The PA has quietly removed the ban on Hamas political activities in the West Bank, and the movement has resumed public rallies, campaign meetings, and distribution of literature. This revival of open Hamas activities is affecting the PA's security organs: despite their standing orders to foil terrorist activity, many mid-level officers and their subordinates are no longer certain if and when to intervene in Hamas gatherings. For example, Hamas-sponsored Quran reading sessions have often been a cover for recruitment into underground terrorist cells.
The group's resurgence in the West Bank is especially noted in the refugee camps outside the main cities. PA security forces rarely risk entering these camps, leaving room for local youths to organize into lightly armed militias capable of challenging the PA. Hamas will obviously be more tempted to link to these groups, convert them to its doctrine, and supply them with financing and, when possible, better arms. No less important to Hamas is the coveted goal of capturing the PLO, "the sole representative of the Palestinian people" and the entity in charge of negotiating with Israel. If Hamas leader Khaled Mashaal were to one day succeed Abbas at the PLO's helm, he would have to decide whether to back away from the Oslo Accords, among other things. Thus far, senior Hamas officials have not referred to this potential dilemma in public, mainly because there are still numerous obstacles to the group joining the PLO, let alone taking it over. For now, it is noteworthy that Hamas did not protest too loudly when Abbas asserted that the new unity government will recognize Israel and support the two-state solution, despite the group's insistence that no political platform was agreed on as part of the unity deal.
The emergence of a Hezbollah model in the Palestinian Authority is a major threat to any prospect of resuming serious negotiations with Israel. If the current electoral and transitional timetable holds, by this time next year Hamas could have not only an intact military force and terrorist agenda in Gaza, but also a solid foothold in the West Bank and at least a say in, if not veto power over, PA and PLO decisions. In that case, a new system would take shape in the Palestinian territories in which an armed-to-the-teeth political party gradually overshadows the central government and begins to take over numerous institutions.
Western countries quick to endorse the Hamas-Fatah reconciliation should be aware of what is really happening here: Instead of the PA regaining its "southern provinces" in Gaza, it is in fact Hamas reentering the "northern provinces" in the West Bank.
'War Cry of Allah' Proclaimed at White House?
(Mr. Bergdahl's quote seen as 'victory for Taliban and Islamic radicals around the world)
June 6….(WND) Many Americans have been puzzled by the bizarre behavior of soldier Bowe Bergdahl's father, Robert, during a White House Rose Garden ceremony on Saturday celebrating the exchange of his son for five top Taliban commanders. The father began by saying his son was having trouble speaking English after five years away from home. He then uttered the Arabic phrase that begins every chapter of the Quran, except one, "Bismillah al-Rahman al-Rahim." It means, "In the name of Allah, the merciful, the compassionate."
Brigitte Gabriel of Act for America explained to Sean Hannity in a Fox News interview Wednesday night it declares the greatness of Allah over the land, calling it a "war cry of Allah" and a Muslim victory call. Essentially, it means Robert Bergdahl was claiming the White House as a spoil of war, she said. However, Gabriel said she doubts the elder Bergdahl understood the significance of what he was saying and did not intend to claim the White House, or America, in the name of Islam. But that is how it was seen by the Taliban and Islamic radicals around the world, she said. The words he spoke are "something Muslims would say throughout the 1,400 year history of Islam every time they conquered a location," Gabriel said.
The Hannity segment included Zuhdi Jasser, a US military veteran who considers himself a moderate Muslim. Jasser said he speaks the phrase in his prayers every day, repeatedly, and insists they are not so radical. However, Gabriel said, that is not how Islamic hardliners around the world would see it. The Washington Post reported that as Robert Bergdahl grew his beard, studied Pashto, Arabic and the culture of southern Afghanistan, friends sometimes asked him if he hadn't succumbed to some form of the captive-bonding Stockholm syndrome, according to Bob Henley, former pastor at the Presbyterian Church the Bergdahls attended.
Calls For Impeachment of Obama Growing
June 6….(WND) Former Republican Rep. Allen West two days ago called for President Obama's impeachment over his decision to swap five known terror leaders for a soldier whose behavior is under investigation, arguing Obama apparently violated US law forbidding material aid to terror groups.
Nevertheless, Obama defended his decision Thursday, saying he offered no apologies for releasing five Guantanamo detainees, who had been determined to be too dangerous to be freed, in exchange for Army Sgt. Bowe Bergdahl, who has been accused of desertion. West, in a promotion for his political action committee, took aim at Obama's unapologetic stance. "Obama and his aides have lost their minds," he said in an email for the Allen West Guardian Fund.
West's outrage reverberated throughout his comments. "One of his aides was quoted as saying the administration believed it had won another 'kill bin Laden moment' that would earn them praise," West said, "Praise?!! Even Sen. John McCain, a prisoner of war in Vietnam, called the released terrorists the 'hardest and toughest of all' and 'wanted war criminals.' "One is suspected of war crimes including the murders of thousands and another was 'directly associated' with Osama bin Laden and was an Afghan drug lord," West said. "Consider this, this is Obama is his own words: 'That's been true of all the prisoners that were released from Guantanamo. There's a certain recidivism rate that takes place. Is there a possibility of some of them trying to return to activities that are detrimental to us? Absolutely."
West earlier was among critics saying that dealing with terrorists for Bergdahl was the last straw and that impeachment should be considered. "I call upon the leadership of the US House of Representatives; Speaker John Boehner, Majority Leader Eric Cantor, Minority Leader Nancy Pelosi to draft articles of impeachment," West wrote Tuesday, "as no one is above the law in America." West argued Obama signed into law in December the National Defense Authorization Act, which makes it a crime against the nation to offer or provide any material support to terror groups.
The problem was explained by Fox News judicial analyst Andrew Napolitano, who supported West's opinion. "We have a federal statute which makes it a felony to provide material assistance to any terrorist organization. It could be money, maps, professional services, any asset whatsoever, include human assets," he said. Napolitano argued it is likely the five terrorist leaders will rejoin the campaign against the United States, which constitutes material support.
West said the five Guantanamo Bay detainees "were senior Taliban officials, basically members of Mullah Omar's inner circle." "This is aiding and abetting the enemy, which goes along with the collusion of this administration with Muslim Brotherhood-affiliated organizations and supplying weapons and arms to Islamists," West wrote. "Obama just released the leadership of a terrorist organization, and what did we get in return? A deserter, who by his own self-proclamation harbors anti-American sentiments, which it seems that Susan Rice, our esteemed national security adviser, didn't even realize his heinous actions, or maybe as usual she just lied about it again. "Ladies and gentlemen, I submit that Barack Hussein Obama's unilateral negotiations with terrorists and the ensuing release of their key leadership without consult, mandated by law, with the US Congress represents high crimes and misdemeanors, an impeachable offense."
A book also has made a case for impeaching Obama. "Impeachable Offenses," by Aaron Klein and Brenda J. Elliott, has been called a blueprint for impeaching Obama, outlining the high crimes, misdemeanors, bribery and other offenses committed against the U.S. Constitution. The Daily Mail called "Impeachable Offenses" "explosive," saying the book contains a "systematic connect-the-dots exercise that the president's defenders will find troublesome." Among the offenses enumerated in the book before the Bergdahl deal erupted:
· Obamacare not only is unconstitutional but illegally bypasses Congress, infringes on states' rights and marking an unprecedented and unauthorized expansion of IRS power.
· Sidestepping Congress, Obama already has granted largely unreported de facto amnesty to millions of illegal aliens using illicit interagency directives and executive orders.
· The Obama administration recklessly endangered the public by releasing from prison criminal illegal aliens at a rate far beyond what is publicly known.
· The president's personal role in the Sept. 11, 2012, Benghazi attack, with new evidence regarding what was transpiring at the US mission prior to the assault, arguably impeachable activities in and of themselves.
· Illicit edicts on gun control in addition to the deadly "Fast and Furious" gun-running operation intended, the book shows, to collect fraudulent gun data.
D-Day, Seventy Years After
June 6….(FOJ) On June 6, 1944, more than 160,000 Allied troops landed along a 50-mile stretch of heavily-fortified French coastline, to fight Nazi Germany on the beaches of Normandy, France. Gen. Dwight D. Eisenhower called the operation a crusade in which, "we will accept nothing less than full victory." More than 5,000 Ships and 13,000 aircraft supported the D-Day invasion, and by day's end, the Allies gained a foot-hold in Continental Europe. The cost in lives on D-Day was high. More than 9,000 Allied Soldiers were killed or wounded, but their sacrifice allowed more than 100,000 Soldiers to begin the slow, hard slog across Europe, to defeat Adolph Hitler's crack troops.
We all need to thank God that America (allies) took that horrible war all the way to total victory, and preserved freedom in the West. Thank God, the American President didn't search for a way out while the enemy fought on. Thank God that our American soldiers did not desert, or question their country, or quote Hitler's Mein Kampf, as some are (like bergdahl, like John Kerry) wont to do these days! Thank God those days were shortened!
FOJ salutes the men and women that served America in World War II. They are a passing generation that should never be forgotten!
Kerry: We Can Monitor Hamas-backed Palestinian Unity Government
(FOJ Note: Oh yea, we can monitor these terrorists just like we can monitor the released Five Taliban Terrorists!)
June 5….(Times of Israel) US Secretary of State John Kerry defended Wednesday a US decision to work with the new Palestinian unity government, despite Israeli criticism, emphasizing that the new Palestinian leadership did not include any Hamas ministers. The United States, like Israel and the European Union, consider Hamas a terrorist organization. Speaking to reporters in Beirut, Kerry said Palestinian Authority President Mahmoud Abbas "made clear that this new technocratic government is committed to the principles of non violence, negotiations, recognizing the state of Israel, acceptance of the previous agreements and the Quartet principles." "Based on what we know now about the composition of this technocratic government, which has no minister affiliated to Hamas and is committed to the principles that I describe, we will work with it as we need to, as appropriate."
Kerry also said US preparedness to work with the Palestinian government does not mean recognition of a Palestinian state. "The US does not recognize a government with respect to Palestine because that would recognize a state and there is no state," he said. "Hamas is a terrorist organization. It has not accepted the Quartet principles. It continues to call for the destruction of Israel. It continues even as it moves into this new posture. And so we are obviously going to watch closely what happens, but we will work with it in the constraints that we are obviously facing," said the secretary of state. While on an unscheduled visit to Beirut, Kerry said: "I want to make it very clear we are going to be watching it (the government) very closely, as we have said from day one, to absolutely ensure that it upholds each of those things it has talked about, that it doesn't cross the line."
A new Palestinian cabinet was sworn in Monday, after a surprise reconciliation deal reached in April between Hamas and the PLO. The United States, the EU, the UN and Russia have all accepted to work with the cabinet. Despite the alliance with Hamas, which does not recognize Israel and is pledged to its destruction, Abbas has said the government would abide by the principles of the Middle East Quartet, which envisage the establishment of two states.
The US' readiness to work with the new government has prompted fury from Israel, with Netanyahu branding it Tuesday as "a step against peace". "I'm deeply troubled by the announcement that the United States will work with the Palestinian government backed by Hamas," Netanyahu told The Associated Press Tuesday, saying the group has murdered "countless innocent civilians." "All those who genuinely seek peace must reject President Abbas's embrace of Hamas, and most especially, I think the United States must make it absolutely clear to the Palestinian president that his pact with Hamas, a terrorist organization that seeks Israel's liquidation, is simply unacceptable," he said.
Bergdahl's Team Leader: Bergdahl Was a Deserter!
June 5….(CNN) Former Army Sgt. Evan Buetow was the team leader with Bowe Bergdahl the night Bergdahl disappeared. "Bergdahl is a deserter, and he's not a hero," says Buetow. "He needs to answer for what he did."
Within days of his disappearance, says Buetow, teams monitoring radio chatter and cell phone communications intercepted an alarming message: The American is in Yahya Khel (a village two miles away). He's looking for someone who speaks English so he can talk to the Taliban. "I heard it straight from the interpreter's lips as he heard it over the radio," said Buetow. "There's a lot more to this story than a soldier walking away." The Army will review the case of Sgt. Bowe Bergdahl "in a comprehensive, coordinated effort," Secretary of the Army John McHugh said Tuesday. The review will include speaking with Bergdahl "to better learn from him the circumstances of his disappearance and captivity," he said. The night Bergdahl disappeared, says Buetow, the platoon was at a small outpost, consisting of two bunkers and a perimeter of military trucks. Buetow was in one of the bunkers, and Bergdahl was supposed to be in a tent by one of the trucks. Then a call came through on the radio. "I'll never forget that line, 'Has anyone seen Bergdahl?'" says Buetow.
Firsthand accounts from soldiers in his platoon say Bergdahl disappeared while he was on guard duty. Buetow says Bergdahl was about to go on guard duty, but when a fellow soldier went to wake him, he was not in his tent. He had left behind his weapons, his bullet-proof vest, and night vision gear. "I immediately knew, I said, 'He walked away. (deserted) He walked away,'" said Buetow. Bergdahl walked off the observation post with nothing more than a compass, a knife, water, a digital camera and a diary, according to firsthand accounts from soldiers in his platoon.
Buetow was involved in the immediate search for Bergdahl, pushing a patrol into a nearby local village. "Immediately as we left the base, two small boys walked up to us, and they told us that they saw an American crawling in the weeds by himself," said the former Army sergeant. The search followed that lead, and others, for months. "For 60 days or more, I remember, just straight, all we did was search for Bergdahl," said Buetow, "essentially chasing a ghost because we never came up with anything." At least six soldiers were killed in subsequent searches for him, according to soldiers involved in those operations. The Pentagon was not able to provide details on specific operations in which any soldiers were killed during that time were involved.
Buetow says even though those operations were not "directed missions" to search for Bergdahl, there was an underlying premise of acting on intelligence to find the missing soldier. "The fact of the matter is, when those soldiers were killed, they would not have been where they were at if Bergdahl hadn't left," says Buetow. "Bergdahl leaving changed the mission."
Many soldiers in Bergdahl's platoon said attacks seemed to increase against the United States in Paktika province in the days and weeks following his disappearance. "Following his disappearance, IEDs started going off directly under the trucks. They were getting perfect hits every time. Their ambushes were very calculated, very methodical," said Buetow. It was "very suspicious," says Buetow, noting that Bergdahl knew sensitive information about the movement of US trucks, the weaponry on those trucks, and how soldiers would react to attacks. "We were incredibly worried" that Bergdahl was giving up information, either under torture, or otherwise, says Buetow.
Israel Furious at US Support for Palestinian Unity Government
(US, EU announce they will continue to work with and assist new Palestinian unity government. Israeli official: "We are deeply disappointed by the State Department regarding working with the Palestinian unity government.")
June 5….(Israel Hayom) US President Barack Obama's administration said on Monday it plans to work with and fund the new Palestinian unity government. Israel immediately voiced its disappointment with the decision, which was also criticized by some US lawmakers. Palestinian Authority President Mahmoud Abbas swore in a unity government on Monday in a reconciliation deal with Hamas Islamists, who advocate Israel's destruction. The United States views Hamas as a terrorist organization and Congress has imposed restrictions on funding for the Palestinian Authority, which typically runs at $500 million a year, in the event of a unity government. Senior US lawmakers said Washington should suspend aid until it was sure of the Islamist group's commitment to pursuing peace with Israel.
In its first comment since the Palestinian government was sworn in, however, the State Department stressed that it regarded the new cabinet as made up of technocrats and was willing to do business with it. "At this point, it appears that President Abbas has formed an interim technocratic government that does not include ministers affiliated with Hamas," State Department spokeswoman Jen Psaki told reporters at a press briefing. "Based on what we know now, we intend to work with this government, but will be watching closely to ensure that it upholds principles that President Abbas reiterated today." She was referring to Abbas' commitment to honor past peace deals. Asked if her comments meant US aid would keep flowing, Psaki replied: "It does, but we will continue to evaluate the composition and policies of the new government and calibrate our approach accordingly." By law, US aid may not benefit Hamas "or any entity effectively controlled by Hamas, any power-sharing government of which Hamas is a member, or that results from an agreement with Hamas and over which Hamas exercises undue influence."
Several senior US lawmakers said Washington should suspend the annual aid, which needs authorization by Congress. "Funding for the Palestinians is off the table until it is clear that the unity government is committed to peace and security," said Kay Granger (R-Texas), chairwoman of the House of Representatives State and Foreign Operations subcommittee. Eliot Engel (D-N.Y.), the top Democrat on the House Foreign Affairs Committee, said the Palestinian Authority was casting doubt on its commitment to the peace process and threatening future assistance. "The United States is under no obligation to give a dime to the PA as it reconciles with a known terrorist group," he said. The pro-Israel American Israel Public Affairs Committee also called on Congress to cut aid to a Palestinian government that includes Hamas. "US law is clear," the lobby group said in a statement. "No funds can be provided to a Palestinian government in which Hamas participates or has undue influence. We now urge Congress to conduct a thorough review of continued US assistance to the Palestinian Authority to ensure that the law is completely followed and implemented."
In Jerusalem, an Israeli official, requesting anonymity, said in a statement: "We are deeply disappointed by the State Department regarding working with the Palestinian unity government. If the American government wants to advance peace, it must call on Abbas to end his pact with Hamas and to return to peace talks with Israel. Instead, he is allowing Abbas to believe that joining a terrorist organization is an acceptable way to establish a government."
A second official had tougher criticism, saying that the move is "like a knife in the back." Communications Minister Gilad Erdan said: "Unfortunately, American naivete is at an all-time high. Cooperating with Hamas, which is defined as a terrorist organization by the United States, is not acceptable. This American submission to the Palestinians' dictates seriously hurts the chances of ever returning to negotiations, and it will make Israel take unilateral steps to protect its citizens from the terrorist government Abbas established."
Prime Minister Benjamin Netanyahu convened a meeting of the Diplomatic-Security Cabinet to discuss the Palestinian unity government and potential sanctions Israel could impose on it, but no time frames for sanctions have been announced. Meetings with Abbas have not been forbidden, in accordance with Justice Minister Tzipi Livni's request. But it was determined that any meetings would need Netanyahu's approval. Restrictions on Abbas' freedom of movement have yet to be determined. Proposals for more aggressive steps, including annexing territories and announcing construction beyond the Green Line, were rejected at the cabinet meeting in consideration of warnings from the United States and the European Union.
The chief concern in Israel is that the Palestinians will hold democratic elections with Hamas, achieve international recognition and join the United Nations. The cabinet decided to establish a team to explore options for action in light of the new reality of the Palestinian unity government. The team, headed by Defense Minister Moshe Ya'alon, will also discuss the possibility of annexing Gush Etzion to Israel, at Economy and Trade Minister Naftali Bennett's request. The cabinet further decided that negotiating with the new Palestinian government is not on the table, as "it is a government that depends on Hamas, the terror organization that calls for the destruction of Israel."
Israel also announced that it would see the unity government as responsible for threats to Israeli security and attacks originating in the West Bank and Gaza. "Today, Abbas said yes to terror and no to peace. This is a direct continuation of Abu Mazen's policy of rejecting peace. He made a pact with the terror organization Hamas, which is responsible for the murders of more than 1,000 innocent Israelis, and for firing thousands of rockets at Israeli cities," Netanyahu said.
Kerry in Beirut Promotes US Engagement with pro-Iranian Hizballah Terrorists
June 5….(DEBKAfile Exclusive Report) Secretary of State John Kerry's visit to Beirut Wednesday June 4 was part and parcel of the new turn in Obama administration policy, which is to start engaging directly with Arab governments backed by pro-Iranian terrorist organizations like the Lebanese Hizballah and Palestinian Hamas. The first visit to Beirut in five years by a US secretary of state came two days after Washington rushed to accept and continue funding the Hamas-backed Palestinian government installed in Ramallah. On his arrival in Lebanon, Kerry made some awkward comments: "We do not recognize the government of Palestine, that would mean we recognize a state." He added that the US will continue to work with the new Palestinian unity government "as we need to" and will monitor daily its policies to ensure it "doesn't cross the line."
A leading member of the Lebanese government is Hizballah, which is classied in the US as a terrorist organization. By talking with prime minister Tammam Salam, Kerry articulated the new rule: Washington will maintain ties with a government, whether in Beirut or Ramallah, so long as it "doesn't cross the line." At the same time, the US Secretary delivered into the hands of the Lebanese government a half billion dollar check for the Syrian refugees sheltering in Lebanon, ignoring the fact that its member, Hizballah, has crossed many lines by fighting for President Bashar Assad in the Syria civil war, and the death and destruction Hizballah helped inflict had put those refugees to flight. But Kerry avoided defining the lines that must not be crossed and saying how the administration would respond if they were. Talking to journalists later, Kerry himself crossed a line to new ground, when he said: "Iran, Russia and Hizballah must engage in a legitimate effort to bring this war to an end,"
This was the first time a US Secretary of State has explicitly invited Hizballah, whose forces are fighting in Syrian under Iranian command, to be part of the quest for a political resolution of the Syrian war and accepted the Moscow-Tehran-Beirut axis as a critical partner in this effort. Up until now, Kerry insisted in leaving Iran and Hizballah out of US discussions with Moscow on the Syrian crisis.
Senior sources in Jerusalem sharply criticized Washington's embrace of the most violent and radical of Middle East terrorist organizations. They saw no difference between the openness to Iran and Hizballah exhibited by Kerry in Beirut and the administration's readiness to do business with the Palestinian unity government backed to the hilt by Hamas.
According to those sources, by Thursday morning June 5, Prime Minister Binyamin Netanyahu had determined to go head-on against the new Obama administration line with a confrontation in the US Congress over its support for the Palestinian unity government. Netanyahu will seek, with the aid of the pro-Israel AIPAC lobby, to get a law passed banning the continued transfer of US financial aid of approximately $500,000 a year to the Ramallah government, over its backing by the Hamas terrorist organization. Debkafile's sources in Washington don't expect this move to succeed. Even if the both houses of Congress enact such legislation, and that is doubtful, the president has enough legal and administrative resources to circumvent it.
Gen. Boykin: Deserters Do Not Deserve to Live
June 5….(WND) Retired US Army Lt. Gen. William "Jerry" Boykin says Sgt. Bowe Bergdahl is clearly a deserter who should never draw a free breath, and President Obama is guilty of high crimes and misdemeanors for once again ignoring federal law in pursuit of an administration goal. Boykin is also ripping the president for releasing five key Taliban figures in exchange for Bergdahl and slamming the Obama administration for attacking the character of Afghanistan veterans who publicly denounce Bergdahl's actions in Afghanistan.
The general said Obama's actions in this episode demonstrate why he is unfit for office. He categorically dismissed Obama's contention that the exchange had to happen to honor America's commitment to leave no Americans behind. Boykin said that clearly wasn't true in Benghazi and that the administration seems to have little regard for a US Marine jailed in Mexico, an American pastor imprisoned in Iran or the Sudanese Christian in custody for her faith along with her two American children. "This was about emptying out Guantanamo," he said. "This was a backdoor deal. The reasons for it, the details of it will probably never come out in its entirety, but this is an ugly story."
The general is also taking the commander in chief to task for once again flouting the law, this time skirting a requirement to give Congress 30 days notice of his intent to free any Guantanamo detainees. Boykin said he understands why Obama would feel constrained by the law and admits that it might not be constitutional. However, as long as it is the law, he said Obama is required to abide by it instead of ignoring statutes he doesn't like, whether on this issue or several others. "It was really bad form for him not to at least call in the chair and ranking member of the intel or armed services committee and tell them what he was about to do with regard to the release of these prisoners," he said. "It's an example of how this president only obeys the laws and follows the policies that he wants to. In our Constitution, it falls under the category of high crimes and misdemeanors, where you just selectively obey certain laws and ignore others."
Obama Accepts New Palestinian Unity Government, Over Israel's Objections
June 3….(DEBKAfile Special Report) State Department spokeswoman Jen Psaki said Monday night, June 2, that the US intends to work with the new Palestinian government despite Israel's concerns. Psaki also said US Secretary of State John Kerry called Netanyahu to relay the US position, without offering details, after Mahmoud Abbas swore in the new Palestinian government earlier in the afternoon. She said the US will continue to send aid to the Palestinians, but will closely watch what she called the "interim technocratic government."
The EU has said it welcomes unity and would continue funding any government that meets the conditions for aid: recognition of Israel, endorsement of former accords and abstaining from violence. Both major Western powers therefore brushed off Netanyahu's call on the world to shun the new government over its partnership with a terrorist organization.
The Israeli Security Cabinet decided in an emergency session Monday night not to hold peace talks with this government and authorized the prime minister to impose financial sanctions. Abbas would be held responsible for any rocket fire and terrorist actions out of the Gaza Strip it was decided.
US Secretary of State John Kerry stated after his Sunday night phone call to Palestinian Authority Chairman Mahmoud Abbas (Abu Mazen) that the Obama administration would judge the Palestinian unity government by its deeds. Recognition would depend on the new regime recognizing Israel, upholding previously-signed Palestinian international undertakings and abstaining from terrorism and other violence. Abbas assured the Secretary that the new Palestinian ministers were appointed by him and they would comply his wishes and policies. Kerry must realize, after a year of being messed about in an abortive peace process, that Abu Mazen is a chameleon, apt to trot out different words and decisions as the moment takes him and then do just the opposite. But how to explain the acceptance of this sliding scale by the Secretary of State in the face of the most outrageous Palestinian pretences? Debkafile offers three possible explanations for this meekness:
1. John Kerry has chosen to put a brave face on the crash of his Middle East initiatives in late April and carry on as though his efforts may yet bring Israel and the Palestinians together for a peace accord, even though it is clear to the region or even Washington that the process is dead.
2. Netanyahu Sunday issued a dramatic call on the world not to recognize the new Palestinian unity government. "Hamas is a terrorist organization that seeks Israel's destruction," he said. "Such a government would not bolster peace but strengthen terror." He added later that he couldn't understand how when terrorism raised its head in Europe in the form of the vile murders at the Brussels Jewish Museum, there were European leaders who had friendly words for the Palestinian terrorists, Hamas. The same night, another Palestinian rocket landed on the Israeli side of the Gaza border. Later, the prime minister was quoted as telling the security cabinet that he had been assured that Washington would not extend "immediate" recognition to the new Palestinian government.
3. Debkafile's Washington and Jerusalem sources report that Washington did inform Jerusalem that it stands by a written US commitment not to recognize or cooperate with a Palestinian regime which has a Hamas component. It was first given in May 2011 by Hillary Clinton as Secretary of State, and endorsed by her successor John Kerry at the outset of Israel-Palestinian peace talks last year. This commitment, if it was still valid, was clearly trashed after the Palestinians announced their new shared cabinet. Even Palestinian daydreamers can't imagine Hamas and Fatah agreeing on the conditions for holding free elections the West Bank and the Gaza Strip for a new parliament and president to succeed Abbas.
The Great Deception in the American Church
June 3….(Charisma News) What's at the root of the deception in the American church? Consider these statistics of Christianity in America: Eighty-four percent of the inhabitants of this nation say they believe in the deity of Jesus Christ, according to Barna Group, and 45 percent claim to be born-again Christians. Other studies show it is closer to 33 percent. Either way, these numbers are high. Seventy-seven percent believe their chances of going to heaven are excellent. Thirty-three percent believe one day everyone will go to heaven. Yet America has the highest percentage of single-parent families in the industrialized world, the highest abortion rate, the highest rate of sexually transmitted diseases, the highest rate of teenage birth by far, the highest rate of teenage drug use and the largest prison population per capita than any country in the world.
Consider also the great moral decline of the last generation (50 to 60 years) and these telling statistics in America. The divorce rate has doubled, teen suicide has tripled, reported violent crime has quadrupled, the prison population has quintupled, the percentage of babies born out of wedlock has risen sixfold, couples living together out of wedlock have increased sevenfold, and gay marriage is now a legalized reality in a number of states, with many believing the end is not in sight.
In this past generation, we have experienced an overwhelming increase in lawlessness, permissiveness and selfishness, even among Christians. Moral actions that were unthinkable a few decades ago are now commonplace, Christian leaders indulging in sexual sin and grossly immoral scandals, addicted to pornography and accompanied by an exploding divorce rate have greatly factored in the rapid decrease of morals in the American church. And as the church goes, so goes the world. In fact, the results of a survey among young American adults showed that the percentage who follow biblically based values for living has now dropped from 65 percent to a mere 4 percent since World War II.
There has never been a society in the history of mankind whose moral values have deteriorated so dramatically, in such a short period of time, as those of Americans in the last 50 years. And so far it shows no sign of stopping. These statistics are eye-opening, and they serve to warn us that something is terribly wrong with our brand of Christianity. They reveal how poorly the church has communicated the true gospel to mainstream America, and thus the reason for so much deception in our culture.
When the rich man died and went to Hades (Luke 16:19-31), he was surprised to find himself there. In the Jewish culture, they equated wealth with godliness, so this man thought God favored him. The common thought, especially among the Jews, was if you were blessed financially, then you were a good person and therefore favored by God and on your way to heaven. This also explains the disciples' astonishment when Jesus told them how hard it is for the rich to enter the kingdom of heaven (Matt. 19:23-25).
Similarly, there was a church in Laodicea (Rev 3:14-22) who, due to their wealth, thought they too had attained God's favor. Jesus expressed great disapproval over their spiritual condition as well, which they were totally unaware of. They were deceived. Are you in touch with your true spiritual condition? Or are you allowing the pop culture around you to dictate your standards? Are you conforming to the world's standards or to the Bible? Are you deceived? How can a nation of people among whom a large percentage claims to be born-again Christians experience the kind of degradation the above statistics reveal? Such deception is the state of America today, and the above statistics reveal the fruit of it.
The problem has been that the real gospel has not been preached nor lived. Both the profession and the practice of many so-called Christians in this nation have not matched up. Our substandard message has produced substandard believers. Our departure from the preaching of the cross, repentance, holiness, and the real empowering grace of God has increased the level of deception in the church. How else can we explain the disparity of the above statistics in the church and the nation? But what is really at the root of this deception? This is what we need to carefully discern. In one word, it is humanism—the glorification of self. Humanism has crept into much of the modern-day church and is diluting the power of the real gospel.
The Taliban Terrorists Obama Released For Berghdahl
June 3….(Daily Beast) In exchange for Army Sgt. Bowe Berghdahl, the US has released five senior Taliban commanders from the Guantanamo Bay prison. They are considered some of the worst of the worst. The five Guantanamo detainees released by the Obama administration in exchange for America's last prisoner of war in Afghanistan, Sgt. Bowe Bergdahl, are bad guys. They are top Taliban commanders the group has tried to free for more than a decade.
According to a 2008 Pentagon dossier on Guantanamo Bay inmates, all five men released were considered to be a high risk to launch attacks against the United States and its allies if they were liberated. The exchange shows that the Obama administration was willing to pay a steep price, indeed, for Bergdahl's freedom. The administration says they will be transferred to Qatar, which played a key role in the negotiations. In the initial statements released about the deal, the White House declined to name the detainees who would be leaving the Cuba based prison Obama has been trying to close since his first day in office.
A senior US defense official confirmed Saturday that the prisoners to be released include Mullah Mohammad Fazl, Mullah Norullah Noori, Abdul Haq Wasiq, Khairullah Khairkhwa and Mohammed Nabi Omari. While not as well known as Guantanamo inmates like 9-11 mastermind Khalid Sheikh Mohammed, the Taliban 5 were some of the worst outlaws in the US war on terror. And their release will end up replenishing the diminished leadership ranks of the Afghan Taliban at a moment when the United States is winding down the war there. "They are undoubtedly among the most dangerous Taliban commanders held at Guantanamo," said Thomas Joscelyn, a senior editor at the Long War Journal who keeps a close watch on developments concerning the detainees left at the Guantanamo Bay prison. Fazl, for example, was the Taliban's former deputy defense minister and is wanted by the United Nations for his role in massacres targeting Afghan's Shi'ite Muslim population.
According to the 2008 Pentagon's dossier on Fazl disclosed by Wikileaks (PDF), Noori also was a senior Taliban military figure and, according to his Pentagon dossier, was asked personally in 1995 by Osama bin Laden (PDF) to participate in an offensive against northern alliance warlord Rashid Dostum.
Wasiq, a former deputy minister of intelligence, at one point tried to cooperate with US forces in Afghanistan and asked for a GPS system as well as a special radio to communicate with the US military after the US invasion in 2001. His dossier (PDF) says that he was a crucial liaison between the Taliban and other Islamic fundamentalist groups while he was deputy intelligence minister. But the 2008 report also said he was holding out information he had on other top al Qaeda and Taliban leaders during interrogations.
Khairkhwa, a former Taliban governor of Herat, was considered by the Pentagon's 2008 dossier to be a likely heroin trafficker (PDF). That dossier also says he likely participated in meetings with Iranian officials after 9-11 to help plot attacks on U.S. forces following the invasion.
What's Going on Underneath the Temple Mount?
June 1….(Israel Hayom) Is the Waqf planning to build or laying the groundwork for a fifth mosque in the eastern part of the Temple Mount complex in the underground space beneath the Golden Gate? The Public Committee Against the Destruction of Antiquities on the Temple Mount obtained updated photographs that were originally posted on Facebook by Muslim groups. The committee claims that the pictures show this is indeed what is being planned.
In recent years, Muslims have approved the building of two new mosques on the Temple Mount, while doing serious damage to antiquities there. The new mosques would be built in addition to Al-Aqsa mosque and the Dome of the Rock. While the latter is technically a shrine, it has become a de facto place of worship. The two new Islamic houses of worship have been named the Al-Maruani mosque, which is slated to be built in Solomon's Stables, and Al-Aqsa Hakadum, which will lie underneath the original Al-Aqsa. State Comptroller Yosef Shapira has been severely critical of the manner in which the authorities have dealt with the developments of recent years on the Temple Mount, but the report he authored on the subject has not been cleared for publication.
Dr. Eilat Mazar, an Israeli archaeologist at the Hebrew University of Jerusalem, is a member of the Public Committee Against the Destruction of Antiquities on the Temple Mount. She said that in the large space underneath the Golden Gate there continues to be "significant, new activity that arouses great concern."
The Israel Antiquities Authority has said that there is nothing new to report. The space underneath the gate has only seen limited educational activity by Muslims, with no harm done to antiquities there.
The area in question was once used by the Islamic Movement and Sheikh Raed Salah, but it was sealed off by order of the military a decade ago. In recent years, there have been educational activities by Muslims. In recent months, however, Mazar said that "the area has been renovated, new lighting has been installed, carpets have been laid down there, and Muslim guards have prevented anyone from gaining access or coming close to the area." "The Muslims are gradually turning the place into a mosque and are in essence monopolizing the area for Muslim use only," she said. "This is a very serious development, even if this is being done with authorization. It is even graver if it is being done without authorization." When asked to describe the current situation in the eastern sector of the Temple Mount complex, Mazar used one word: "Disgraceful." "These days, the Temple Mount, particularly its eastern part, resembles a big garbage dump and construction site," she said. "It doesn't resemble a historical site or an archaeological site of supreme importance for anyone who values culture. "The Muslims are doing whatever they want on the Temple Mount, and there is no serious archaeological supervision," she said. "The area around the Golden Gate is filled with construction material and building material. There are chiseled stones, rocks used for paving, and coarse sand. The tractors are working nonstop at the most important archaeological site in the land of Israel, maybe even the world, all in contravention of all the rules of archaeology which forbid heavy machinery from being used in such a sensitive area." "The space underneath the Golden Gate is closed," she said. "A Muslim guard is manning the roof of the Golden Gate. Around the area, there are a number of study groups that are monitoring the site and preventing foreigners from coming near while construction work is taking place close to it." "We, as a committee, see a very methodical plan being executed," she said. "Nothing is happening here by chance. This is a case in which damage is being inflicted on a historical site of supreme importance, the Temple Mount, which has no equal. It is also the continuation of a systematic effort to turn the Temple Mount complex into one large mosque. There is no sound logic that can explain the conduct of the state in such a sensitive area."
Baptist Groups, Christian Ministries Join Fight Against Obamacare Birth Control Mandate
June 1….(Christian Post) Several Southern Baptist and secular organizations have filed a friend-of-the-court brief to support a legal challenge to the Obama Administration's contraception mandate by the Southern Baptist Convention's insurance provider and evangelical ministries. "Scripture and Southern Baptist belief prohibit not only direct and personal wrongdoing, but also the enabling, authorizing, incentivizing or aiding of another in doing what the Christian believes to be sin," states the brief filed by Dr. R. Albert Mohler, Jr. and other Southern Baptist leaders.
The brief filed during this week urges the 10th Circuit Court of Appeals in Denver to uphold a lower court's temporary and preliminary injunction blocking enforcement of the Department of Health and Human Services mandate, which requires employers to provide insurance coverage for some abortion drugs, sterilization and contraception. "Christian doctrine teaches that believers who knowingly aid or abet another's wrongdoing have themselves done wrong," the brief adds. "Accordingly, a statute or regulation requiring a Southern Baptist individual or ministry to be complicit in conduct that the Christian faith teaches is morally wrong forces that person or ministry into an impossible choice, to either violate conscience or violate the law, and imposes a substantial burden on the exercise of religion."
---